Panic Medic Boot errors indicate that a third-party kernel extension prevented your MacBook from booting up properly. To quickly bypass the problem, macOS automatically disables all third-party kernel extensions. When you need to use the respective extensions again, the OS simply prompts you to re-enable them. If your Mac keeps on throwing up "Panic Medic Boot" errors, pursue the troubleshooting solutions below.
How Do I Stop "Panic Medic Boot" Errors on Mac?
Disconnect All Peripherals, and Restart Your Mac
The peripherals connected to your Mac may sometimes cause various glitches and errors. Disconnect all the external devices connected to your laptop, and restart it. Check if the error persists. If it does, run an Etrecheck analysis and carefully go through the report for more information about the root causes of this problem. Check if you notice anything unusual in the report and get rid of any adware.
Reset SMC and NVRAM
Resetting SMC and NVRAM can help you get rid of many technical glitches. To reset SMC on computers equipped with a T2 chip, first shut down your Mac. Then press and hold the power button for 10 seconds, and release it. Wait for one minute and turn on your Mac normally.
On other Mac models, press and hold the Shift, Control, and Option keys. Then, press and hold the Power button while holding down these three keys. Keep on pressing all four keys for ten seconds. Release them and boot up your Mac normally.
To reset NVRAM, press the Option, Command, P, and R keys. Release the keys after 15 or 20 seconds when you hear the second startup sound or the Apple logo appears on the screen.
Manually Enable the Problematic Extensions
Click on the Apple Menu, and go to System Preferences.
Then select Security and Privacy.
Click on the General tab.
Select Allow to list the problematic extensions.
Tick the checkboxes next to the extensions you want to run on your machine.

Note: Do that only if you know the respective programs are trustworthy.

Restart your Mac and check if the error persists.
Update Your Mac, and Run First Aid
Go to System Preferences, select Software Update and check for updates to install the latest macOS version. Then launch Disk Utility, select your disk and click on the First Aid option.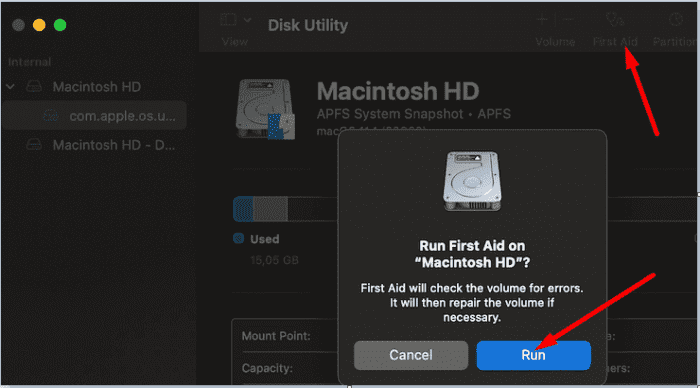 The tool automatically repairs disk-related errors that can lead to unexpected issues when using your Mac, including "Panic Medic Boot" errors.
Boot into Safe Mode
If the "Panic Medic Boot" error persists, boot into Safe Mode and check the results. If you use an Intel-based Mac, restart your device and, immediately press and hold the Shift key. Release it when the login window appears on the screen.

If you own an Apple Silicon Mac, turn on the laptop, and keep on holding the Power button down until the Startup options appear on the screen. Select your startup disk, press Shift, and click on Continue in Safe Mode.
If the error is gone in Safe Mode, uninstall any software you recently installed that might have brought along a kernel extension. That would be your prime suspect.
If the problem persists, uninstall all the programs you recently added to your Mac. By the way, if you installed any Mac system optimizers, remove them and restart your device. Your Mac doesn't really need such tools.
Conclusion
To fix "Panic Medic Boot" errors on your MacBook, disconnect all peripherals, and restart your device. Then reset SMC and NVRAM, update your Mac, run First Aid, and boot into Safe Mode. If the issue persists, manually allow the problematic extensions to run on your Mac. Which of these solutions worked for you? Let us know in the comments below.