Apple Music and Spotify are fairly similar platforms. But it doesn't always feel that way. Take public "community" playlists for example. They're easily accessible in Spotify, a bit less so in Apple Music. But they do, in fact, exist on the Apple streaming platform.
Related:
Whether you've been an Apple Music user for a while or you're just switching over to the platform from Spotify, here's everything you should know about creating and finding public playlists.
The basics
Playlists function a bit differently in Spotify and Apple Music. In Spotify, playlists can be either Public or Private. In Apple Music, public playlists are technically shared playlists.
Creating a shared playlist is pretty simple in Apple Music:
Open up the Apple Music app.
Find a song and press and hold on it. In the menu that appears, select Add to a Playlist. You can also create a new playlist by going to Library > Playlists.
From here, you should see a button that says Show on My Profile and in Search underneath the description. This is how you make a public playlist.
Once you hit that toggle, the playlist will be available for anyone on Apple Music to listen to and add to their own library.
It's worth noting that you may not see this option if you don't have a profile in Apple Music. Similarly, you may also run into problems if your profile isn't publicly viewable. You can create an Apple Music profile or change your profile settings by going to For You and hitting the person icon.
How to share a playlist in Apple Music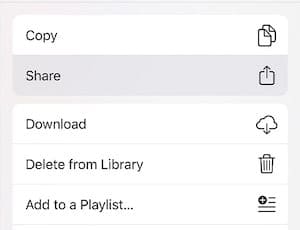 If you'd like to share one of your public playlists with your friends, you don't have to send them the name of it to search. You can actually send it to them directly.
This varies depending on the platform you're currently on. For iOS devices, just tap the three-dot icon and the Share sheet icon. On computers, it's the three-dot icon and then the Share Playlist button. For Android users, it's the Android-style Share sheet.
From here, you can send Apple Music playlists to a wide variety of contacts via Messages, Mail, Twitter, Facebook, AirDrop or through other apps.
Just note that the recipient will also need to be an Apple Music subscriber to actually listen to the playlist.
How to find public playlists in Apple Music
There are a few ways to actually find playlists created by other Apple Music users.
The simplest way is to simply receive a playlist from a friend or family member, of course.
Another common way is to simply discover them in For You underneath the "See What Friends Are Listening To" subheading. Do keep in mind that any song, album or playlist that appears on this list are only from people on your friends list.
If you want to find a public playlist from someone outside of your friends list, you'll have to search for it. Just tap Search in the bottom right corner and enter a query. In the results list, just scroll down until you see "Shared Playlists."
Once you find a playlist that you like, you can simply listen to it or add a copy of the playlist to your library.
How to Save Public Playlists onto your iPhone or iPad
If you find an awesome playlist full of jams that you'd like to add to your own library, you can. There are a couple of options for this.
The first is to simply tap the +Add button near the top of a public playlist (or a friend's playlist). This will save the playlist to your library.
There are a few caveats to this method, however. If the playlist owner adds or deletes any songs, that'll reflect on your copy of the playlist. That's because, by default, Apple Music keeps saved playlists separate from your actual library.
Generally, you can add a song to playlist in Apple music without adding it to your library. Apple explains the process in its white paper here.
If you'd like to keep the exact copy of a playlist on your library, you can change this behavior in Settings. Just head to Settings —> Music and hit the toggle next to Add Playlist Songs.
Are you an Apple music fan? What are some of the recent improvements that really makes your day? What additional features should Apple be introducing in Apple Music. Please let us know using the comments below.
Mike is a freelance journalist from San Diego, California.
While he primarily covers Apple and consumer technology, he has past experience writing about public safety, local government, and education for a variety of publications.
He's worn quite a few hats in the journalism field, including writer, editor, and news designer.