Is your home or business missing from Apple Maps? It's not uncommon to learn that addresses, directions, or business details are wrong on Apple's map service, but you can easily report these problems to Apple to fix them.
The more problems we report to Apple, the more accurate Apple Maps becomes. Fortunately, it only takes a minute to report problems and you can do it directly in the Apple Maps app. Here's how.
Related:
How to add a missing place to Apple Maps
If you're looking for directions to a new home or business, you might find that it's missing from Apple Maps entirely. When this happens, you need to send a report to Apple asking them to add a missing place.
If you own the particular business you want to add, you should also sign up for Maps Connect to get easy control over the listed business details. We'll explain more about this in the section for business owners below.
It's easy to add missing places to Apple Maps from any Apple device, although it may take a few weeks before Apple approves your request.
Using an iPhone, iPad, or iPod touch:
Open Apple Maps on your device.
Tap the i button in the top-right corner and select Add a Missing Place.
Choose what you want to add from the following options: Business or Landmark, Street or Address, Other.
Apple asks for as much detail as you can provide about the place you want to add, including the name and address. If possible, you should also add photos to your request.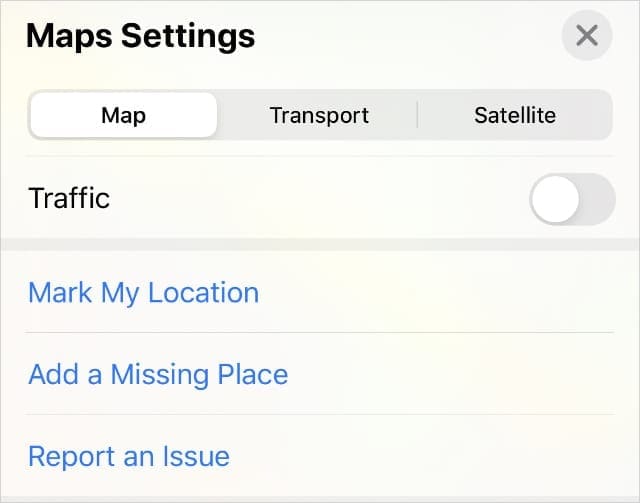 Using a Mac:
Open Apple Maps on your Mac.
From the menu bar, go to Maps > Report an Issue > Add a Missing Place.
Click and drag to move the pin on the map, then click Continue and select Business or Landmark, or Other. You cannot add streets or other addresses from a Mac.
Fill in as much of the other information Apple requests for the place as you can. The more information you can provide, the more likely it is that Apple will approve your request.
How to report a problem with existing Apple Maps locations
Rather than adding a missing place, it's more likely that you need to report a problem with existing locations in Apple Maps. This might include incorrect street names, out-of-date business details, or bad directions.
Once again, it's easy to report any of these problems—and many more—directly within the Apple Maps app on your device. There are two ways to do it, depending on whether your problem relates to a specific location, such as businesses or landmarks, or to navigation and other information.
Report a problem with a business or landmark
Open the Apple Maps app on your device.
Find and select the business or landmark in Apple Maps. On a Mac, you also need to click the i button that appears next to the location name.
In the information panel that pops up for the location, click or tap the Report an Issue button at the bottom.
You can now edit any incorrect details, such as the name, address, opening hours, or website. If none of those fields apply, explain your problem in the Other or Optional Details section instead.
Now choose to Submit or Send your problem to Apple.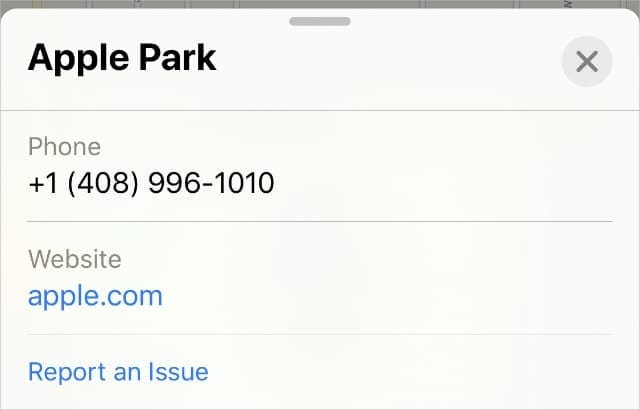 Report other problems in Apple Maps
Follow these instructions to report other problems with Apple Maps, such as street names, directions, public transport information, and more.
Open the Apple Maps app on your device.
On an iOS or iPadOS device, tap the i button in the top-right corner and choose to Report an Issue.
On a Mac, go to Maps > Report an Issue from the menu bar.
Select the kind of problem you want to report from the options given. These change slightly depending on your device but usually include Map Labels, Navigation, and Transport.
Fill in all the necessary details for your particular problem. Apple asks for different information depending on the problem you're reporting. The more information you can give, the better.
Choose to Submit or Send your problem report to Apple.
How to report a Maps issue without an Apple device
You might suffer from problems in Apple Maps, even if you don't use the app yourself. For example, if other people can't find directions to your new home or if Apple Maps keeps mistakenly sending people down your street.
Unfortunately, it isn't easy to report problems with Apple Maps if you don't have an Apple device yourself. The best thing you can do is send an email to [email protected] with everything you know about the problem.
Try to include as much of the following information in your email as possible:
Your name and contact details
The location there is a problem with
Photographic evidence of anything you make a claim to
Any other information Apple may need to correct the problem
How to claim your own business in Apple Maps
As a business owner, you can claim your business in Apple Maps, making it far easier to update the details when you need to. This is particularly useful for keeping your phone numbers, email addresses, websites, and opening hours up to date.
To claim a business, sign in to Maps Connect using your Apple ID account. Then search for your business using the name and address. Alternatively, click Add Place to add a new business.
To claim a business, you need to verify you own it using the contact details Apple already has on record. Only after the verification is complete can you update any of the business details.
If Apple Maps doesn't change, try a different app
It's all well and good to report every problem you find in Apple Maps, but sometimes nothing comes of it. If you find yourself frustrated by old problems that don't seem to change, maybe it's worth trying Google Maps instead.
There are lots of great tips to learn for using Google Maps on your iPhone if you do decide to make the switch.
Obsessed with tech since the early arrival of A/UX on Apple, Sudz (SK) is responsible for the original editorial direction of AppleToolBox. He is based out of Los Angeles, CA.
Sudz specializes in covering all things macOS, having reviewed dozens of OS X and macOS developments over the years.
In a former life, Sudz worked helping Fortune 100 companies with their technology and business transformation aspirations.