At its core, the Apple Watch Ultra isn't all that different from the Apple Watch Series 8 or even the Watch SE. It's easily one of the best smartwatches on the market today, even with the limitations of only being compatible with iPhones and not Android phones. That being said, the Watch Ultra does something that you won't find anywhere else and that comes courtesy of the Action Button.
Related Reading
The Action Button can be found on the left side of the Watch Ultra, complete with a burned orange-type of color to stand out. After getting the Action Button configured, there's a lot more that you can do besides just starting (or stopping) your workouts. Apple surprised everyone by making it possible to use Shortcuts with Action Button on Apple Watch Ultra.
How to Use Shortcuts With Action Button on Apple Watch Ultra
When you first go through the pairing and setup process for your Apple Watch Ultra, you are prompted to set up the Action Button. However, you can skip this step and come back to it later, when you have some more time or if you figure out how you want to use Action Button. If you skipped the initial prompt, here's how you can set up Action Button on Apple Watch Ultra:
Open the Settings app on your Apple Watch Ultra.
Scroll down and tap Action Button.
Tap Choose Action.
Tap Shortcut.
In the top left corner, tap < Action.
Tap Shortcut from the Action Button screen.
Select the Shortcut that you wish to assign to the Action Button.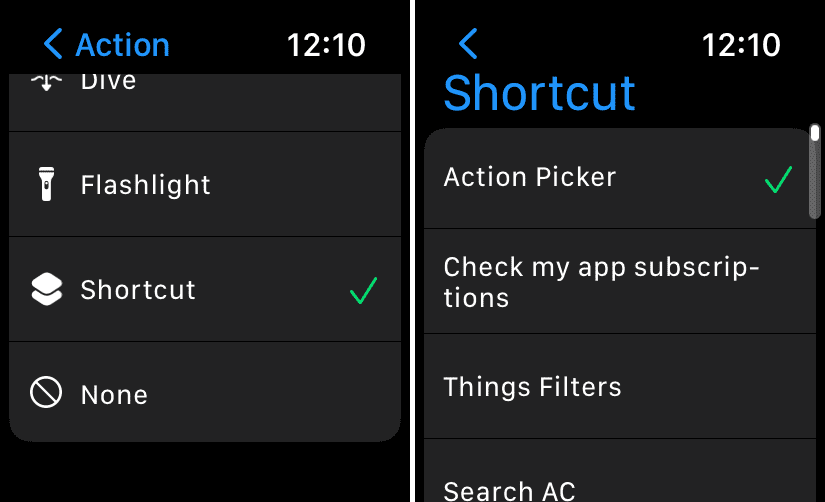 Once you have finished setting everything up, you'll now be able to just press the Action Button and whatever Shortcut is used will be run. Apple including this functionality might come as a surprise to some considering the fact that you can't currently set any app to launch with the Action Button.
But as Matthew Cassinelli points out, Apple shared that there are more than 15,000 apps that work with Shortcuts, along with more than 300 "native actions available for custom shortcuts," and "automatically-generated App Shortcuts from your apps." You could even go so far as to create a Shortcut that does nothing more than open an app, similar to how you can launch apps on the iPhone using custom icons.
The possibilities here are truly endless, and it's truly something that helps the Apple Watch Ultra stand apart from even the other options within Apple's own smartwatch lineup. Siri Shortcuts is constantly being improved, with Apple showing its dedication to the app by building it into iOS and iPadOS, before it finally made its way to the Mac.
Examples of the Best Shortcuts to Use With Action Button on Apple Watch Ultra
One of the really cool things about Shortcuts is that the community never ceases to amaze. Just browsing through the r/Shortcuts subreddit just goes to show that if you have an idea of something that you want to accomplish with Shortcuts, chances are, there's a way to make that happen.
Here are a few favorites that we've found while trying to figure out what Shortcuts to use with our own Apple Watch Ultra:
Another great thing about the community is that if you are running into issues creating your own Shortcuts, you can always reach out to try and get a bit of help. Maybe you'll even find someone who had a similar idea and already created a Shortcut that you can use as a baseline.
Andrew Myrick is a freelance writer based on the East Coast of the US. He enjoys everything to do with technology, including tablets, smartphones, and everything in between. Perhaps his favorite past-time is having a never-ending supply of different keyboards and gaming handhelds that end up collecting more dust than the consoles that are being emulated.