The seconds are ticking towards a new iPhone and the official release of iOS 14. We are still discovering new features and changes on a regular basis. Some are monumental, while others have been found completely by accident or happenstance. One app, where you won't find too many changes, is the built-in Mail app.
Related Reading
Apple took the liberty of changing enough in different areas of iOS and iPadOS where the Mail app has kind of been forgotten. While we continue hoping for a Notes-level redesign, there's enough in iOS 14 to make us happy. Although, there have been some changes to where you can find the right settings for your apps.
What's new with the Mail app on iOS 14?
Outside of the addition of Widgets and the App Library, it may seem like iOS 14 is nothing more than an iterative update. There's nothing wrong with that after the laundry list of problems that plagued (and continue to plague) iOS 13 users. While there are those who believe that no email apps are great, Apple's built-in Mail.app is one of the best and it's largely due to the system-wide integration.
However, there's really not too much being added to the Mail app, outside of some extremely minor design changes. The system integration has changed a bit more, as users will finally be able to set their favorite email apps as the default option. But this has to be done by the developer, and there's really no telling how long that will take.
Another new feature coming in iOS 14 is the ability to run an automation based on an email being received. Essentially, a Shortcut can be run as soon as an email arrives, which is something that was previously not possible with Shortcuts or the Mail app. It's a nice touch as Shortcuts continues to become more robust and more useful for iOS and iPadOS. Keeping with automation, Siri will now recognize potential reminders in the Mail app. This allows you to quickly add an email to the Reminders app along with notifications.
Where did the "Accounts" settings go?
With previous iterations of iOS, Apple made it so that you could find the settings for your Passwords and Accounts in the same area. This has been changed, as the two features have been separated and turned into their own respective sections within the Settings app. Here's how you can find the Accounts settings for the Mail app in iOS 14: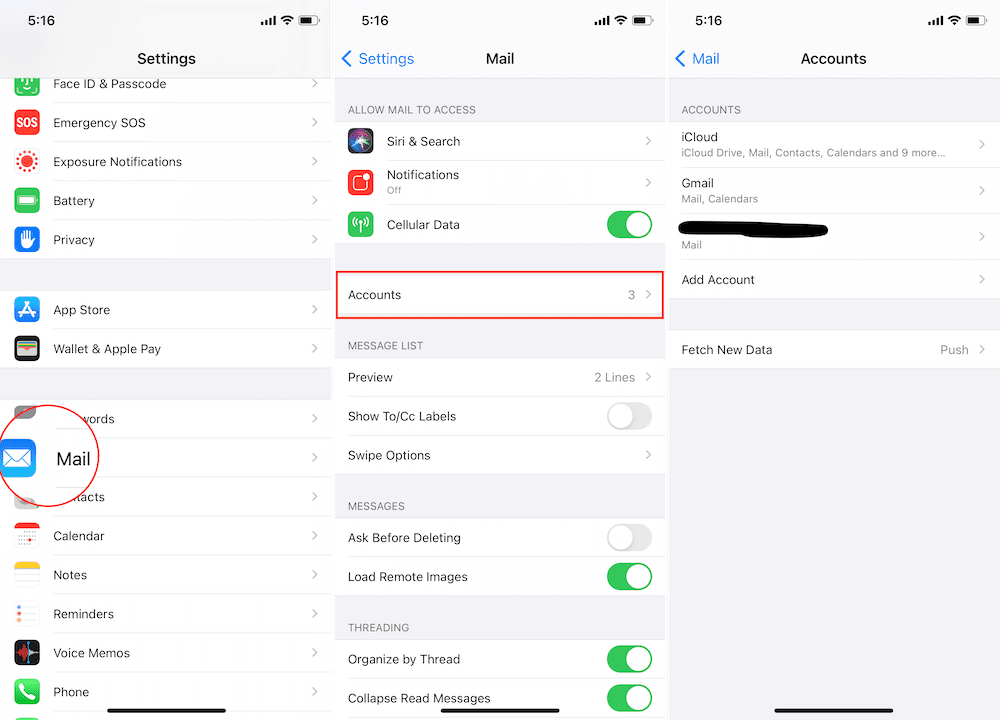 Open the Settings app on your iPhone.
Tap Mail.
Select Accounts.
Choose the account you wish to edit from the list.
From here, you will then be able to edit and change the settings for any of the accounts that have been added to the Mail app. You can even add new accounts if you forgot to add a tertiary email address before, or maybe create a new one altogether. This Accounts settings panel also gives you access to the "fetch" settings for your emails and the Mail app on the whole.
Andrew is a freelance writer based on the East Coast of the US.
He has written for a variety of sites over the years, including iMore, Android Central, Phandroid, and a few others. Now, he spends his days working for an HVAC company, while moonlighting as a freelance writer at night.