Parallels Desktop may sometimes throw the following error message: "An error occurred while accessing the Hard Disk 0 used by Windows 10". Then, the virtual machine locks you out, and the only way to use your Mac is to exit Parallels or force restart your machine. If the error persists after restarting your Mac, follow the troubleshooting steps below to fix the problem.
Fix: Parallels Desktop Can't Access Hard Disk 0
This error usually occurs when Parallels fails to read data from the virtual machine drive. It usually indicates your Mac disk got corrupted or an unexpected system failure occurred while Parallels was trying to access the disk.
Check Your Disk
First things first, run Disk Utility to repair any Macintosh HD errors that might have prevented Parallels from accessing your disk. Go to Applications, select Utilities, and then launch Disk Utility. Click on First Aid and launch the tool.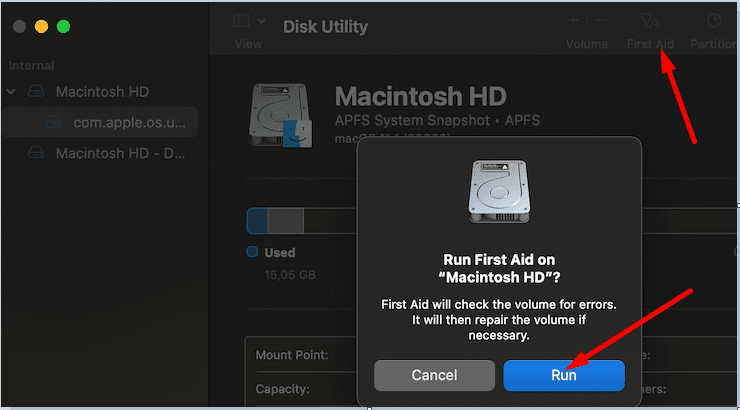 If the Macintosh HD doesn't have any errors, go to the next step.
Edit the Boot Flags
Start Parallels Desktop but don't launch your virtual machine just yet.
Then go to your list of virtual machines.
Right-click on your Windows virtual machine, and go to Configure.
Select the Hardware tab and go to Boot order.
Go to the Boot flags section and add the devices.hdd.error = 1 boot flag.
Save the changes and check the results.
Reinstall Your Virtual Machine
Launch Spotlight and locate the Boot Camp virtual machine .pvm file. Then simply drag it to Trash. Launch Parallels, go to the File menu, select New and reinstall the VM.
If the issue persists, uninstall and reinstall both Parallels and Windows. Additionally, uninstall all the programs you installed on Windows 10. Unfortunately, many users confirmed this method worked only for a few days.
Well, if none of these methods worked, contact Parallels Desktop Support for further help.
Conclusion
If Parallels Desktop couldn't access the hard disk used by Windows 10, launch Disk Utility, and run the First Aid tool to check your disk for errors. If the issue persists, edit your boot flags and reinstall your virtual machine. Did these solutions help you fix the problem? If you found other ways to fix this error, let us know in the comments below.