Following the release of iOS 16.2 in December 2022, Apple is ready to launch its next software release with iOS 16.3. This has been in the works since right before Christmas, and a lot has happened in the world of Apple since then. With that in mind, let's dive in to see what's new in iOS 16.3.
Related Reading
What's New in iOS 16.3
Security Keys
As evidenced by the introduction of Advanced Data Protection, Apple is taking your privacy and security more seriously than ever. And iOS 16.3 expands on that even further, as iOS 16.3 adds support for using a physical security key when signing into your Apple ID through iCloud or on a new device.
Apple has already confirmed that it won't be releasing a self-branded security key. However, the company is working with the FIDO Alliance to ensure that FIDO-compatible security keys will also work with iPhone models once the feature is made more widely available.
Unity 2023 Watch Face and Wallpaper
Throughout the year, Apple has a pretty good track record of releasing new watch bands, watch faces, and wallpapers to celebrate different events. Ahead of Black History Month, Apple announced an all-new Unity band, complete with a new watch face and Lock Screen wallpaper.
Fix Horizontal Lines Appearing
When the iPhone 14 lineup was announced, there were quite a few bugs and issues that arose. Apple has done a pretty good job at getting rid of those issues, but it seems that some iPhone 14 Pro and Pro Max owners haven't been so lucky.
Since December 2022, some users have found green and yellow flashing lines appearing when turning on their phones. At the time, Apple didn't publicly acknowledge the problem, but it seems that a fix has been implemented with the release of iOS 16.3.
Advanced Data Protection
The introduction of Advanced Data Protection for iCloud comes following the release of Lockdown Mode with iOS 16, along with the various on-device security modules built into your iPhone.
With Advanced Data Protection for iCloud enabled, here are the different categories that will be encrypted:
Device Backup
Messages Backup
iCloud Drive
Notes
Photos
Reminders
Safari Bookmarks
Siri Shortcuts
Voice Memos
Wallet Passes
The list above doesn't include everything that Apple provides encryption for. There are other apps and pieces of information that are already encrypted, such as data from Health and Maps, along with passwords that are saved to your iCloud account through the iCloud Keychain.
Support for 2022 HomePod
It's been almost six years since the Apple HomePod made waves in the smart speaker space, and almost two years since the original HomePod was discontinued. Since then, Apple pivoted to its primary smart speaker efforts on the HomePod Mini, which is much more affordable and is quite impressive for such a small speaker.
Thankfully, the wait is finally over, as the 2nd Generation HomePod was announced. At the time of this writing, pre-orders for the new HomePod can be made, with the new smart speaker set to be released on February 3.
As you might expect, Apple is including the necessary changes in iOS 16.3 to accommodate for the new HomePod. This includes basic things such as changing the iconography within different apps, along with allowing your iPhone to communicate with the new HomePod once it lands on your doorstep.
Music Handoff Splash Screen
Another change that has been found in iOS 16.3 comes for those who want to use Handoff between your iPhone and a HomePod. The splash screen has been updated to provide clearer instructions on how to use Handoff, complete with the following messages:
"Bring iPhone close to HomePod to view controls, or when playing music, to move music between iPhone and HomePod.

You can bring iPhone near HomePod again later to view controls or transfer music."
When this first appeared, it was a bit of a head-scratcher considering Apple had not released a new HomePod since 2020. However, now that the all-new 2nd Generation HomePod is on the way, the updated splash screen makes much more sense now.
How to Download iOS 16.3
Backing up your iPhone is extremely important if you plan to install beta versions of software. This is especially true with Developer Beta releases, as these are not intended to be installed on a device you use on a daily basis. Instead, Developer Betas are meant to be used with secondary or even tertiary iPhones so that developers can test out new features before the final release. With that being said, here's how you can back up your iPhone if you want to install iOS 16.3:
Open the Settings app on your iPhone.
Tap your profile at the top of the page.
Tap iCloud.
Select iCloud Backup from the list.
Tap the Back Up Now button.
With your backup completed, it's time to get ready to download iOS 16.3. There is one more catch, however, that you need to be aware of. Once you have backed everything up on your iPhone, here's how you can check out what's new in iOS 16.3 for yourself:
Open Settings
Click General
Select Software Updates
When the update is available, tap the Download and Install button.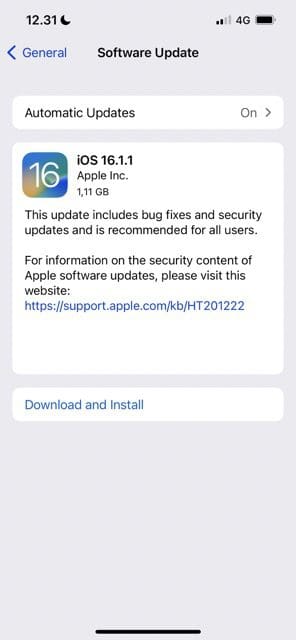 After a moment or two, a prompt should appear giving you the ability to download and install iOS 16.3.
Andrew is a freelance writer based on the East Coast of the US.
He has written for a variety of sites over the years, including iMore, Android Central, Phandroid, and a few others. Now, he spends his days working for an HVAC company, while moonlighting as a freelance writer at night.