Apple released Freeform in December 2022, and you can use the app on iPhones, Macs, and iPads. It's a handy tool for creative professionals, but you can also find a lot of value in it if you're not into a discipline like photography or graphic design.
Related Reading:
To access Freeform, you'll need to download iOS 16.2, iPadOS 16.2, or macOS Ventura 13.1. Once you've done that, you can read the tips and tricks below to get more out of the app. With that in mind, let's look at a selection of cool things you can do with Freeform.
1. Use Sticky Notes
Freeform gives you plenty of tools for your mood boards and brainstorms, such as uploading visual content and drawing on the canvas. Another handy feature, however, is the ability to use sticky notes.
You can use the sticky notes in Freeform to add important points and reminders. Beyond that, you might also want to use them for making lists of products and services you may need to buy – plus more.
To add sticky notes to your canvas, go to the second icon in the middle. A sticky note will appear in your project; double-tap on it to start typing what you want.
2. Zooming In and Out of Your Canvas
As you use your canvas in Freeform, you'll quickly notice that you have a full page to add whatever you want. However, you might not see everything straight away. Luckily, fixing this isn't too challenging.
If you want to zoom out on your Freeform canvas, use two fingers and start moving them in and out. Alternatively, click on the percentage button and choose how much you want to zoom in or out.
Another way to zoom in is by using two fingers and moving them further away once you've touched the screen.
3. Change the Font Size for Your Tex
Another handy feature in Freeform is the ability to change your text font sizes. You can do this in both text boxes and sticky notes, and the process is similar for both.
Tap on the box for which you'd like to change your font size. If you're changing the text on a sticky note, click on the Aa option.
For text boxes, you'll need to select the number instead.
If you use a sticky note, click on the number. Once you're on this option, you can change the size of your text.
4. Creating New Canvases Without Going Back to the Homepage
As you use Freeform more frequently, you will likely want to create more than one canvas. And while you can keep going back to the homepage, let's be honest – that can get quite tedious. Luckily, you can use an alternative.
When in any of your projects, you can go to the pencil and paper icon in the top right-hand corner. Click on this, and you'll see a new project appear; you can expand the title dropdown menu in the top left to rename your new canvas.
5. Searching for Text Within Your Freeform Canvas
As you add more to your canvas, you might discover that finding what you're looking for gets a little complicated. Fortunately, Freeform has a simple option to help you achieve your desired result.
In each Freeform project, you'll find a search bar option. Go to your canvas name and expand the dropdown menu before selecting Find.
When the search bar appears, type the words you're looking for. You can use the up-and-down arrows on the right-hand side to scroll through each of them until you find specifically what you're looking for.
6. Saving Your Freeform Mood Boards to Pinterest
If you were already creating mood boards prior to Freeform, you might have used Pinterest. The platform is an excellent tool for incorporating all of your ideas, and you can find several posts from others to add to your boards. But did you know that you can use Freeform and Pinterest together?
Once you've finished making your canvas, you can share your creations with Pinterest. To do this, go to the middle icon on the right-hand side and select Save to Pinterest.
7. Deleting Elements
We've talked a lot about adding different elements to your Freeform canvas, but knowing how to delete things is just as important. Knowing how to do this is a little tricky when you first use Freeform, but you don't need to do too much.
If you're using Freeform on an iPhone or iPad, tap or hold onto the element you'd like to delete. Then, click on the trash icon. If you hold onto the element, you'll need to let go when it moves up slightly.
To delete elements on your Mac, select it and press the backspace key.
8. Changing the Colors of Your Notes
If you want to get creative with your sticky notes, you may wish to change the colors of them. Doing this is pretty simple; to begin with, you'll need to select your note. Once you've done that, a menu will appear. Click on the colorful circle, which is the furthest to the left.
A number of colors will appear when you expand the menu. Pick whichever you want to change your sticky note to and repeat the process for each other note you'd like to do this with.
9. Adding Symbols
When you make a canvas in Freeform, you'll also find numerous symbols you can add. These range across multiple categories, including nature, geometry, places, and more. Adding these is pretty simple; you'll need to go to the icon with the circle and square in the middle of the top toolbar.
Once you've selected this option, you can scroll through the various tabs to find what you're looking for. Once you've found an element you'd like to add, tap on it. It will then appear on your canvas, and you can make it bigger in the same way that you'd expand a picture in a Word document.
You can also change your element's colors by clicking on it and tapping on the colored circle.
10. Changing Your Pencil Types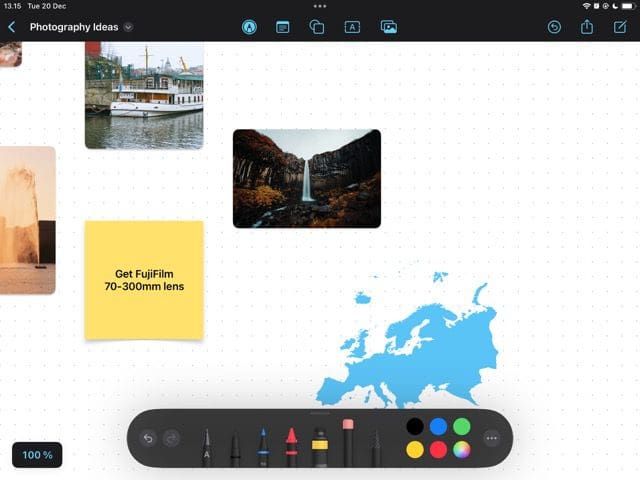 Freeform offers a lot of different options for drawing on your canvas. You can use the tools regardless of whether you have an Apple Pencil or not, though it's easier if you do have one.
To change your pencil type for drawing, go to the pencil icon. You'll see this in the middle toolbar, and it's the first symbol in this area.
Once you're in this section, you can also change the color of your pencils. In addition to that, you can use the eraser tool to remove anything you'd like to get rid of.
Use These Tips and Tricks to Enhance Your Freeform Experience
As you can see from this list, you've got plenty of tools to help you bring your creations to life in Freeform. It's easy to customize colors for multiple things, such as sticky notes and elements. On top of that, you can easily add text and draw different things on your canvas.
Now that you've read this article, you should find it easier to bring your ideas in Freeform to life. You can use the tool both on your own and in collaborative projects, as long as the people you're working with also have Apple devices with the latest software installed.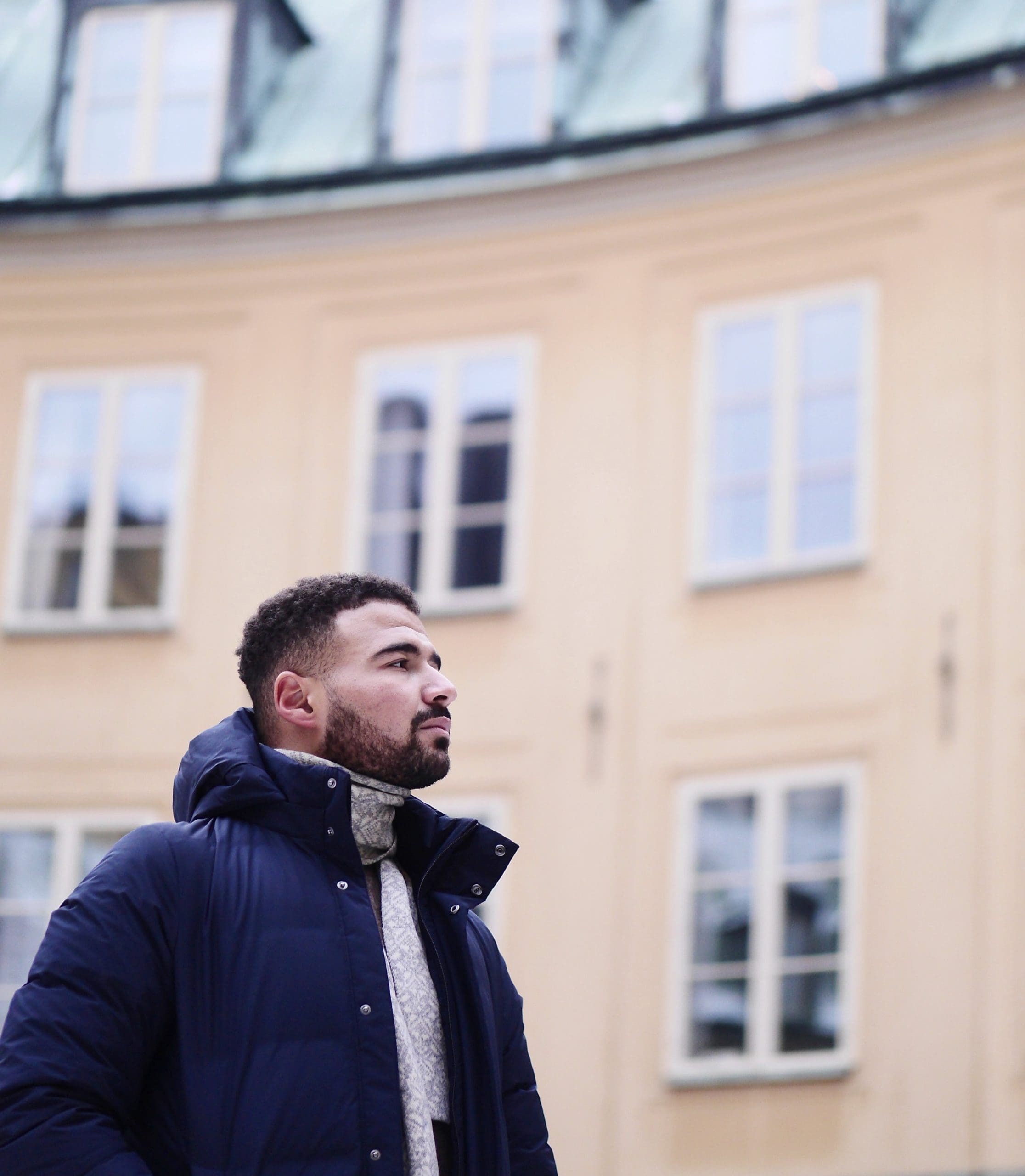 Danny is a freelance writer who has been using Apple products for over a decade. He's written for some of the largest technology publications on the web and previously worked as an in-house writer before carving his own route. Danny grew up in the UK, but now writes about tech from his Scandinavian base.