With the launch of iPadOS 16 in October 2022, Apple introduced several new features. Siri has more capabilities than before, for example, and managing Wi-Fi networks is also easier. However, perhaps the biggest change hasn't even arrived yet.
Related Reading:
In June 2022, Apple announced that it would bring a new app to its devices this fall. Its name will be Freeform, and it will allow you to collaborate with others in a single interface. But what is it, when can you expect it to arrive, and is it only available on iPads?
Keep reading if you want to learn more about all of the above.
Will Freeform Only Be Available on iPadOS 16?
If you don't have an iPad, but the idea of using Freeform sounds appealing to you, don't worry. In addition to its tablets, Apple will roll the app out on its suite of Macs as well.
For iPhone users, we've also got good news. When Freeform is released, you can also use it on your smartphone.
Can I Use Freeform on Pre-2022 Operating Systems?
To use Freeform, you'll need to download the 2022 version of your device's Apple software. That's iPadOS 16 if you own an iPad and macOS Ventura if you use a Mac. And for iPhone users, you'll need to have iOS 16 downloaded on your device.
While you can't use Freeform on software released before 2022, that doesn't mean you need to upgrade your device. As long as your iPhone supports iOS 16, your iPad supports iPadOS 16, or your Mac has macOS Ventura, you can benefit from Freeform.
When Will Apple Release Freeform?
Apple will release Freeform with iPadOS 16.2, which should come around at some point in fall 2022. iPhones and Macs will also receive a software update that allows you to start using Freeform.
At the time of writing on October 26th, 2022, Apple has not specified an official release date for Freefrom.
What Can You Do with Freeform?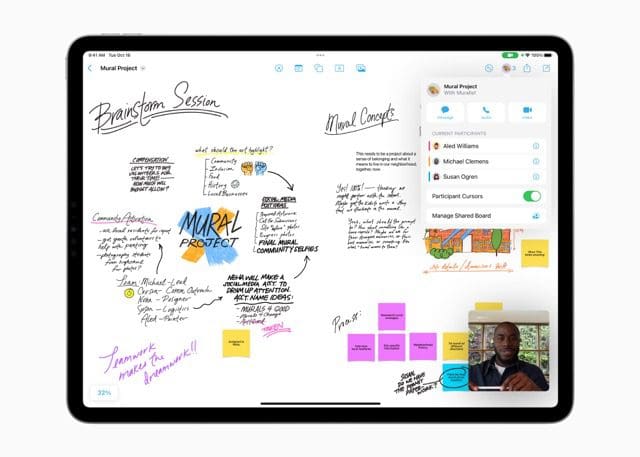 Okay, so you've got a better idea of the devices that support Freeform. You also know whether Apple has a current specified release date for the software. With all of that out of the way, let's look at what you can do with Freeform.
Create Sticky Notes
The Notes app is handy, but you might find it limiting if you want to start doing other things. Freeform will help you get more creative with your planning, and you can also divide information in other ways.
One of the ways that Freeform will help you improve your note-taking and planning is through sticky notes. You can use these for reminders, big title ideas, and much more.
Add Text Boxes
In most cases, you will almost certainly want to type at least something while taking notes. As such, it wouldn't be too ideal if Freeform didn't allow you to do this. Luckily, it does.
When using Freeform, you can add text boxes. In these, you can write whatever you want – whether that's simple notes or more complex sentences. You can add these text boxes wherever you want to on the canvas.
Drawing
In addition to writing text, planning and mind-mapping often require a bit of freehand. When using Freeform, you will be able to draw on the canvas; that could be something as simple as arrows, but it could also be more complex visuals.
If you need to explain concepts to others in the project, you will find the drawing tool handy – ditto for brainstorming. Besides drawing, you'll also find various shapes that you can add.
Insert Documents
While you'll probably jot a lot of your ideas in Freeform, you might also have things that you need to share with your team. And when Apple releases this app, you'll be able to do precisely that.
Freeform lets you add various document formats to your Freeform canvas. Thanks to this, others will be able to see what you've been working on easier – and you can also share things you need them to do with greater ease.
Add Visual Media
When making big plans, it's often useful to have a visual example. You might want to include pictures or videos you've already taken yourself, or you may wish to add visuals created by others that help you explain your point better.
In Freeform, you will be able to add both photos and videos. And if you save other visuals like infographics in the appropriate file format, you can also include these.
Share Boards With Others
As Freeform is designed for collaboration, you won't be surprised to hear that you can share boards you create with others. This is another of Apple's moves to make its apps more collaborative; it introduced additional features for programs like Messages with its fall 2022 updates.
Once you've shared your Freeform boards with others, they'll be able to contribute their own ideas.
Talk on FaceTime
Besides sharing your Freeform boards with others, the app will allow you to collaborate in real time. Freeform will integrate with FaceTime, making it handy for meetings if all of your team members use Apple devices.
If your team members don't use Apple devices, you can always use solutions like Canva – and collaborate via Zoom.
Can I Use My Apple Pencil With Freeform?
Since Freeform has drawing tools available, you might prefer not to make these freehand. Luckily, you can use your Apple Pencil with Freeform if you have an iPad.
Freeform: Another Tool That'll Help You Collaborate Better
Freeform is perhaps Apple's most exciting update coming to iPadOS 16, iOS 16, and macOS Ventura. As more of the world works remotely, creating tools that help teams get things done has become even more essential than it previously was.
With Freeform, you can easily create boards that will help you bring your plans to life. You can use text, drawings, sticky notes, and much more. And if you've got an Apple pencil, you'll be able to use this to enhance your experience with the app.
Danny is a freelance writer who has been using Apple products for over a decade. He's written for some of the largest technology publications on the web and previously worked as an in-house writer before carving his own route. Danny grew up in the UK, but now writes about tech from his Scandinavian base.