It's that time everyone. The latest version of iPadOS has finally arrived, and you can install it on your own (compatible) iPad models. This release is one of the biggest that we've ever seen, bringing with it a more desktop-like experience. And today, we're taking you through the steps if you want to know how to download iPadOS 16.
Related Reading
What's New in iPadOS 16
There are a lot of new features coming to iPadOS 16, and you can hit the link here if you want to learn more about what's in the pipeline. But if you're coming to this tutorial and didn't already know what iPadOS 16 will bring, here are some of the highlights.
Stage Manager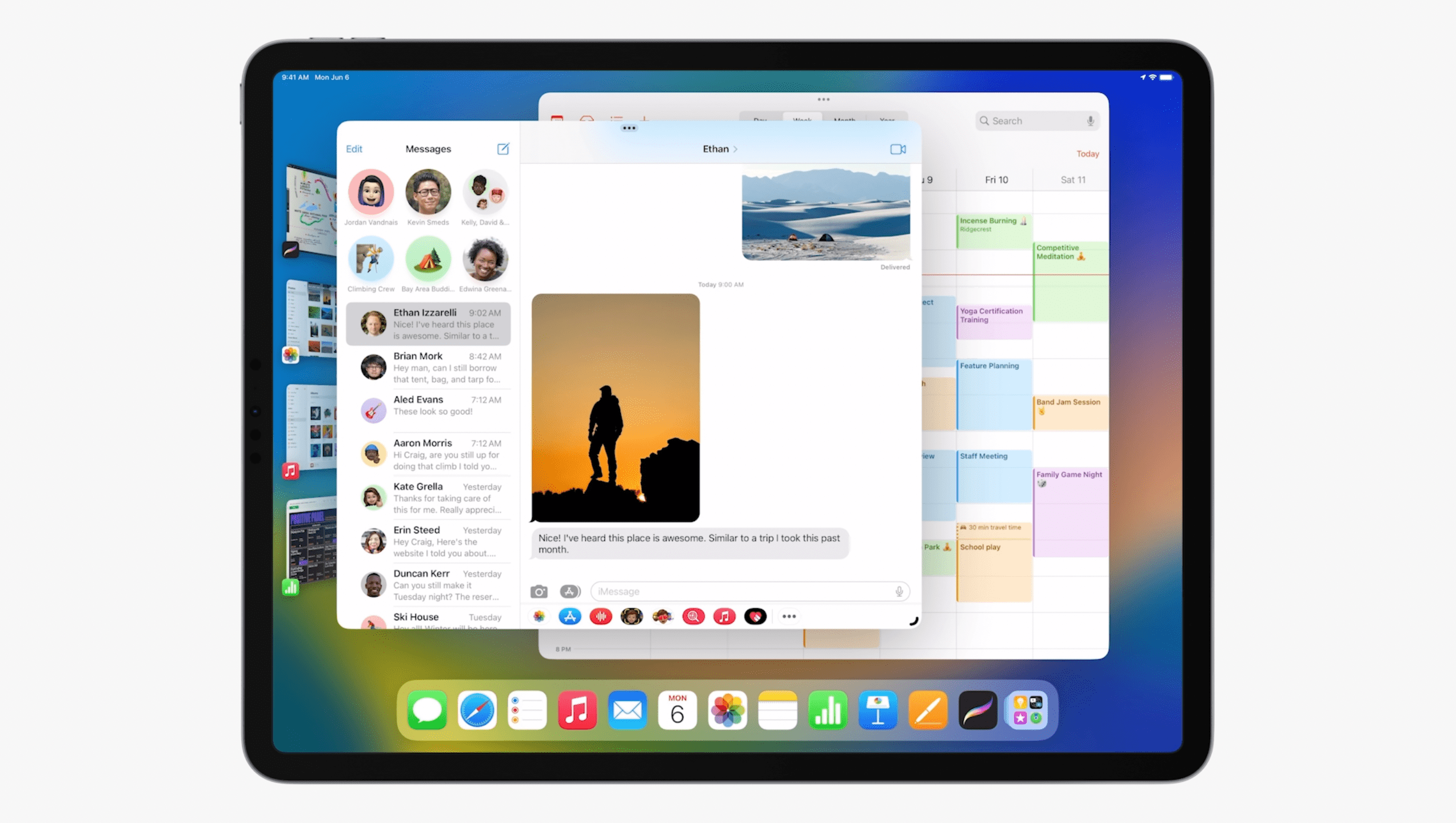 Stage Manager is a feature coming to macOS Ventura and iPadOS 16, giving users the ability to use apps in new ways. This is a new multitasking functionality, with the ability to resize windows, and see overlapping windows "in a single view".
When activated, you'll be presented with your most recently-opened apps off to the left. And tapping on any of those other apps will put them front and center. Stage Manager also makes it possible to stack multiple apps together and continue to use them side-by-side, overlapped, or however else you want to use them. iPadOS 16 also makes it possible to create different groups, making it easier to focus on the task at hand without getting distracted.
Desktop-class Apps
Many of Apple's native apps are being updated in iPadOS 16 in an effort to bring "desktop-class apps" to the iPad. Some of these examples include being able to see your availability in the Calendar app, change file extensions in files, and even customize toolbars in various applications. By doing so, you'll be able to quickly access your most-used tools and features.
Easier Collaboration
Collaboration has been a big theme for Apple this year, and it continues with iPadOS 16. Freeform is an upcoming productivity App that allows you and others to work together using a single blank canvas. You can jot down notes using the Apple Pencil, or go down the traditional route of just sharing files, web links, videos, and more.
You'll be able to invite multiple collaborators, share a link, and get started. Plus, all of the changes happen in real-time, so you can see what ideas are happening, as they happen. Freeform will be coming to iPadOS 16 later this year.
Eligible Devices
From year-to-year, Apple remains one of the best in the business when it comes to supporting its hardware via software. However, iPadOS 16 is a bit different than in years past, as there are a number of devices that are being dropped from the support list. This includes the 6th gen iPad, 2nd-gen iPad Air, and more. But here's the full list of models that will support iPadOS 16.
iPad 7th generation
iPad 8th generation
iPad Air 3rd generation
iPad Air 4th generation
iPad mini 5th generation
iPad mini 6th generation
9.7-inch iPad Pro 1st generation
12.9-inch iPad Pro 1st generation
9.7-inch iPad Pro 2nd generation
12.9-inch iPad Pro 2nd generation
10.5-inch iPad Pro
12.9-inch iPad Pro 3rd generation
11-inch iPad Pro
12.9-inch iPad Pro 4th generation
11-inch M1 iPad Pro
12.9-inch M1 iPad Pro
Back Everything Up First
If you own an M1-powered iPad, there's a lot to be excited about, simply because of the new Stage Manager feature. However, this is the first Developer Beta for iPadOS 16, and there are already plenty of bugs to be found. As you might expect, this release isn't intended for the general public, but instead, is meant to give developers a way to update their existing apps to support the upcoming release. 
Regardless of the reasoning behind why you want to download iPadOS 16 Developer Beta, you'll first need to back up your iPad. By doing so, not only will your files be backed up, but you also have a backup to restore from in the event you need to downgrade back to iPadOS 15. 
Open the Settings app on your iPad.
Tap your profile at the top of the page.
Tap iCloud.
Select iCloud Backup from the list.
Tap the Back Up Now button.
How To Download iPadOS 16
With your backup completed, it's time to get ready to download iPadOS 16. There is one more catch, however, that you need to be aware of. 
You Need An Apple Developer Account
At the time of this writing, there is no Public Beta of iPadOS 16 available to download. This means that the only way you can download iPadOS 16 is by creating a Developer's Account through Apple's Developer page. Creating an account is simple enough, but in order to actually install the necessary profile, you'll need to come up with the $99 yearly developer fee. This can be paid during the account creation process, and then you're off to the races. 
Open Safari (or another browser) on your iPad.
Navigate to developer.apple.com/download.

 

Log in with your developer credentials, usually your Apple ID.

 

When prompted, enter the 2FA code, and hit the Trust button to trust the device.
Under Operating Systems, tap the Install Profile button next to iPadOS 16 beta.

 

When prompted, tap Allow to download the configuration profile.

 

Tap Close on the Profile Downloaded prompt.

 

Open the Settings app on your iPad.
At the top of the left sidebar, tap the Profile Downloaded option.
Tap the Install button in the top right corner.

 

When prompted, enter your iPad's passcode.
Tap Install after reading the consent form.

 

Confirm that you want to install the beta profile.
When prompted, tap the Restart button.

 

While your iPad is restarting, plug it into a reliable power source.

 

Once restarted, make sure that you are connected to a reliable wireless network.

We recommend connecting to Wi-Fi in order to download iPadOS 16.

Open the Settings app on your iPad.
Tap General.

 

Select Software Update.
Tap the Download and Install button.

 

When prompted, enter your iPad's passcode.

 

Tap Agree when the Terms & Conditions page appears.
Wait.
The actual process for downloading and installing iPadOS 16 is no different than previous versions of the software. This means that once the beta software is downloaded, your iPad will restart in order to install iPadOS 16. We recommend that you find something else to do, as you might be waiting a little while before the installation process is complete. 
While iPadOS 16 is being installed, you'll see an Apple logo appear, complete with a progress bar beneath it. You also might notice that your iPad restarts a couple of times, but don't fret, as this is just normal procedure. Once your iPad is finished restarting for the final time, you'll be able to enjoy iPadOS 16 Developer Beta 1.
When Is iPadOS 16 Being Released?
Apple is just getting started with the latest version of iPadOS. The first Developer Beta is available for developers starting now, with a Public Beta program set to open sometime in July. We'll continue seeing iterations made to the platform over the next few months, before iPadOS 16 is released for everyone this Fall. 
Andrew Myrick is a freelance writer based on the East Coast of the US. He enjoys everything to do with technology, including tablets, smartphones, and everything in between. Perhaps his favorite past-time is having a never-ending supply of different keyboards and gaming handhelds that end up collecting more dust than the consoles that are being emulated.