Your AirPods may sometimes make a high-pitched noise when there's no audio. This issue usually occurs when the Active Noise Cancellation option is on. The noise is similar to the whistling sound that a tea kettle makes when water reaches boiling temperature.
Apart from being extremely annoying, the high-pitched noise significantly reduces the battery life of your earbuds. Unfortunately, this problem affects all the AirPods models on the market, including AirPods 3. Let's discuss what's causing the issue and what you can do about it.
Why Are My AirPods Making Weird High-Pitched Noises?
If your AirPods don't have a good seal, the Active Noise Cancellation feedback loop will try to compensate for the outside noise by actually being as loud as it can. This may sometimes lead to high-pitched noises.
Some users suggested the issue could actually be a design problem. The black mesh on the earbuds may sometimes protrude more than it should. When you try to adjust your earbuds, you can hear a really loud high-pitched noise.
If you have other Bluetooth devices connected to your phone or computer at the same time as the AirPods, disconnect them and check if the issue persists. Maybe they're interfering with your AirPods.
Check if your Airpods are making that high-pitched noise when paired to a specific device. Or maybe this issue occurs when they're paired with multiple devices.
What Do I Do if My Airpods Make a Weird Noise?
Disable Automatic Ear Detection and Noise Control
Disable Automatic Ear Detection and Noise Control. You should no longer experience this issue with the isolation and transparency settings disabled. Check if this workaround eliminates the issue for you.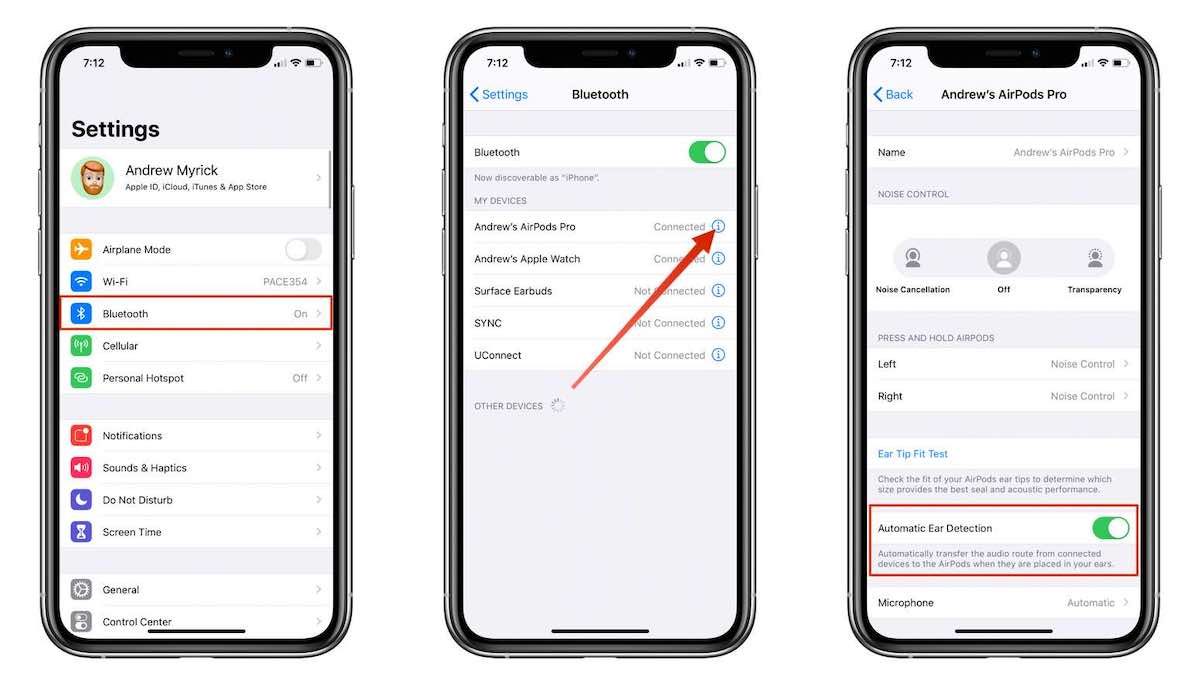 After turning off Automatic Ear Detection, your AirPods will keep your current Noise Control settings. Make sure noise cancellation is off when fitting the earbuds. You can turn the feature on after fitting your earbuds. Even if this solution doesn't completely eliminate the issue, it should dial down the number of high-pitched noise occurrences.
Reset Your AirPods
Try resetting your AirPods and check if you notice any improvements.
Navigate to Settings.
Select Bluetooth.
Tap your AirPods.
Select Forget This Device.

Remove and reconnect your AirPods from the Bluetooth settings.

Then put your earbuds back into the case and close the lid.
Wait for 30 seconds and open the lid.
Press and hold the setup button on the case until the LED flashes white.
Place your AirPods close to your device.
Follow the on-screen steps to pair the devices.
If the issue persists, go to an Apple Store or Apple Authorized Service Provider. For more information about the service options for your AirPods, see AirPods Replacement, Service, and Repair.
Conclusion
If your AirPods emit a high-pitched squealing sound, disable Automatic Ear Detection and Noise Control. Turn Noise Control on after securely fitting your AirPods in your ears. If the issue persists, reset your AirPods and go to an Apple Store to have your earbuds repaired.
Did you manage to solve the problem? If you found other ways to troubleshoot this annoying issue, feel free to share your ideas in the comments below.