The latest iOS and watchOS updates usually pack a lot of interesting new features and useful improvements. But sometimes, these updates also bring issues of their own. For example, unread message notifications won't go away on your Apple Watch. If you read the message on your iPhone, the corresponding notification won't disappear unless you read that message on your Apple Watch as well. Having to read the same message on both devices to clear the notification can be really annoying. Let's explore how you can fix this problem.
Apple Watch: Unread Message Notifications Won't Go Away
Restart Your Devices
Hold one of your iPhone's Volume buttons and the side button simultaneously.
When the Power off slider appears on the screen, drag it to turn off your device.
Wait one minute and then hold the side button to restart your device.
Release it when the Apple logo appears on the screen.
To restart your Apple Watch, hold the side button until the Power Off slider appears on the screen.
Drag the slider and wait 30 seconds.
Hold the side button again to turn on your watch.
Check if the notification problem is gone.
Use Google Voice and Send Yourself an SMS
Turn iMessage off.
Then, use Google Voice to send an SMS to yourself. Alternatively, you can ask a friend who is not an iOS user to send you an SMS.
Read the SMS and check if the message shows read on Apple Watch.
On your iPhone, re-enable iMessage and check if the sync issue is gone.
Other users said that simply deactivating and reactivating iMessage should do the trick as well. Do that, then force reboot your Apple Watch and check if this method worked.
Re-enable "Mirror my iPhone"
You can mirror your iPhone for messages on your Apple Watch through the "Mirror my iPhone" setting. This option lets you choose how you want to be notified about new messages.
Go to your Apple Watch app, navigate to Messages, and untick the option that says Mirror my iPhone. Delete the unread messages on your watch, restart the device, go back to your Apple Watch app, re-enable "Mirror my iPhone", and check the results.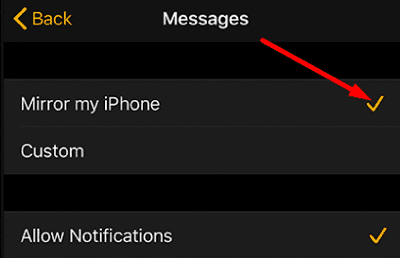 Unpair and Re-pair Your Apple Watch From Your iPhone
Bring your iPhone near your Apple Watch.
Launch the Watch app on your iPhone.
Select My Watch and go to All Watches.
Tap the info button and select Unpair Apple Watch.
Restart your devices.
Go back to All Watches and tap Pair new watch. Follow the on-screen steps to complete the pairing process.
Check if unpairing your devices resolved the problem.
If the issue persists, reach out to Apple Support for further help.
Conclusion
If you read your text messages on your iPhone, but your Apple Watch says they're unread, restart your devices and check the results. Additionally, disable iMessage, and have an Android user send an SMS to you. If the problem persists, disable and re-enable "Mirror my iPhone" on your Apple Watch app. Did these tips help you troubleshoot the problem? Hit the comments below and let us know which method worked for you.