While the Mac Studio may not be positioned for everyone, the truth is that it's the most powerful computer that Apple has to offer. There are two different configurations available, as you can get either the M1 Max or all-new M1 Ultra chipsets. And regardless of which you choose, this beast of a desktop computer will be able to easily handle anything and everything that you throw at it.
Related Reading
As is the case whenever a new Mac becomes available, we like to check out some of the best peripherals for you to pair with it. This is especially true with the Mac Studio, as you only get the computer and power cable in the box, meaning that you'll need to deck out your desk setup. So here are the best Mac Studio accessories available today.
Best Mac Studio Keyboards
The Magic Keyboard with Touch ID and Numeric Keypad offers a built-in Touch ID fingerprint scanner placed in the top right corner. In addition to being able to authenticate your login, Touch ID is also used with Apple Pay purchases, App Store purchases, and more. Apple also finally introduced a new black colorway for this keyboard, seemingly leaving Space Gray behind.
Not everyone is a fan of a keyboard that has a numeric keypad attached, and that's where the Logitech MX Keys Mini comes in. This keyboard can be connected to three devices at the same time, while utilizing USB-C for charging. Logitech even went so far as to add new "Smart Keys" so you can quickly mute or unmute your mic, pull up your emojis, or start voice dictating some thoughts that came to mind.
Admittedly, this one is a personal favorite, as we've been getting more and more into mechanical keyboards. The Keychron K2 is arguably the best entry-level mechanical keyboard out there, and ships with Mac-specific keys. It's completely wireless, and connects to your Mac via either the included 2.4GHz dongle or Bluetooth. Plus, it offers backlighting which is something that even Apple's Magic Keyboard doesn't offer.
Best Mouse for Mac Studio
Those who are big fans of the trackpad on the MacBook Air and Pro lineup, might want to bring that experience to the desktop. And what better way to do so than to pair your new Mac Studio with Apple's Magic Trackpad. All of the gestures work just as they do on Apple's laptops, and the non-slip grip on the bottom ensures that the Magic Trackpad won't move around.
When it comes to the "best" mouse, the choice is simple with the Logitech MX Master 3. This mouse quickly switches between your iPad and your Mac, while lasting up to 70-days on a single charge. Oh, and there are a total of six different buttons to customize.
The biggest benefit to using a gaming mouse like the Logitech G Pro is the weight. Some other options on the market are a bit heavy, and can make you feel like you're moving slower than you actually are. The G Pro weighs in at just 80 grams, which is even lighter than Apple's own Magic Mouse. You don't have to be a gamer to enjoy a good mouse, and the G Pro definitely delivers.
Best Mac Studio Accessories: Monitors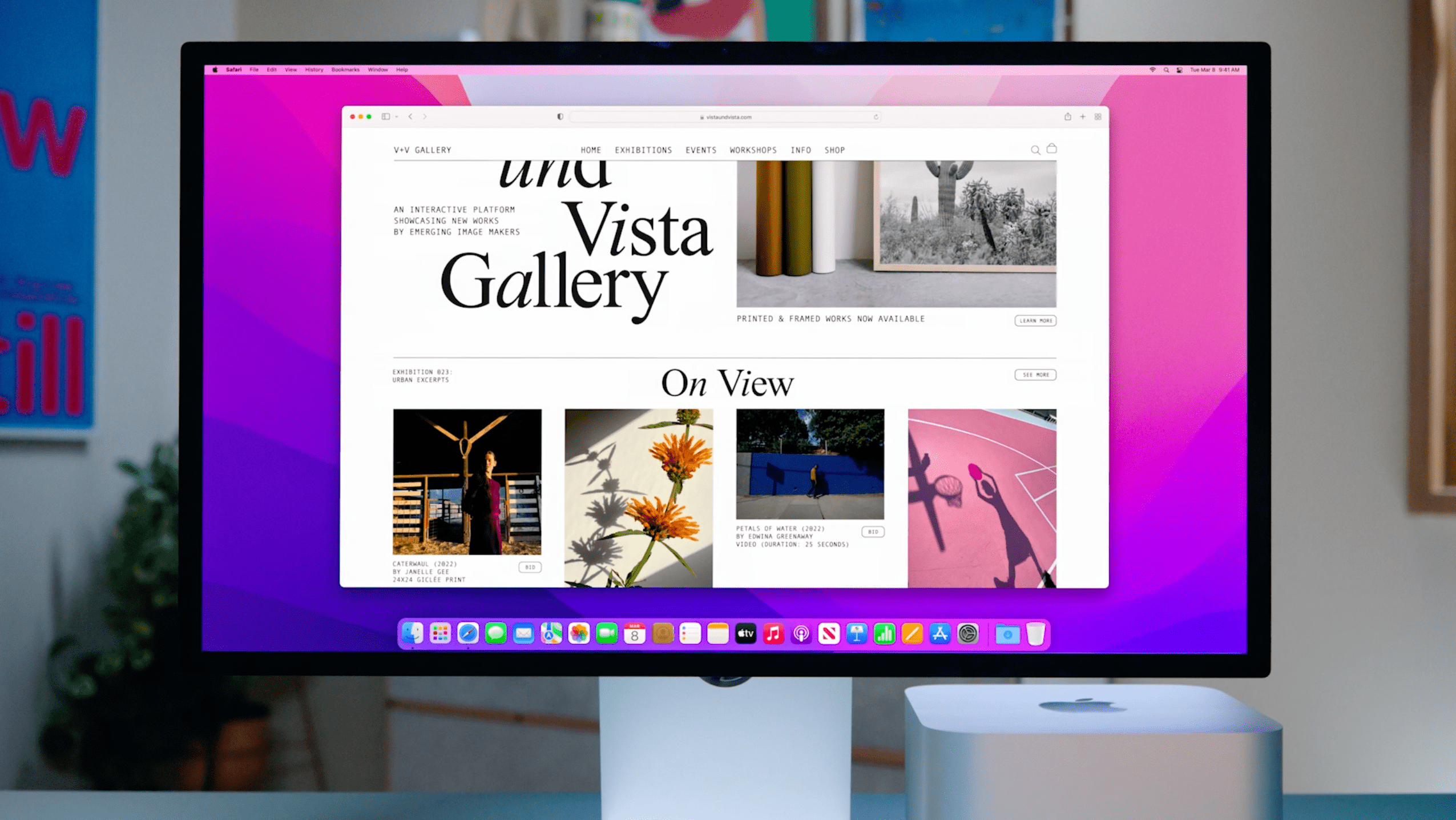 The most obvious choice is the all-new Apple Studio Display, which was announced alongside the Mac Studio. The Studio Display offers a 5K (5120 x 2880) resolution, and comes in at 27-inches. It's also equipped with a 12MP ultra-wide camera that is hidden in the top bezel of the monitor. This includes support for the extremely useful Center Stage functionality that will pan and zoom while keeping you in the frame. Finally, there's a "high-fidelity" speaker system built-in, complete with force-canceling woofers.
It might not be obvious yet, but we're big fans of ultra-wide monitors. And it doesn't get much wider than the Samsung Odyssey Neo G9. This behemoth measures in at a whopping 49-inches, but uses Samsung's excellent Mini-LED technology. It even supports faster refresh rates (up to 240Hz), and offers a 4K UHD resolution. Plus, the included monitor provides some flexibility as you can swivel and tilt, along with adjust the height.
Bringing things back down a notch, our next pick for best Mac Studio monitors is the Dell UltraSharp U2720Q. This one features a 27-inch display, complete with a 4K UHD (3840 x 2160) resolution. There are plenty of different ports to choose from, and it's even VESA mount compatible so you don't have to stick with the included stand if you don't want to.
Best Docks
For the past few years, the CalDigit TS3 Plus has been the de-facto choice if you're in the market for a Thunderbolt dock. Now, the company has finally introduced its successor in the TS4 Thunderbolt 4 Dock. On the front, you'll find an SD and microSD card reader, along with dual USB-C ports, a single USB-A port, and a 3.5mm headphone jack. And the rest of the connections, including the three Thunderbolt 4 ports are on the back. Those who also have a MacBook Pro will enjoy the 98W power delivery offered for charging.
CalDigit and Kensington have been battling it out for "thunderbolt dock supremacy". So if you're looking for something other than CalDigit's TS4 , then you might want to check out the Kensington SD5700 Docking Station. On the front, you have an SD card reader, USB-A port, audio combo jack (3.5mm), and a Thunderbolt 4 "Host" port. Then on the back, there are three more Thunderbolt 4 ports, a Gigagbit Ethernet jack, and three USB-A Gen2 ports.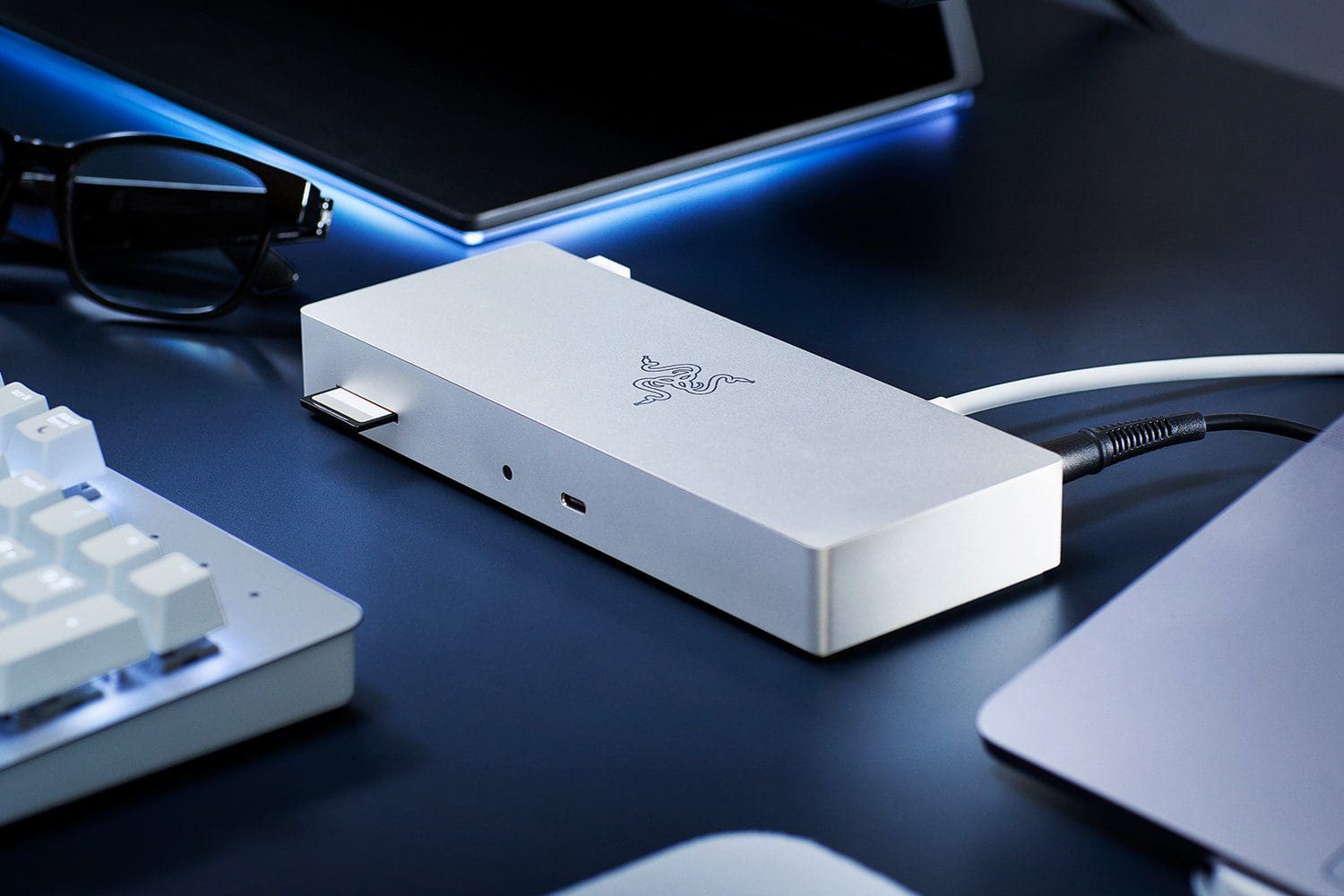 Razer's new Thunderbolt 4 Dock is a pretty incredible option, expanding your MacBook Pro even further by providing a total of 10 ports including Gigabit Ethernet, SD card slot, and three USB-A 3.2 Gen 2 ports. And with this dock, you can opt to use dual 4K monitors or a single 8K video output.
Best Carrying Case
While it's highly unlikely that you would ever actually take your Mac Studio with you, an opportunity could present itself allowing you to do just that. But you definitely won't want to worry about your new desktop computer getting all messed up. With the Waterfield Mac Studio Shield Case, you'll have a rugged case that's lined in "ultra-soft material and surrounded with foam padding". There's even a small pocket on the front, and Waterfield offers an optional shoulder strap.
Best Webcams
In the event that you don't pair your Mac Studio with something like Apple's Studio Display, you might be in the market for a new webcam. Despite not seeing a major hardware revision, the Logitech Brio 4K continues to be one of the best webcams on the market. There are three different presets for your field of view, and noise-canceling technology for the built-in microphones.
Elgato is one of those companies that has been expanding its reach far beyond the products it started with. One of the more recent examples of this is the Elgato Facecam. This webcam offers 1080p video streaming using a fixed-focus lens, and you can make all of the adjustments that you need thanks to Elgato's Camera Hub software.
Just like Elgato, Anker is moving away from just offering charging accessories and cables. The Anker PowerConf C200 is one of the company's latest products, providing a 2K USB Webcam that essentially allows for plug-and-play operation. Anker has packed stereo mics into this webcam so you don't need a separate microphone. There's also a built-in privacy cover if you need to step away during a meeting and have a bunch of stuff going on in the background.
Andrew Myrick is a freelance writer based on the East Coast of the US. He enjoys everything to do with technology, including tablets, smartphones, and everything in between. Perhaps his favorite past-time is having a never-ending supply of different keyboards and gaming handhelds that end up collecting more dust than the consoles that are being emulated.