It's nearly been a week since Apple's Peek Performance event, and ever since, we've all been asking ourselves the same question: Where is Universal Control? All jokes aside, this was a very exciting Apple event, during which we got a few new Macs and chips from the Apple giant. And today, we're going to attempt to answer a big one: Mac Studio vs Mac Pro?
At first glance, it might seem like the Mac Pro, which can cost upwards of $20,000, must surely be better than the Mac Studio, which maxes out at around $8,000. But given all of the upgrades that the Mac Studio received, is this really the case?
We're going to attempt to find this out! We'll also be covering some news surrounding the Mac Pro. In fact, let's dive into that now.
First, know that a new Mac Pro is coming
When Apple first began unveiling the Mac Studio, which is a new offering in the Mac lineup, it wasn't immediately clear whether this product would be replacing the Mac Pro. After all, it seemed to fill a similar role and niche use case.
However, at the end of the event, the presenter mentioned that there was just one more Mac in the Mac lineup that needed to be updated with Apple silicon – the Mac Pro.
This confirmed that Apple is planning on releasing an updated Mac Pro. And we'll likely see this Mac Pro at the next Apple event over the summer, WWDC22. It's not clear whether we'll see the M2 chip alongside the Mac Pro or a new configuration of the M1, but either way, we expect this Mac to blow all of the other Macs away.
So why are we bringing this up? Because despite how powerful the current Mac Pro offering is, it's likely going to see a serious upgrade in just a few months. So although we're going to be doing a Mac Studio vs Mac Pro comparison, you probably shouldn't buy either until the new Mac Pro is unveiled. Then, you'll be able to decide which is truly right for your needs.
Mac Studio vs Mac Pro: Comparing the differences
Alright, with that piece of news out of the way, we're ready to dive headfirst into our Mac Studio vs Mac Pro comparison. While these machines have hundreds of differences between them (in many ways they couldn't be more different) we're just going to be looking at the key differences that will impact your purchasing decision. Let's start with the most obvious and important.
The maxed-out Mac Studio should get better performance
Although no one has a Mac Studio to test yet (it isn't available for purchase right now), we do expect that the Mac Studio is going to outperform the currently available Mac Pro. Here's why.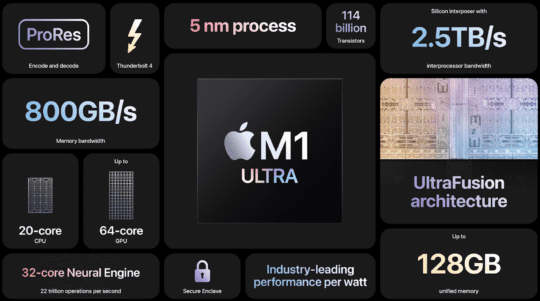 First, take it from the horse's mouth. Apple itself said that it expected the Mac Studio to outperform the current Mac Pro. So if you're looking for the maximum performance currently available, the Mac Studio is the device to go with.
That said, no one has the Mac Studio yet, so no one can test it to see if Apple's claims are true. There's always the chance that the raw chips provide the power Apple is promising, but the thermals hold it back. Or maybe the optimization is off. We won't know for sure until it's in people's hands.
The Mac Pro features a modular design
On the other hand, the Mac Pro has a unique modular design. Now, calling this unique when virtually every Windows PC is technically modular might sound a bit silly. But if you look at the internals on this thing, you'll see what I mean.
The internal components of the Mac Pro can easily be clicked in and out of place. Each one has a label on it telling you what it is, and when you remove it, there's a little symbol telling you where it goes when you need to put it back.
This means that anyone without any prior experience can take apart the Mac Pro and put it back together. It doesn't even require any tools, and in many ways is easier than putting a LEGO set together.
Not only is this an innovative design, but it's also an extremely unique offering in the Mac lineup. Apple has long since ditched upgradeable computers, requiring that all configurations happen at the time of purchase. This is one of the lamest things that Apple does, but it doesn't seem like a decision it's going to go back on anytime soon.
So with that in mind, we have to consider that the upgradeable aspect of the Mac Pro is pretty significant. If you want to grab a Mac at its most affordable and upgrade it over time, then the Mac Pro is the only option for you.
There is a bit of a caveat to this, however, and it's that Apple hasn't offered as many modular components for the Mac Pro as it seemed like it would at one point. Users, understandably, were hoping for a plethora of modular components that would allow for a lot of customization. However, Apple has only focused on offering GPU components, which undermines this design a bit.
Hopefully, the upcoming Mac Pro sticks with this modular concept and pushes it even further. After all, it'll be running on Apple silicon, so the possibility of better upgrade support is there.
The Mac Studio starts at a third of the price
Another important point to consider in the Mac Studio vs Mac Pro conversation is the price. Namely, the Mac Studio is priced infinitely more reasonably. For those that don't know, the Mac Pro starts at $5,999, which is roughly three times what the Mac Studio starts at. And for that price, you aren't getting nearly as much.
Upgrading the Mac Pro to reach a similar level of performance to the basic Mac Studio will cost you an extra few grand. Now, you can upgrade it past the Mac Studio. For instance, you can get up to 1.5TB of RAM on the Mac Pro, versus 128GB on the Mac Studio.
To be clear, I don't know that anyone needs either of these quantities of RAM in 2022, but the difference is clear. You can go further with the Mac Pro than the Mac Studio. But are you getting the same bang for your buck? As far as we can tell, not really.
 The Mac Studio will likely offer better graphics performance
And that brings us to another key point of the Mac Studio vs Mac Pro debate, which is graphics performance. This is generally one of the weakest points of the Mac, especially if you're talking about gaming.
However, from what Apple has told us, the Mac Studio should be extremely solid at delivering graphics performance. The M1 Max (which comes in the base-level Mac Studio) outperforms the base-level Mac Pro in this department (see here). And that means that M1 Ultra, which comes in the upgraded Mac Studio, will likely crush the Mac Pro.
Now, you do get more graphics card options with the Mac Pro. You can select a number of them right from Apple's website. Even at the checkout, you can pick between ten different graphics cards for the Mac Pro. So there is probably some combination of RAM and GPU that can beat the Mac Studio, but you're going to be paying far more for that to happen than you could just go with the Mac Studio.
Again, all of this having been said, remember that the Mac Studio and Mac Pro are both still Macs, so don't keep your GPU performance expectations too high. Wait for tests if this is important to you!
According to Apple, the Mac Studio should be more power-efficient
This is a point that Apple kept hammering in. And honestly, it's something I wouldn't have normally considered a big deal. But since Apple thinks it's important, I figured it was worth mentioning.
The Mac Studio, like most devices with M1-series chips, is very power efficient. It can get the same performance as other machines on multiple fronts while using a fraction of the power. That means it'll use up less of your electricity bill and be friendlier to the environment. It also could mean a longer lifespan for the hardware in your computer.
For most of the time we've been using computers, raw power has been what we're after. As much power in as little space as possible. But I can see a future where efficiency plays a key role in the way we use our computers. So if this is something that matters to you (and if you do a lot of rendering, it probably will) then the Mac Studio comes out above the Mac Pro again.
The Mac Pro has fewer ports than the Mac Studio
One of the most surprising aspects of the Mac Studio vs Mac Pro conversation is that the Mac Studio has more ports than the Mac Pro. You wouldn't think it, looking at how much bigger the Mac Pro is. It's more akin to a traditional CPU tower, while the Mac Studio is only a little bigger than the Mac mini.
Even still, you're going to get far more I/O support from the Mac Studio. It includes twelve high-performance ports. The Mac Pro, on the other hand, comes with four Thunderbolt 3 (a.k.a. USB C) ports by default. Now, you can upgrade this to up to twelve Thunderbolt 3 ports, but you're probably already seeing the issue with that:
Why would anyone need twelve USB C ports???
I don't know the answer to that question! Sure, USB C is the future, and there is already great support for it. But twelve of the same port is far past redundant. And you have to pay top dollar to even see those extra ports.
So yeah, with the Mac Studio you'll get all of the USB C ports you need plus SD slots, USB A ports, and more.
The Mac Studio will have more compatibility issues
One point that the Mac Studio doesn't have going for it is compatibility. Because it uses M1-series chips, it isn't able to communicate with certain legacy apps or access certain legacy features.
A notable example of this is Boot Camp. It used to be that you could have Windows installed on your macOS machine through the Boot Camp feature. Whenever you would turn on your Mac, you could choose whether you wanted to run Windows or macOS. This would allow you to access apps that were exclusive to Windows without needing to purchase a PC.
With the M1 chip, this feature and many others are out the window. The Mac Pro, on the other hand, still uses Intel processors. So if you buy it before it gets its M-series refresh this summer, you'll still be able to access features and apps like Boot Camp. Otherwise, get ready for a lot of apps and features to be incompatible with your Mac Studio.
These two computers feature totally different designs
And that brings us to the last point in the Mac Studio vs Mac Pro debate, which are the designs of these two machines. Aside from being silver and having an Apple logo emblazoned on them, the Mac Studio and Mac Pro have very different designs.
The Mac Studio looks just like the Mac mini if it were a little taller. It's a square with rounded corners and a bunch of ports, and that's about it. In my post about the Mac Studio, I was upfront about the fact that I'm not crazy about this computer's design.
On the other hand, you have the Mac Pro. This machine's design is somewhat infamous for looking like a cheese grater. And while I do see where people are coming from, I happen to like the way this Mac tower looks. It stands like a traditional CPU tower with a design that is very Apple and very unique. And obviously, the modular design for the internals is incredibly neat.
Now, the design might not be the most important factor to users who are getting ready to spend several thousand on a new computer. But I figured it was worth mentioning, as this is another point where these two computers greatly differ. In my opinion, the Mac Pro has a better design, even if the Mac Studio is likely the better computer overall.
Mac Studio vs Mac Pro: For now, the Mac Studio comes out on top
Alright! We're now at the end of this post, and it's time to reach a somewhat obvious conclusion. The Mac Studio is, in many ways, the better Mac of the two. It's newer, more powerful, more feature-packed, and more affordable. It'll probably have a longer lifespan as well, and given that it's more affordable, will probably be more popular and therefore get more support from Apple.
When it came out, the Mac Pro truly seemed like the future for Apple computing. But today, it's an odd machine to contend with. It still looks modern, the specs and price suggest that it should be the best Apple has to offer. As it turns out, though, Apple developing its own chips has dramatically altered the course for the Mac Pro.
In a short time frame, this behemoth of a computer has already become dated. It will be replaced soon, so stay tuned for that! For now, though, it costs too much for this machine to try and hold a candle to the Mac Studio.
Conclusion
And that's it! That's everything you need to know about which computer you should buy in the Mac Studio vs Mac Pro discussion. The answer is the Mac Studio, or to wait for the new Mac Pro. We have no idea if the new Mac Pro is going to have an updated design, more modular support, a new M-series chip, and so on. All we can say for now is, subscribe to AppleToolBox to make sure you don't miss it!
For more insights, news, and guides on all things Apple, check out the rest of the AppleToolBox blog.
See you next time!