Ever since iOS 11.2 was released, we have found that many folks are getting stuck with pending Apple pay setup messages on their iPhone. Once you download the new iOS update and start installing the software, it wants you to set up Apple Pay to complete the setup. If you ignore setting up Apple pay during the upgrade, there is a red notification on your settings screen that you can't seem to get rid off! So how in the heck do we bypass setting up Apple Pay?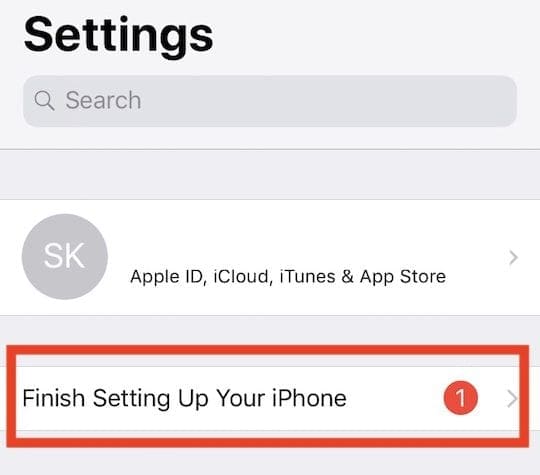 You don't have to set up Apple Pay on your iPhone if you don't want to use it. You can bypass the Apple pay notification after setup by simply following a few more steps.
How-To Bypass Setting Up Apple Pay Notification During iOS Upgrade
Once you have updated your iPhone to the latest iOS, you will see the Apple pay warning if you bypassed it during the setup right on your Settings screen.
Tap on 'Finish Setting up your iPhone.'
At this point, a message will pop up requiring you to add the password for your Apple ID.
Enter your password here and instead of tapping on 'Done,' tap on 'Cancel.'
That's it. This process should remove the pending setup notification from your iPhone.
At a later point, if you do decide to go the Apple Pay route, you can go to Settings > Wallet & Apple Pay and can start the setup process for enabling this feature on your device.
This particular issue was driving me insane for days after the iOS update on one of my iPhones. It can be annoying when a notification continues to remind you that there is something wrong with the setup because you are not using an Apple provided feature that is optional. We hope Apple drops this in future iOS releases so that users don't have to go in and explicitly opt-out of something to make their setup kosher.
Can't Text Because of "Send Money with Apple Pay" Message?
The recent iOS 11 updates also introduced a new feature for Apple Pay that allows you to send money through Apple Pay Cash to other people using your Messages App. Great feature for some folks, but a headache for many!
Several readers are unable to get past the Apple Pay Cash promotion screen when trying to text in their Messages App. Instead, they see a pop-up for "Send Money with Apple Pay" with no way of closing or deleting that message, other than a large Continue button for setting the service up. Their entire screen is blocked with that "Send Money with Apple Pay" notice!

It seems that to progress beyond this screen, you have to tap on the Continue button for setting up Apple Pay Cash. But many of our readers DON'T want to set this up, so how do we get around this ad for Apple Pay Cash and return to reading and creating texts?
How-To Turn Off Apple Pay Cash Message Pop-Up
On your iPhone, go to Settings > Wallet & Apple Pay > toggle off Apple Pay Cash

In pop-up message, select Turn Off 

Or, just tap on that Apple Pay Message's Continue button but don't enter any credit card info

Enter your Apple ID and password
Select the option at the bottom to set up later in Apple Wallet
And just so you know, when you turn off Apple Pay Cash it does not turn off Apple Pay. 
This pop-up is Apple's way of alerting you that your iPhone (and iOS) now has a new feature that allows you to send money through iMessage. Not the best way to announce a new feature, especially when asking for sensitive credit card information!
Wrap-Up
We hope that these quick tips were helpful! Not sure if this will continue to work with future iOS upgrades but for now the workaround is working, and the annoying notification can be removed without requiring you actually to set up Apple Pay on your iPhone.
Please let us know in the comments below if you have any questions or comments.
Obsessed with tech since the early arrival of A/UX on Apple, Sudz (SK) is responsible for the editorial direction of AppleToolBox. He is based out of Los Angeles, CA.
Sudz specializes in covering all things macOS, having reviewed dozens of OS X and macOS developments over the years.
In a former life, Sudz worked helping Fortune 100 companies with their technology and business transformation aspirations.