Some may argue that the biggest feature of the Apple Watch Series 6 is the fact that it is two and a half times brighter than the Series 5. However, it's clear that the Apple Watch is turned into an extension of your body and health, along with being an extension of your iPhone.
Related Reading
This was evidenced by the introduction of the dedicated Blood Oxygen (SpO2) sensor that was included. We have seen countless stories of how the Apple Watch detected an abnormality, resulting in someone's doctor catching an underlying health issue that ultimately saves their life. While not on the same level as something like the Heart Rate monitor, the SpO2 sensor comes close.
What Apple Watch(es) work can measure Blood Oxygen Levels?
With every iteration of the Apple Watch, and just about every other Apple device, there's a "defining feature". The iPhone X saw the removal of the Home Button. The Apple Watch Series 3 introduced LTE connectivity. The iPad Pro 2020 introduced LiDAR and the A12Z Bionic.
The trend continues with the Apple Watch Series 6, marking the first wearable from Apple to measure Blood Oxygen (SpO2) levels. This means that if you own a smartwatch older than the Series 6, including the Watch SE, you'll have to purchase a separate Pulse Oximeter.
How does the Blood Oxygen Sensor work?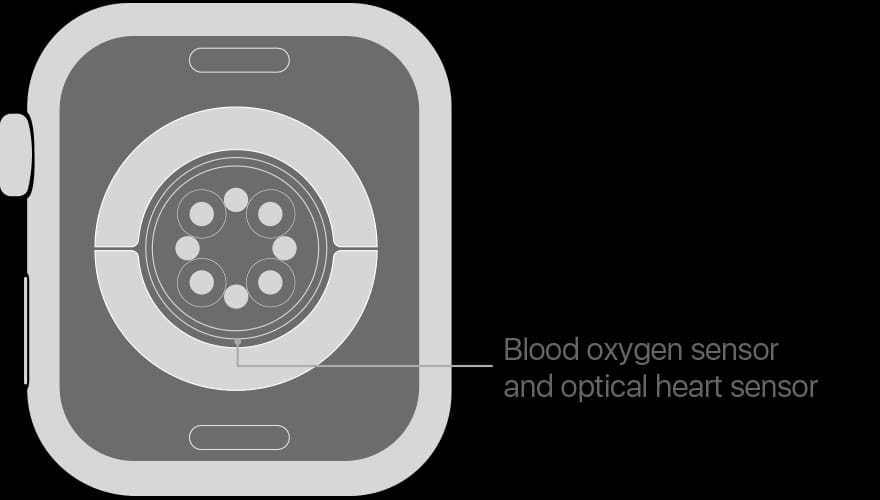 The new SpO2 sensor is built into the back of the Apple Watch, along with the other health sensors which rest on your wrist. When measuring your levels, there are four clusters of red, green and infrared LED lights, which work with four photodiodes to convert light into an electrical current. The lights shine onto the blood vessels in your wrist, with the photodiodes measuring how much light bounces back.
The color of your blood helps to determine how much oxygen is in your blood. Oxygenated blood is bright red, while dark red blood usually indicates that there's less oxygen. If your blood does not have enough oxygen, it could mean that your lungs are not providing enough. If you're concerned with the readings from your Apple Watch Series 6, be sure to call your health care professional and ask questions.
How to measure Blood Oxygen levels with Apple Watch
If you're the proud owner of the Apple Watch Series 6, then you probably want to know how you can check your SpO2 levels. It's actually pretty easy to get setup, but you'll need to make sure that the sensor is enabled first.
Enable Blood Oxygen Measurements
In order to take your Blood Oxygen measurements, you'll need to make sure that the feature is enabled first. This is quick and easy, and here is how:
Open the Apple Watch app on your iPhone.
Tap the My Watch tab at the bottom.
Scroll down and select Blood Oxygen from the menu.
Tap on the toggle next to Blood Oxygen Measurements to turn the feature on.
There are a couple of more settings available for checking your SpO2 levels with the Apple Watch. While you can actively choose to check your levels whenever the Apple Watch is also capable of taking readings in the background throughout the day. These are the other two options you may want to enable:
Allow Background Measurements

In Sleep Mode
In Theater Mode
The only thing to consider, primarily in Theater Mode, is that a bright red light is emitted from the bottom of the Watch during readings. If you're actually a movie theater and your Watch starts showing off that light, you may end up disturbing those around you.
Check Blood Oxygen levels
Once you have enabled Blood Oxygen measurements on your iPhone, the fun can begin. Here's how you can check your Blood Oxygen (SpO2) levels from your Apple Watch Series 6:
Open the Blood Oxygen app on your Apple Watch.
Ensure that your Apple Watch is snug, but comfortable, and isn't loose on your wrist.
Rest your arm on a table, make sure your wrist is flat, and the Apple Watch display is facing up.
Tap Start.
Hold your arm completely still for the duration of the 15-second countdown.
View your results.
Tap Done.
Your results will be shown immediately after the test has finished being administered. You can then tap the Done button to go back to the main screen. For reference, Apple states that "the majority of people have a blood oxygen level of 95 – 99%". But again, if you have any concerns, reach out to your Health Care professional.
These results will also be recorded in Apple's Health application, which is pre-installed on all iPhones. Even if you aren't actively checking your SpO2 levels, there is some testing that's done in the background when you don't even know it. All of this is recorded, so you can identify if something is off, while being able to provide the necessary information to your health care professional.
Andrew Myrick is a freelance writer based on the East Coast of the US. He enjoys everything to do with technology, including tablets, smartphones, and everything in between. Perhaps his favorite past-time is having a never-ending supply of different keyboards and gaming handhelds that end up collecting more dust than the consoles that are being emulated.