The Apple Watch is an amazing companion for those looking to bolster their fitness life, as it provides users with ways to monitor statistics and metrics they would never have considered. Those with an Apple Watch know how useful the accessory is, from counting steps, tracking calories, or allowing you to check notifications easily. However, not many people actually know about the Apple Watch Blood Oxygen sensor or what it does. If you do have an Apple Watch but don't know about the feature, you may learn about something that could be of great use to you. Alternatively, this might be the feature that could convince someone to purchase the accessory. Read on to find out more about what the blood oxygen sensor does and how you can use it.
Related Reading:
What Is the Apple Watch Blood Oxygen Sensor?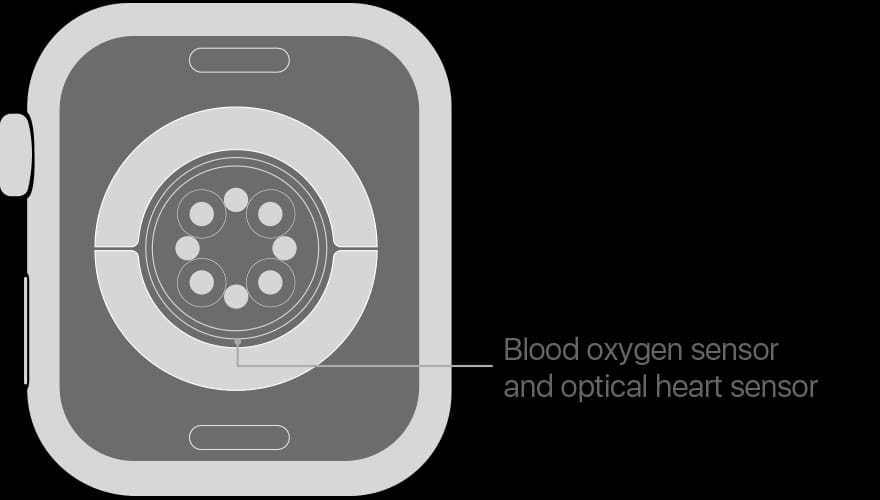 Starting from the Apple Watch Series 6, customers have access to the Blood Oxygen app. This tool can allow you to measure your respiratory and heart health, which has been amazing in helping people detect irregularities and abnormalities, similar to how the Heart app helped this girl detect cancer. If you want to make the most out of your fitness journey and become the best version of yourself possible, this is a handy tool that can help you do that.
The Apple Watch's blood oxygen sensor basically works by utilizing a cluster of LED lights on the back of the device. It has red, green, and infrared LED lights and four photodiodes that convert light into electrical currents. The lights illuminate the blood vessels in your wrist, and the photodiodes measure how much light bounces back. The rest requires some fancy medical knowledge, but oxygenated blood reflects different amounts of light depending on certain factors. Despite all that, how accurate is the Apple Watch blood oxygen sensor really?
How Accurate Is the Apple Watch Blood Oxygen Sensor?
A recent study aimed to determine how accurate the feature is, and a comforting conclusion emerged among all the scientific jargon and complicated numbers. The study recruited 24 healthy participants and gave them an Apple Watch Series 6 and a pulse oximeter sensor (Masimo Radical-7). The researchers made the subjects perform breathing circuits that would help them note down SpO2 measurements and other general data. Here is what they concluded from the study:
Apple Watch Series 6 can reliably detect states of reduced blood oxygen saturation with SpO2 below 90% when compared to a medical-grade pulse oximeter. The technology used in this smartwatch is sufficiently advanced for the indicative measurement of SpO2 outside the clinic.
So what this really means is that the Apple Watch is a great companion to alert you to irregularities and anything that could be potentially dangerous. We shouldn't use the accessory as a diagnosis, of course, but as a tool to help us detect certain situations. The Apple Watch, combined with professional medical help when needed, is an extremely useful tool to help you monitor your health.
Other Similar Apple Watch Features
Here are some other similar Apple Watch features if you enjoy the blood oxygen sensor:
Heart App
The Heart app utilizes similar technology to the blood oxygen sensor. It keeps track of your heart rate through the pulse on your wrist and can alert you to any irregularities. Irregular heart rhythms (arrhythmias) can indicate a serious health condition, and the Heart app can help you track data to monitor your health. If the app finds any irregularities, it'll notify you through your Apple Watch. From there, you can decide to take action as you wish and get a check-up if needed.
General Fitness Help
We've known for ages that the Apple Watch is an amazing fitness companion. You can access workout videos, track metrics for different workouts, track calories, and count your daily steps. If you've used the iOS step counter, you'd know that it's probably pretty inaccurate, as it calculates distance covered and doesn't account for heart rate and other factors. The Apple Watch has more personal features that can track these metrics more accurately than your phone or other devices can.
Sleep Tracking
Sleep is an extremely important part of our day, considering we spend a third of our lives in slumber. A bad night's sleep can have a cascading effect on your overall health and mood, so it's crucial that you make sure you sleep right. Tracking your sleep and gathering data about it can help you make informed decisions. You can see if you've woken up throughout the night, how many times you experience REM sleep and other similar factors. You can link your Apple Watch's sleep app with your iOS health app to view more in-depth data and make informed decisions.