AirPods have become something of a status symbol thanks to their premium price tag and recognizable design. But those qualities also make them an attractive target for potential thieves.
Your AirPods are more vulnerable to theft than other Apple devices because they don't use iCloud Activation Lock. That means it's easy for someone to connect your stolen AirPods to another iPhone.
Related:
How Can Someone Else Use My Stolen AirPods?
If a thief steals your AirPods, it's painfully easy to connect them to a different iPhone.
All the thief needs to do is put both AirPods in a charging case and hold the Setup button for a few seconds. It's the same process you'd follow if you reset your AirPods to fix a software problem.
After resetting them, your AirPods are no longer paired to any of your Apple devices. They might still show up in your settings, but you can't stop anyone else from using them.
What If My AirPods Were Stolen But I Still Have the Case?
You might think a thief can't use your AirPods if you still have the charging case. That makes sense since the thief needs to return your AirPods to the case in order to pair them to a new iPhone.
However, they can still use any other AirPod case to do this.
You may not realize it, but your AirPods work with any charging case—provided you use a Pro case for AirPods Pro.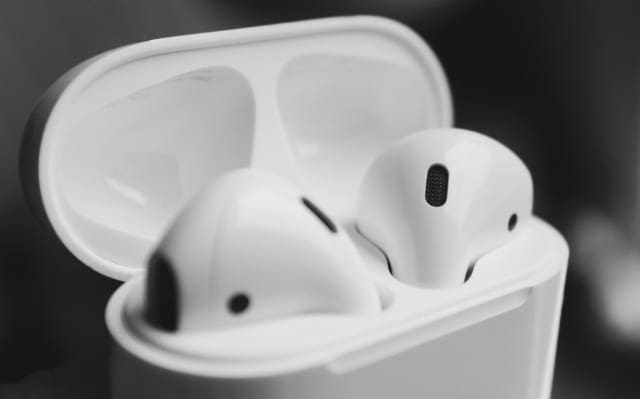 So, if a thief stole your AirPods, they can still connect them to another iPhone using a different AirPod charging case. Maybe they'll use a case they stole from someone else.
What If They Only Stole One of My AirPods?
A single AirPod is certainly less useful to a thief than a pair. But if that thief steals another AirPod from someone else, they can still link the AirPods together to make a complete set using a charging case.
At least you can still listen to music in one ear with the remaining AirPod.
Can I Track My Stolen AirPods?
The Find My app—which used to be the Find My iPhone app—is a fantastic tool for tracking down many of your missing Apple devices, including your AirPods.
Open the Find My app on a connected Apple device or access the Find My page after signing in to the iCloud website. If your AirPods were connected to a device that uses Find My, you should see them listed with your other devices.
You can track your AirPods when they have an active connection to one of your Apple devices. This happens when one or more of your AirPods are out of the case and within the Bluetooth range of your device. They also need to have battery power remaining.
The Find My app places your AirPods on a map and lets you play a sound to help locate them. This is more helpful if you lost your AirPods down the back of a sofa rather than if someone stole them. But it still might help you find a thief in a crowd.
If your AirPods are offline, Find My only shows their last known location and doesn't offer any other tracking options.
Use Third-Party Accessories to Track Your AirPod Case
Unfortunately, you can't use Find My to track your AirPods if they were in the charging case when someone stole them. This is because they don't maintain an active connection to your device while in the case, to conserve battery life.
If you still have your AirPods, you can protect against future theft by attaching a third-party tracking device to your case. These accessories let you track your valuables using specialized apps.
If you're interested in third-party tracking devices, take a look at Tile.
Can I Lock My Stolen AirPods?
With most Apple devices—like an iPhone, iPad, or Mac—you can use the Find My app to lock them when they go missing. This stops whoever finds your device from setting it up and using it as their own.
Combined with Activation Lock, this is a great way to discourage potential thieves, as it makes it incredibly difficult to use stolen Apple devices.
Unfortunately, none of these features are available for AirPods.
You can't lock your missing AirPods, or do anything to stop someone connecting them to a different iPhone. Combined with their high price and easy pocketability, this makes AirPods a tantalizing target for potential thieves.
How Do I Replace Stolen AirPods?
If someone stole your AirPods, the first thing you should do is report it to the police. If your home or property insurance covers your AirPods, you may be able to use the police report in your insurance claim.
Without insurance, your only option is to pay for replacement AirPods.
Fortunately, Apple offers a replacement service, so you only need to replace the individual AirPod or charging case you're missing.
Although it's still expensive, and if you lost the entire set it's cheaper to buy new AirPods off the shelf.
Here are Apple's AirPod replacement prices:
AirPod (1st or 2nd Generation): $69 each
AirPod Wireless Charging Case: $79
AirPod Charging Case: $59
Here are Apple's AirPod Pro replacement prices:
AirPod Pro: $89 each
AirPod Pro Charging Case: $99
AirPod Pro Silicon Ear Tips: $3.95 for a pair
You can order replacement AirPods online using the Apple Support website. To do so, you need to get your AirPods serial number, which you can find on the box, printed on the AirPod case, or on the About page in your iPhone settings.
What's Next for Apple's AirPods?
Ever since their release in 2018, AirPods have proven to be an incredibly popular Apple product. We've already seen the release of the AirPods Pro, with active noise cancellation, but hopefully Apple has more AirPod improvements in the pipeline as well.
Among many other Apple developments we'd like to see, we'd love for the next generation of AirPods to give us better options for tracking and locking them when they go missing. Let us know in the comments what future AirPod developments you want!