Emojis can help you better communicate emotions which is something that words cannot always portray that well. For example, emojis often convey additional signals that help avoid confusion or misinterpretation. Unfortunately, your Emoji keyboard may sometimes disappear on iPadOS. Many iPad users have complained about this problem. Although the Emoji keyboard appears on the list of installed keyboards, it simply doesn't show up when you're typing. Let's see what you can do to troubleshoot this problem.
What to Do if Your Emoji Keyboard Is Not Showing up on iPad
Quick Fixes:
Restart your iPad and check if emojis show up again on your keyboard.
Keep hitting the world icon in the lower toolbar and check if the Apple keyboard pops up together with all the options.
Install the latest iOS or iPadOS updates and check if you notice any improvements.
Perform a hard reset. Hold down both the Home and Sleep/Wake buttons at the same time until the screen goes black and your iPad restarts. Release the buttons when the Apple logo appears on the screen.
Use the Onscreen Keyboard
Keep in mind that you can't use emojis from an external keyboard. You need to bring up the onscreen keyboard to add emojis. Check if your external keyboard has a keyboard icon on one of the keys on the top row. Press that key to bring up your iPad's virtual keyboard.
Unfortunately, not all external keyboards support this feature. If your keyboard model doesn't offer this option, use the onscreen keyboard instead or buy a new keyboard that does support this feature.
Remove the Emoji Keyboard
If the issue persists, navigate to Settings, go to Keyboards, and remove the Emoji keyboard. Restart your iPad again, and then go back to Settings and add back the keyboard.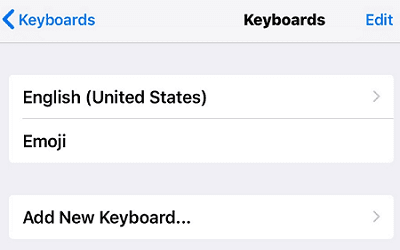 Reset All Settings
Try resetting your iPad settings, and check if this workaround solves the problem. Don't forget to back up your data prior to resetting your settings. In case something unexpected happens, you can always restore your data.
Also, when you reset your settings, don't select Erase All Content and Settings. Taping this option will delete your data. Navigate to Settings, select General, and tap Reset. Select Reset All Settings, and then restart your device.
Conclusion
To fix the issue where emojis won't show up on your iPad, install the latest OS updates and perform a hard reset. If you're using an external keyboard, bring up the onscreen keyboard. Additionally, remove the Emoji keyboard, restart your iPad and then add the keyboard back. If the issue persists, back up your iPad, and reset all settings but keep your data.
Did you manage to solve the problem with the help of this quick guide? Hit the comments below and let us know which solution did the trick for you.