Emojis are everywhere. We use them every day to inject humor and emotion into our conversations. They've successfully transformed how we speak to each other digitally, which is why it can be so upsetting if emojis have vanished from your device!
We feel your pain here at AppleToolBox, so this post shows you exactly how to get back the emoji keyboard on your iPhone.
Pro Tip: The steps are all the same for your iPad!
Quick tips

Follow these quick tips to get your emoji keyboard back on your iPhone!
Press and hold the globe (world/earth) icon or the smiley face icon to access your emoji keyboard options
Install or re-install the emoji keyboard in the Settings App
Update your iOS or iPadOS, preferably using iTunes or the Finder app
Related Posts:
There are many reasons the emoji keyboard might have gone missing from your iPhone
A software update may have changed some settings, a bug in the iOS may be causing problems, or the keyboard may have been accidentally deleted.
Whatever the reason is, it shouldn't take long to return to normal. We've outlined the process below, starting with the easiest solution and progressing to a full reset.
Follow this post, and you'll be sure to have your emojis back in no time.
How to Get Back the Emoji Keyboard on Your iPhone
Make sure to select the emoji keyboard
Open an app that uses the keyboard (Messages, Mail, etc)
In the on-screen keyboard, press the globe or smiley face icon and hold down for a second or two (depending on the iPhone model, these icons might appear inside the keyboard or just below it)

The Globe icon only appears when you have multiple keyboards to choose from.

Wait for your installed keyboards to appear in a pop-up menu
Select emoji and voila!
Check that your device has the emoji keyboard installed
Next, let's make sure the emoji keyboard is added to your iPhone settings. This is the most likely cause of the problem, follow these steps to set things straight:
Go to Settings > General > Keyboard
Keyboards > Add New Keyboard…
Find and select Emoji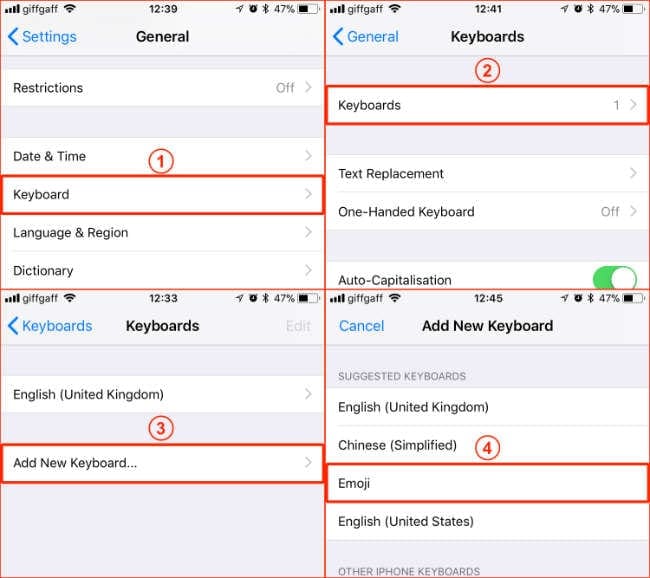 Remove and Re-Add the Emoji Keyboard
If the emoji keyboard was already added to your settings, try removing it and adding it back again. To do this, return to the Keyboards page and slide the Emoji option to the left.
Delete the Emoji Keyboard
Launch the Settings > General
Tap Keyboard > Keyboards.
Swipe left on Emoji
Tap Delete
This reveals a red delete button. Once deleted restart your iPhone.
Then, follow this process to add the emoji keyboard back again
Go to Settings > General > Keyboard
Tap Add New Keyboard
Choose Emoji
What to Do if You Can't Add Back the Emoji Keyboard
If the steps haven't helped so far, try the troubleshooting tips below. It's looking like there's an issue in your software causing the problem.
Update Your Operating Software
The emoji keyboard has been around for years, so it shouldn't make much difference in which iOS version your iPhone is running.
However, if those grinning yellow faces are still missing from your iPhone, it's best to ensure you're up to date.
We're running the latest software here at Apple ToolBox and we found updating helps solve a lot of problems including no emojis!
Check you're on the latest iOS by going to Settings > General > Software Update.
Reset Your iPhone Software
If you're still without emojis, the final option is to reset your iPhone software. There are two options for doing this that we'll explain below.
It's strongly recommended that you make a backup of your iPhone first.
Go to Settings > General > Reset
Select one of the two options:

Reset All Settings
Erase All Content and Settings
Reset All Settings 
This option keeps all apps, photos, videos, etc. on your iPhone and return the settings back to default.
It's the best one to try first since it doesn't delete any of your content.
Erase All Content and Settings
This second option removes everything from your device and returns it to factory settings.
It's a sure-fire way to get the emoji keyboard back on your iPhone, but you will need to restore it from a backup afterward.
Well, that's all there is to know. Let us know in the comments below if this post helped you and share it with anyone else who may be struggling through life without their emojis.