For many of us, emojis play a major part in conversations with friends, family, and even coworkers. You can better express yourself and add a splash of color to messages with the help of the right one. That is, unless your playful emojis show up on your iPhone as a question mark in a box.
This could be the case without you even realizing it. Although the emojis look normal on one device, they might not display properly on another. Which means the people you send emojis to might not get to enjoy them.
Find out how to fix it below your emoji problems below.
Related:
Why do emojis show up as question marks on my iPhone?
To answer this question, we first need to explain a little bit about how computers process information. Although your iPhone, iPad, or computer displays letters and emojis on the screen, behind the scenes it actually uses different codes to represent everything.
This is necessary due to the way electronics and computers work.
Every smartphone, tablet, or computer manufacturer agrees to use the same set of codes to represent each letter, number, special character, or emoji. That way they can communicate with one another using the same codes.
This is the Unicode standard.
You can think of Unicode as a foreign-language dictionary every computer uses to convert codes into letters, emojis, or special characters. Even when Google, Apple, and Microsoft draw their emojis in different styles, the Unicode behind them remains the same.
Your emojis show up as a question mark in a box on when your iPhone doesn't recognize the Unicode for it. This could happen for a few different reasons.
Why doesn't my iPhone recognize Unicode correctly?
The Unicode standard gets bigger all the time as we expand our library of special characters and emojis. In 2019 alone, over 200 new emojis were added to the Unicode standard.
When this happens, you need to update all your devices so they know how to read these new emojis. Otherwise, you'll see a lot more question marks in boxes as your device doesn't know what to do with the new Unicode.
Other times, corrupt files in your operating system might introduce errors to the Unicode "dictionary" on your device. This can lead to your iPhone showing the wrong emojis or letters or sending the wrong Unicode to other people.
Stop emojis showing up as a question mark in a box
All you need to do is make sure your iPhone, iPad, or other devices are using the same Unicode standard as the person you want to send emojis to. The easiest way to do this is to make sure every device is up to date.
Step 1. Update your iPhone or iPad
Connect your iPhone or iPad to Wi-Fi.
Go to Settings > General > Software Update.
Download and install any updates available for your device.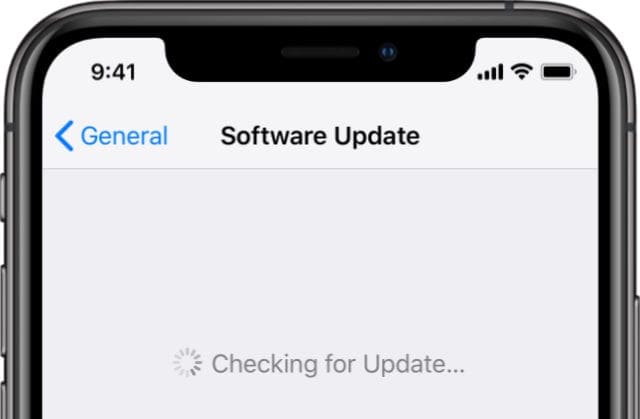 Step 2. Ask the recipient to update their device
It's difficult to tell if emojis are showing up as a question mark in a box because of a problem with your device or with the device you're sending emojis to. It's best to ask whoever you're messaging to update their own device as well.
If they use an iPhone, iPad, or iPod touch, ask them to follow the instructions above to do this.
Android users should go connect to Wi-Fi and go to Settings > About phone > Software Update. Check for updates and install any that are available.
Step 3. Remove the emoji keyboard from your iPhone
Occasionally, you need to totally remove the emoji keyboard from your iPhone, then add it back again to fix this issue. This is likely to fix any corrupt Unicode in the emoji library on your iPhone.
On your iPhone or iPad, go to Settings > General > Keyboard.
Tap Keyboards and swipe left on Emoji to Delete it.
Now's a good time to close the Settings app and restart your device.
After restarting, return to the Keyboards and tap Add New Keyboard.
Select Emoji from the list to add it to your available keyboards again.
Step 4. Create emoji text replacements
Sometimes you can't fix broken emojis yourself because there's a bug in iOS or iPadOS. When this happens, all you can do is wait for Apple to release a new update that fixes it, which might take a week or so.
In the meantime, you may be able to stop emojis showing up as a question mark in a box by creating text replacements on your iPhone. This solution comes straight from Apple, who suggested it after a similar bug caused problems in a previous version of iOS.
On your iPhone or iPad, go to Settings > General > Keyboard.
Select Text Replacement then tap the Plus (+) icon to create a new one.
In the Phrase box, enter the emoji you want to use.
In the Shortcut box, come up with a text-based shortcut to use for it.
Type this shortcut the next time you want to use that emoji.
Step 5. Contact Apple for more support
If you've got time to spare, it's worth contacting Apple directly about problems you're experiencing with emojis on your device. This is a particularly good idea if you might be the only person experiencing these issues.
Visit Apple's Get Support website to book a chat with an advisor.
Perhaps they can suggest extra troubleshooting solutions we haven't listed here. If that's the case, please share them in the comments below so future readers can find out how to fix their emojis as well.
You could always use Memojis instead
If you still can't use emojis on your iPhone without them showing up as question marks in boxes, you could switch to Memojis instead. With iOS 13 or later, you can even use Memojis in third-party apps and on devices without Face ID!
A Memoji works more like a sticker than an emoji, and you can style Memojis to look almost exactly like you in cartoon form. Since they don't use Unicode, you might find you can still use them to express yourself when actual emojis don't work.