When I was a kid, June was the best month of the year—school was out, and summer vacations were in. For my family, summer vacation meant hitting the road, exploring the US via our good ole family car (a light blue station wagon that we fondly called "The Blue Bomb"). Trips in that car meant lots of visits to gas stations and rest areas so any one of us kids could use the restroom and get something to snack on.
Consequently, a 5-hour trip could easily take 7 hours or more—for both kids and parents that was A LOT of time. With that much time together, my parents had to think creatively on things us kids could do in the car, so we wouldn't drive them crazy always asking "are we there yet?" So my parents bought us a lot of comic and coloring books, games we could play in the car, and my personal favorite Mad Libs.
These days, parents have way more options on how to entertain (or distracting depending on how you look at it) their kids during their summer travels. Mercifully, our iDevices add a whole new dimension to keeping the kids busy, so all those miles traveled via train, planes, or automobiles are happily occupied and a heck of a lot less stressful for us parents!
In the wish for relaxing summer vacations, here are a few apps that we at Apple Tool Box love to use during our family trips.
So let's get to it!
Road Trip Bingo
This game is easy to play and can involve everyone in the family during a road trip. While the kids play the game in the back seats, you or your co-pilot follow along from the passenger seat using your iPhone. The game comes with nine different game boards. The basic board game from the app's offering provides an assortment of bingo tiles of commonly seen scenery on the trip such as cars, animals, signs and the countryside.
The colored game board opens up numerous possibilities. A favorite one with the Apple Tool Box kids is the license plate game board. The board lets you use all state plates, or you can select a setting and limit the choices to a particular state or region where you are traveling to/from. The basic app is free and ad-supported. Road Trip Bingo is a fun, interactive game and it's saved us Apple Tool Box adults a lot of road trip frustration.
Classic Mad Libs
Who can resist this one? Not me. It's the game I played countless times on road trips with my family in the pre-iDevice era (or dawn of time according to our young ones.) Mad Libs never gets old and weary. With more than 500 plus reviews of 4+ rating, this one is well worth checking out for all your family trips. Mad Libs brings out the creative and silly side of our youngest and oldest—and that includes Grandpa too. Everyone can create hilarious stories just by adding a verb.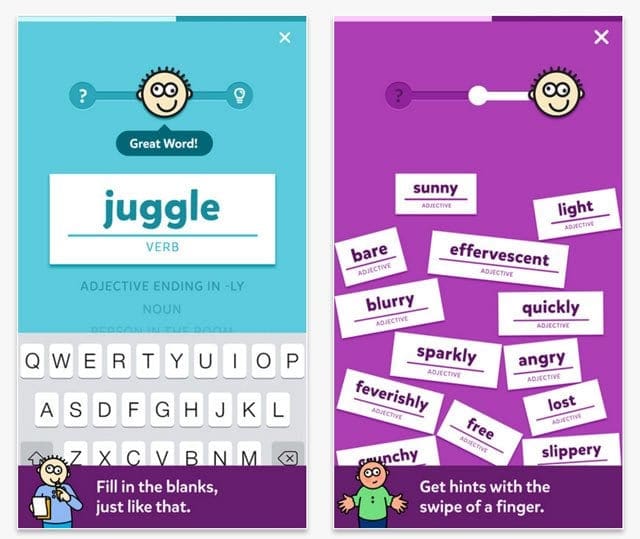 One nice feature that we appreciate in Mad Libs is the built-in kid-friendly user interface. Kids have a lot of fun and at the same time (unbeknownst to them) get to learn smart word choices while they are using the app. Mad Libs is both kid and grandparent approved as "really cool, " and the basic version is free! Additional content is priced at USD $1.99, including the brand new "Diary of a Wimpy Kid."
Drawing Desk
If your young ones are into coloring books, they will not be bored with Drawing Desk. With more than 6 million users, this app has something for everybody. The built in kids desk provides an opportunity for kids to have all types of fun with drawing. They can draw with music and magic wands (and what kid doesn't love magic wands).
If you are using the iPad Pro models, the app is optimized for the best drawing experience. So the next time you hit the road (or the air) with your young artist, download this app and let the creativity begin. The basic version is free with upgrades available as needed.
500 Coloring Pages
If your kids prefer coloring to drawing you, hen this 500 coloring pages app is for you and your youngster(s). This app is specifically designed for kids ages 6 – 8 and supports a bunch of categories including fast cars, fairies, animals and of course our Apple Tool Box Kids beloved dinosaurs! There are three difficulty levels, easy, medium and hard—these are sure to keep the kids challenged for hours. The Lite version is free and you purchase upgrades as wanted (or needed.)
4 Pics 1 Word
This is one of my favorites because it's particularly fun for grown-ups like me that like to get silly and playful and (sometimes) act as kids while traveling.  Four Pics One Word is a very simple yet really addictive game that shows you four pictures. You (okay…or your kids) have to come up with a word that is the common thread running throughout all the pictures. This puzzle is fun to play and there are tons of puzzles from easy ones to pretty hard ones.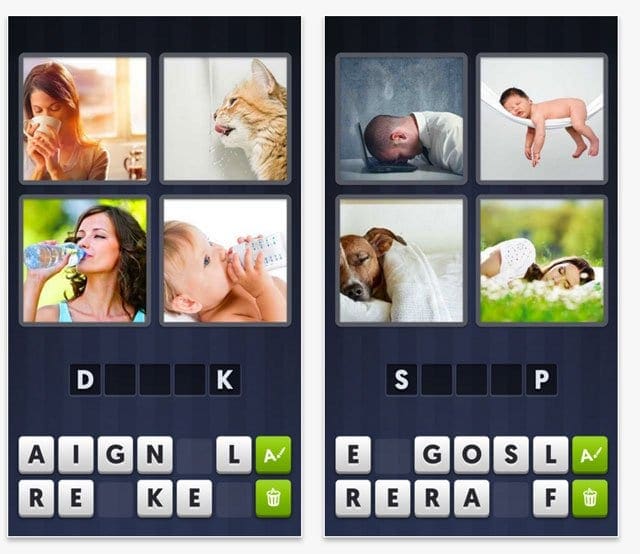 You can play all by yourself or pass the device around so everyone is included. We've found on our trips that playing 4 Pics 1 Word is a great way to pass time quickly. Please note that the rating on this is for ages 12 and up but we find that Four Pics One Word is enjoyed by all ages from young to old. The basic version is free.
Summary
Who doesn't love summer vacation? The idea of getting away from it all and enjoying some down time with our family is one of the things that keeps us going throughout the year. Family trips are meant to be fun, a break from all that stress. But a long car ride or an unexpected delay at the airport can very quickly change that harmony into absolute misery. So let's harness the power of our iDevices to diffuse any potential disaster and download a few fun family game apps before we hit the road. Our Apple Tool Box family can verify that these apps bring some peace of mind to parents and keep our young passengers happy and occupied. And hopefully these apps will reduce or eliminate the number of times we parents have to endure another "are we there yet?"
For most of her professional life, Amanda Elizabeth (Liz for short) trained all sorts of folks on how to use media as a tool to tell their own unique stories. She knows a thing or two about teaching others and creating how-to guides!
Her clients include Edutopia, Scribe Video Center, Third Path Institute, Bracket, The Philadelphia Museum of Art, and the Big Picture Alliance.
Elizabeth received her Master of Fine Arts degree in media making from Temple University, where she also taught undergrads as an adjunct faculty member in their department of Film and Media Arts.