If your Apple Watch says storage is full but there's nothing significant taking up storage space, rest assured, you're not the only one experiencing this problem. Many watchOS users have complained about similar issues. The worst part is that these alerts can prevent your device from updating. Let's jump right in and explore how you can fix this problem.
Apple Watch Says Storage Is Full but There's Nothing on It
Update and Restart Your Devices
Before you do anything else, make sure to update your Watch and iPhone to the latest version. Apple may have already fixed the bugs causing these annoying storage alerts.
To update your iOS device, go to Settings, select General, and tap Software Update.
To update your watchOS device, launch the Apple Watch app on your iPhone. Then select My Watch, go to General, and tap Software Update. Tap Download and Install to update your device.
Don't forget to restart your devices after installing the latest OS version.
Remove Media Files and Apps
Try deleting one or two photos and check if the issue is gone. If it persists, try removing one or two apps to free up some space and force the device to re-index the file system.
Press the Digital Crown to bring your apps to the Home Screen. Then touch and hold one of the apps that you rarely use until the app icon jiggles. Tap the Delete button to remove the app.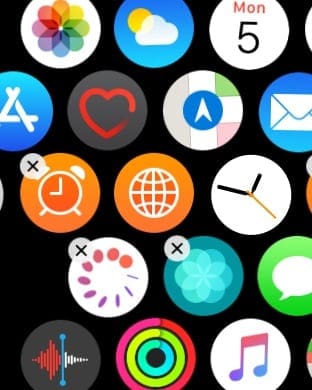 Wipe Off Reminders App Data
Check if your reminders are using way more data than they should. If this is the case, delete all Reminders App-related data.
On your iPhone, select Apple ID, and then iCloud.
Tap Manage Storage, and check if the Reminders App is using too much data.
On your Mac, open the Reminders App database. It should be located under Mac\UserName\Library folder\Reminders.
Back up all of your reminders.
Then delete all Reminders-related data across your devices.
Additionally, remove the Reminders app from your devices.
Remove the Apple Watch App from your iPhone as well.
Next, log out of iCloud, turn off your devices, and wait for 10 minutes.
Log back into iCloud in this specific order: macOS → iOS → watchOS.
Wait for your iCloud data to sync and check if the issue persists.
Unpair the Watch
Many watchOS users confirmed that unpairing their watches helped them fix the problem. Unpairing your device helps you delete temporary and corrupted files. The file system also gets re-indexed. In this manner, you can free up a lot of space on your watchOS device.
Place your Watch and iPhone close together.
Launch the Watch app on your iPhone.
Tap My Watch, and then select All Watches.
Tap the Info button, and select Unpair Apple Watch.
Restart your devices and set up your Apple Watch again. You can quickly restore your data from cloud backup.
Force-Restart Your Watch
Force-restart your Apple Watch and check if you notice any improvements. Press the Digital Crown and Side button for 10 or 15 seconds. Release them when the Apple logo appears on the screen.
If the problem persists, contact Apple Support.
Conclusion
If your Apple Watch keeps saying storage is full, update and restart your iOS and watchOS devices. Additionally, delete some media files and apps to force the system to re-index your files. Try deleting Reminders App data, sign out of iCloud and restart your devices. If the issue persists, unpair your Apple Watch.
Did these solutions help you fix the problem? Let us know in the comments below.