DuckDuckGo is an amazing search engine for the privacy-conscious internet and device users out there. If privacy is your goal, it's an excellent alternative to many of the big name search platforms you're probably already using.
But it's not enough to just type in DuckDuckGo whenever you'd like to search. You should also change the default search engine on your browser, too. Whether you're using Safari, Chrome or Firefox on iOS or macOS, we have the complete guide to changing your default search engine.
RELATED ARTICLES:
Why You Might Want to Switch
Searching the internet using a search engine is free — in theory. In reality, Google and other major search providers collect data on you.
They then use this data to create a unique profile for you to serve you hyper-targeted advertising.
For most people, this isn't a problem. But for the privacy-minded individual, it's basically a nightmare.
Enter DuckDuckGo. You can read more about their platform at their website, but the basic gist of it that is they don't track you.
That's right. DuckDuckGo doesn't collect or store any data on you, it doesn't target ads, and it doesn't track your browsing history.
In other words, if you care about online privacy — even in the slightest — you should be using DuckDuckGo as your primary search engine for routine browsing.
A Note About the Search/URL Field
While you could simply skip the below steps and just go to duckduckgo.com to conduct your searches, that's probably not how you browse the web.
If you're like most of us, you use the combined search and URL address bar at the top of most browsers. It's by far the most convenient way to search.
But, unless you change it, this search/address bar will rely on the default search engine. That's usually Google.
How to Switch to DuckDuckGo on Safari
Apple prides itself on protecting the privacy of its users and their data. That's one of the company's biggest but most underrated selling points.
And that philosophy applies to Safari. The Apple browser has a slew of built-in mechanisms to mitigate online tracking — and there's more coming in macOS Mojave.
But if you're still using Google, then you're still being tracked. Luckily, Apple allows you to easily switch to DuckDuckGo on Safari.
Safari on iOS
Open Settings.
Navigate and tap on Safari.
Tap on Search Engine.
Select DuckDuckGo.
Safari on macOS
Method One
Click Safari in the top menu bar
Select Preferences
Click on Search 
Select DuckDuckGo
Method Two
With Safari open, tap to open a new tab
Click the magnifying glass that appears in the search bar
Select DuckDuckGo from the list of search options 
How to Switch DuckDuckGo on Firefox
Like Safari, Mozilla's Firefox offers the ability to switch the default search engine to DuckDuckGo.
This applies to the regular Firefox browser, as well as the Firefox Focus mobile browser — which is already inherently geared toward privacy.
That might mean that Firefox, while not as popular as Google Chrome, might be a good third-party alternative to Safari.
Firefox or Firefox Focus on iOS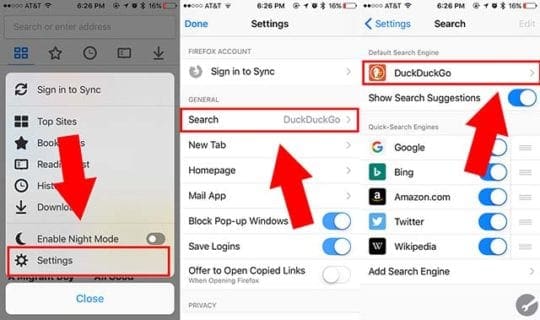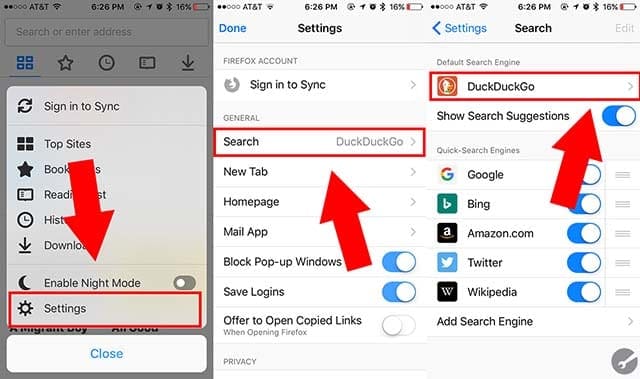 Open Firefox.
Tap the three-line menu icon in the bottom right-hand corner.
Tap on Settings.
Find and tap on Search.
Under Default Search Engine, you should see Google. Tap on it.
Tap on DuckDuck Go.
Note: If you're using Firefox Focus, the steps are basically the same but a bit different.
Open Firefox Focus
Tap the cogwheel icon in the top right-hand corner.
Tap the currently selected platform under Search Engine.
Find and select DuckDuckGo.
Firefox on macOS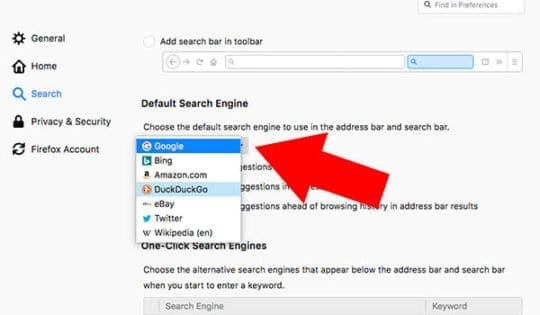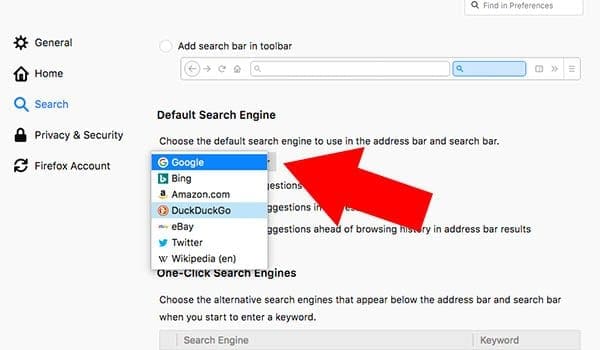 Open Firefox on your Mac.
Click on Firefox in the top menu bar.
In the drop-down menu, select Preferences.
Click on Search.
Under Default Search Enginge, select DuckDuckGo.
How to Switch DuckDuckGo on Chrome
Google Chrome is a popular browser — and, at one point, that was for good reason. It used to be one of the fastest in the game, it's heavily customizable, and it has an extensive library of useful third-party extensions.
But it's not a stretch to say that Google Chrome is a pretty poor browser for the privacy-minded among us. Chiefly, that's because DuckDuckGo is not a baked-in search engine on Chrome. (You can probably guess why not.)
While you can use a built-in workaround to select DuckDuckGo on the macOS version of Chrome, there's no way to use do so on iOS.
Google Chrome on iOS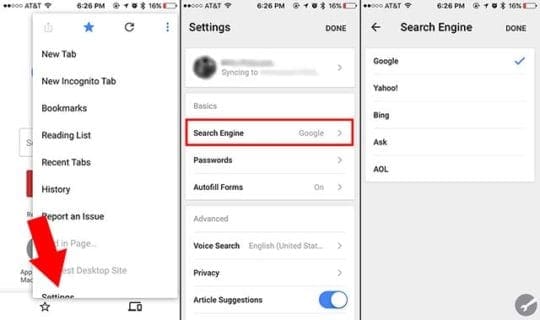 Like we mentioned, Google does not currently allow users to switch to DuckDuckGo on its iOS app. Unfortunately, there's no way around this, either.
But you can switch to another web browser if you'd like. Here's how.
Open Google Chrome
Find and tap on the three-dot menu icon in the top-right.
Select Settings.
Tap on Search Engine.
Tap on the search engine of your choice.
Google Chrome on macOS
Unlike Google Chrome on macOS, the desktop version of the browser does allow you to use DuckDuckGo.
Open Google Chrome
Find and tap on the three-dot menu icon in the top-right.
Select Settings.
Scroll down and click on Manage Search Engine.
You should see a search bar on the right side of the page.
Type in "duckduckgo" into the search bar.
Click the three-dot icon next to DuckDuckGo.
Click on Make default.
Mike is a freelance journalist from San Diego, California.
While he primarily covers Apple and consumer technology, he has past experience writing about public safety, local government, and education for a variety of publications.
He's worn quite a few hats in the journalism field, including writer, editor, and news designer.