The Internet browser on your iPhone or iPad is probably one of your most frequently used apps. But there are lots of different browsers out there and you want to make sure you're using the best one for you.
We've pulled together some of the best browsers available for a detailed comparison of their pros and cons. Take a look at the list below to find the best browser for iPhone or iPad.
Related:
1. Safari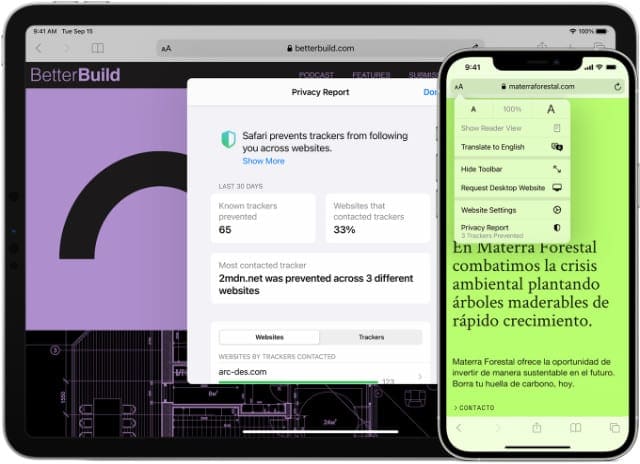 Safari is by far the most popular browser for iPhone and iPad users. Made by Apple, Safari is the only browser that comes pre-installed with iOS or iPadOS. It's the default browser when you first start using your device.
Though you can always change your default iPhone or iPad browser to something else.
Safari is quick to load and easy on your battery life. It can cope with huge numbers of open tabs and it syncs well with other Apple devices.
Safari uses Intelligent Tracking Prevention to block trackers. You can also view a Privacy Report to show you which sites are trying hardest to follow you. It's also easy to open a Private browsing tab for even better privacy.
There's no built-in adblocker. But you can use Reading Mode to view streamlined articles on most websites.
Use iCloud Keychain to create and store passwords and make secure purchases with ease using Apple Pay.
Safari seamlessly syncs tabs, bookmarks, passwords, and browsing history to your other devices. It even offers Handoff to let you transfer your active website.
The biggest downside to Safari is that it's only available on Apple devices. If you own a Windows PC or use an Android tablet, you might want to switch to a different browser on your iPhone or iPad so you can use the same app across all your devices.
Download: Safari (Free, pre-installed)
2. Chrome
After Safari, Chrome is the next most popular browser on iPhone and iPad. And it's the most popular browser on all other devices.
This is for good reason: Chrome is fast, reliable, packed with features, and available on all platforms.
Google lets you perform Voice and Incognito searches straight from the Add button. You can also translate pages to a wide range of other languages, save articles to an offline reading list, and even benefit from lower data usage.
You can sign in with a Google account to sync your passwords, browsing history, bookmarks, and more across Chrome on all your devices. This also uses your account to personalize your search results and ads, which may be a good or a bad thing depending on how you look at it.
If you don't like Google tracking your data, you can always change the privacy settings in your Google account to limit it. Though you may lose some features by doing so, which is the biggest reason not to use Chrome.
You can also choose to use different search engines to Google if you prefer. Just change the default search engine in your browser settings.
Download: Chrome (Free)
3. Firefox
If you're concerned about your privacy, but don't want to use Safari, Mozilla's Firefox browser is the next best option for iPhone and iPad.
Firefox prioritizes privacy by automatically blocks over 2,000 trackers. You can also further enhance your privacy by browsing in an easily-accessible Private mode.
Like Chrome, Firefox is available across all devices and platforms. Create an account to sync your history, bookmarks, and encrypted passwords across your devices.
Use Face ID or Touch ID to securely and quickly enter passwords.
Your tabs don't sync as seamlessly as with Safari or Chrome. And the Bookmarks aren't quite as accessible as on other browsers. But Firefox is still a responsive and reliable browser to choose.
You can also choose to send open pages to a different device if you don't want to rely on Firefox Sync.
Download: Firefox (Free)
4. Edge
Internet Explorer was a famously unpopular web browser, but Microsoft's newest effort—Edge—is a vast improvement.
Edge is available on iOS, iPadOS, macOS, Windows, and Android devices. You can sign in with a Microsoft account to securely sync your favorites, passwords, Collections, and autofill details across all your devices.
Microsoft also offers to personalize your search results and ads. It does this based on your account browsing history, but it's also optional.
What sets Edge apart is that Microsoft designed it to help save you money. It comes with a built-in coupon code search function and the ability to earn rewards points while searching with Bing. Edge even alerts you to current deals near you in the real world.
Edge offers three levels of privacy protection: Basic, Balanced, and Strict. Through these options, you can choose to block trackers or cookies and reduce ads based on your data.
Edge also offers content blocking with AdBlock Plus, though you need to enable it in the app settings.
The home screen and menu are highly customizable, offering easy access to bookmarks, reading lists, sync options, website settings, and more. Edge also offers an Immersive Reader, Visual and Voice search with Bing, InPrivate browsing, translation, and more features.
Download: Edge (Free)
5. DuckDuckGo
Although best known for its privacy-focused search engine, DuckDuckGo also has a popular iPhone and iPad browser app. As you might expect, this browser automatically blocks trackers.
Tap the icon in the search bar to view all the trackers blocked at each site. DuckDuckGo even gives each website a privacy rating (both before and after it blocks the trackers).
Tap the Fire icon at the bottom of the browser to close easily every tab and clear all your data. You can also choose to make particular websites Fireproof, to protect them from this burning and keep you logged in.
To further protect your browsing activity, DuckDuckGo lets you lock the browser app using Face ID or Touch ID.
DuckDuckGo doesn't offer many other features compared to the other browsers on this list. But it is a good minimalist option for those of you concerned about trackers.
Download: DuckDuckGo (Free)
Use the Same Browser on All Your Devices
We limited this list to only look at the very best browsers available for iPhone and iPad. Any one of them is a great choice to use and they largely offer very similar features—they are all built using Apple's WebKit after all.
If you can't decide which browser to use, think about what you use on your other devices. Each of these browsers offers the best experience when you use it everywhere. This allows you to sync tabs, passwords, and other data across all your devices.
For example, if you like using Safari on your laptop, use Firefox on your iPhone as well.
Safari is the most popular iPhone browser for a reason. But if you're still not sure what to choose, take a look at the best browsers for your Mac to help make a decision.