We've all been there before; you're walking down the street or in the store and your phone just falls out of your hand. Of course, it lands face down and you can only pray for the best. Unfortunately, you bend over to pick it up, turn your iPhone over, and your worst fears are confirmed. Your iPhone's display just cracked and shattered and now you have to figure out how to get it fixed.
Related Reading
For many, you probably have insurance available through your carrier, but that can take a long time to deal with and doesn't always end up with the best results. The other option is for those who want to go through Apple for the repairs or possible replacement, but you aren't sure exactly where to start or how much it will cost.
How To Check iPhone Repair Estimates Using Apple Support App
Apple recently pushed an update to its Apple Support app that aims to alleviate the stress associated with determining the cost of iPhone repairs. Previously, the only way you could find out how much a repair would cost was to go to the AppleCare website in order to see the overview. But not every type of damage is listed on the website, and you might end up needing to reach out to Apple Support anyways.
Things are about to get a whole lot easier for iPhone owners thanks to this latest update. Now, you can either select one of the pre-populated options for iPhone damages, or even send a message to Apple Support to get a more concrete answer on more obscure problems. Plus, you'll be presented with the cost upfront, instead of trying to navigate between the website or actually going to an Apple Store to find out. Here's how you can check iPhone repair estimates using the Apple Support app on your iPhone.
Download the Apple Support app from the App Store.
Open the app once it's finished installing.
Under Get Support, select Repairs & Physical Damage.
Select from the following options:

Cracked screen (front only)
Battery service
Back of iPhone is damaged
Screen or display quality
Liquid or water damage
Camera not working as expected
Unable to power on
Cables, headphones, and adapters
Buttons not working
Tell us what's happening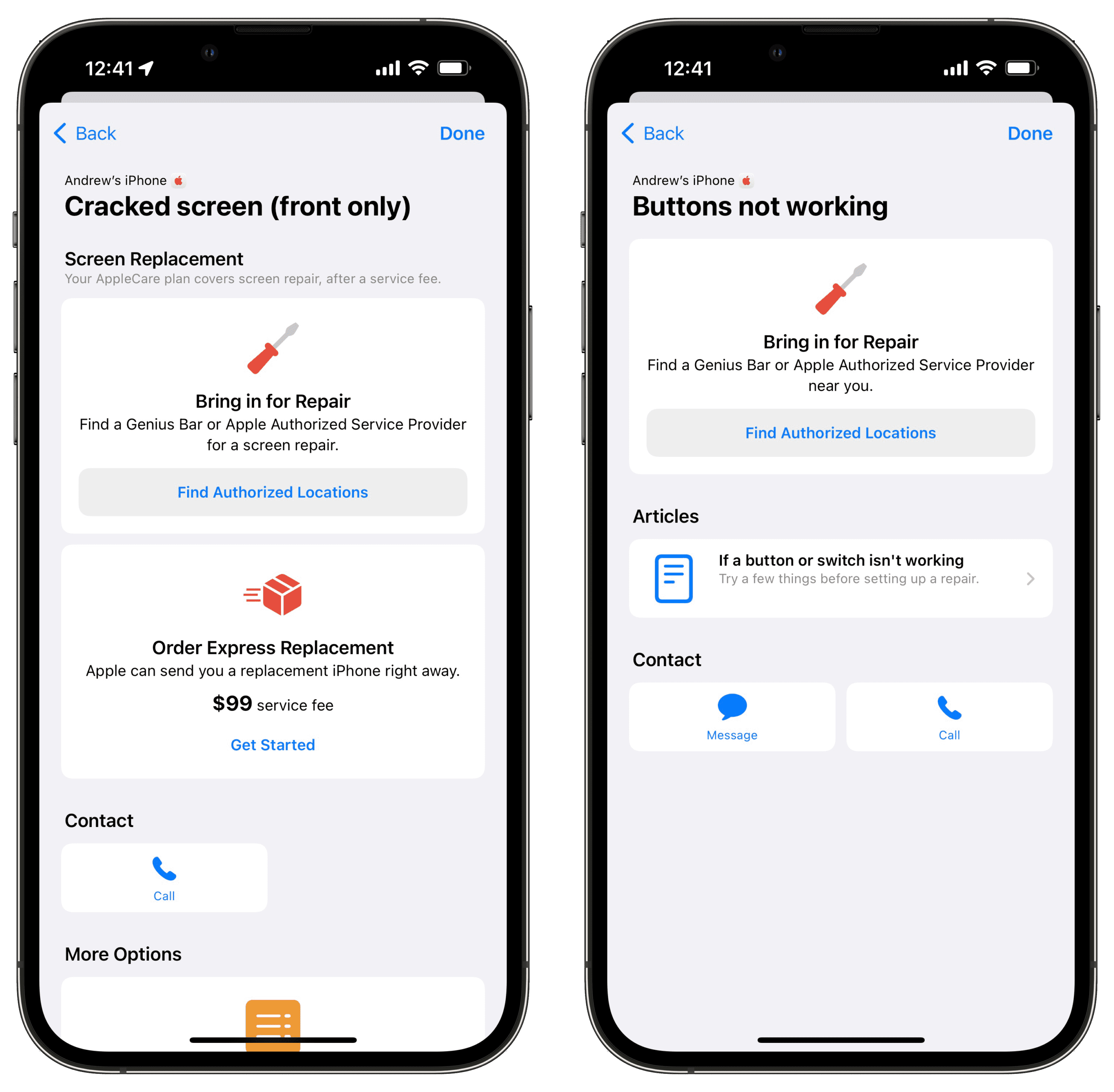 When you select one of the options provided, you'll be taken to another screen that provides pertinent information regarding the problem you selected. For instance, if you have a cracked screen, you'll see a "Screen Replacement" section, with options to find "Authorized Locations" or to start the iPhone replacement process. You can also view the service fee associated with the Replacement process right on the screen instead of needing to go over to Apple's Support website to find it.
However, if the problems that you are dealing with are not as cut and dry as needing to replace a cracked screen, then you might be prompted to follow a few more steps. This option appears when you tap the Buttons not working option from the main Support page. This will take you to a support article that provides you with a few different measures you can take before determining whether your iPhone is in actual need of repairs or not.
Andrew is a freelance writer based on the East Coast of the US.
He has written for a variety of sites over the years, including iMore, Android Central, Phandroid, and a few others. Now, he spends his days working for an HVAC company, while moonlighting as a freelance writer at night.