Buying a new or used iPhone? Wondering how reliable are refurbished iPhones? Here's how you can tell the origin of the iPhone. The model number of the device is handy when it comes to checking if your iPhone is new or refurbished.
Buying a refurbished iPhone from Apple is different than buying it from your carrier, even though both the devices are "Certified." Here is how you can tell if your iPhone is New or Refurbished.
Related articles
iPhone Model Number
If the model number of the iPhone starts with the letter 'M,' then it is a NEW iPhone. If on the other hand, the model number starts with letter 'F,' it's a carrier-refurbished model and when it starts with the letter 'N,' it indicates that it is an Apple Replacement device.
This is different than the model number that you find printed on the back of the iPhone starting with the letter 'A.'
Finding the model number of your iPhone is easy. Tap on Settings > General > About and scroll down to the Model section. This setting will show you the nine-digit model number that you can use to determine the origin of your iPhone.
M – your iPhone is new 
F– your iPhone is refurbished (refurbished by Apple or a carrier)
N – your iPhone is an Apple replacement phone
P – your iPhone was personalized with engraving
On newer iPhones such as the iPhone 8 and higher, the model number is also visible in the SIM tray slot. You will need to remove the SIM tray and look.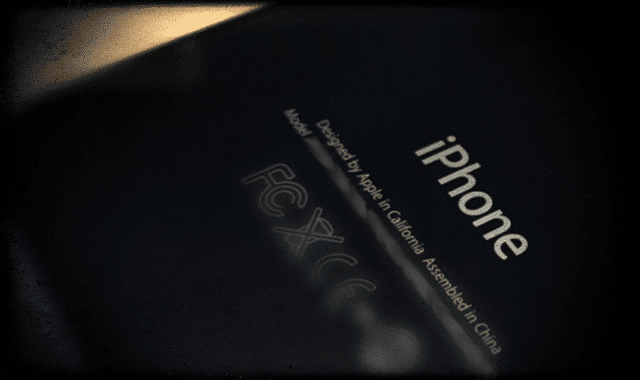 Apple-certified refurbished–Apple's refurbishment process
What we love about purchasing refurbished iPhones (or any device) from Apple is that they all include the same one-year warranty just like new devices!
Get additional Appel Care coverage for refurbished!
Plus you can purchase the additional Apple Care coverage for an additional fee–again, just like new devices!
What does refurbished iPhone mean?
Apple backs up its stringent quality check and warranty process when it comes to refurbished iPhones. According to Apple,
"Before we put an Apple Certified Refurbished product up for sale, it undergoes a rigorous refurbishment process to make sure it's up to Apple's high standards. We back it with our standard one-year limited warranty. And you have the option of purchasing AppleCare to extend your coverage further.

You will receive a "like new" device with genuine Apple replacement parts (as needed) that has been thoroughly cleaned and inspected. Refurbished iOS devices come with new battery and outer shell. Every device will come with all accessories, cables and operating systems. All Apple Certified Refurbished products are packaged in a brand new white box and are sent to you with free shipping and returns."
The refurbishment process at Apple does the following before it is available for sale.
Full functionality testing and any defective modules identified in testing are replaced.
Apple Watch and Apple Pencil devices that require replacement parts are not included in the Apple Certified Refurbished Program.
Sent to a thorough cleaning process and inspection.
Repackaged (including appropriate manuals, cables, new boxes).
Includes either the Operating System originally shipped with the unit or, in some cases, a more recent version.
Put into a Final QA inspection before being added to sellable refurbished stock.
When you purchase an Apple refurbished iPhone, you can also buy the AppleCare warranty with it. This extended warranty provides you with services for up to two years.
If you are on the hunt for a less expensive but good quality iPhone, you should definitely check out Apple's own website that lists out the refurbished devices.
When Apple provides you with a replacement iPhone, it can be either a new iPhone, model number starting with the letter 'M' or it can be a replacement iPhone with the model number starting with the letter 'N'. Both products are quality products.
Carrier Refurbished iPhone
The Apple-certified refurbished iPhone is different from the carrier certified refurbished models and it is easy sometimes to get confused between the two. In the case of a carrier-refurbished model (the model number starting with 'F'), the carrier itself manages the refurbishment process.
For example, when you buy a certified pre-owned Verizon iPhone, Verizon inspects the device.
According to Verizon's website,
"At Verizon, we thoroughly inspect all Certified Pre-Owned phones and devices to like-new condition. Devices go through a complete 100+ point checklist to ensure they measure up to Verizon's standards.
The inspection includes a variety of close-up looks, including:
A visual cosmetic inspection
An advanced functional, manual and electronic inspection
The latest software and hardware updates
At Verizon, each Certified Pre-Owned phone comes with a battery, wall charger, user guide, and a 90-day warranty from the date of purchase. "
 As you can see the warranty on a Verizon certified pre-owned is only 90 days. Apple's refurbished iPhones come with a year warranty.
What's Different About Buying a Refurbished Device From Apple Versus a Carrier or Third-Party?
One big difference between getting a refurbished iDevice through Apple versus a Carrier (or third-party) is that all Apple Refurbished products come with a new battery AND and the same one-year warranty that any new Apple hardware comes with.
It's a deal that's hard to beat!
When Buying a Refurb, Make Sure You Check Current Warranty Status
When you buy a used iPhone, you can also check to see what sort of warranty coverage if any is available for the iPhone.
To check the service coverage, you will need the serial number of the iPhone which can be found at Settings > General > About. Once you have the serial number, you can go to Check Coverage and enter the serial number.
With the busy end of the year season coming up, there might be many iFolks who are looking to buy used or certified pre-owned devices. We are hoping that this information will be useful to you.