For a quick and easy way to see how close you are to your friends, or even a business, you can connect your contacts to your Maps app.
When you're traveling, you can get the distance or directions to their house. When you want to mail a gift but can't quite remember a street address, you can see it on the map. There are all sorts of ways that connecting people from your Contacts list to the Apple Maps app can come in handy, so here are two different ways to do it.
Related:
Connect Your Contacts Using the Maps App
If you already have your Maps app open, then this method is convenient.
Enter your contact's address into the search box at the bottom of the app.
When the address is found, slide up from the bottom to open the full window.
Tap Add to Existing Contact. Note, you can also tap Create New Contact if it's for a new friend.
Find your contact in the list and the address will pop into their details.
Tap Update to save the address for that contact.
Maybe you are visiting this home or business for the first time and are actually at the location. Instead of entering the address into the search box, tap the Location button on the top.
The map will move to your spot and the address will display in the window at the bottom. Slide up and then follow the same steps as above to add the address to an existing contact or create a new one.
Connect to Maps Using the Contacts app
If you have your contact's address in the Contacts app, you can see their location in the Maps app with a tap.
Open your Contacts app and head to your contact.
You will see their address and a small map image. Just tap that map image and the Maps app will open to that spot.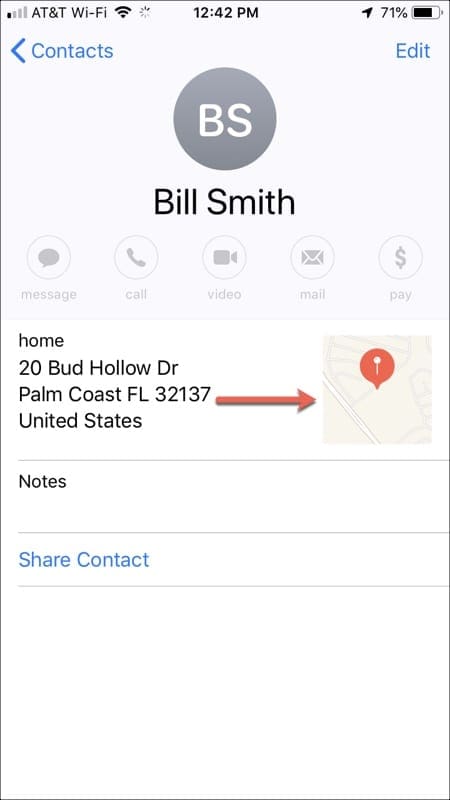 Find Your Friends
When you use the Maps app after saving an address with one of these two methods, you can find that location on the map easily.
Open the Maps app.

Start typing in your contact's name in the search box.
When you see the correct contact, tap it and their address will display on the map.
Conclusion
Whether it's on your device or in your car, connecting apps like these together make it super easy to get where you want to go faster. Is there a trick that you use like this that you think would help others? If so, feel free to share it the comments below.
Sandy worked for many years in the IT industry as a project manager, department manager, and PMO Lead. She then decided to follow her dream and now writes about technology full-time. Sandy holds a Bachelors of Science in Information Technology.
She loves technology– specifically – terrific games and apps for iOS, software that makes your life easier, and productivity tools that you can use every day, in both work and home environments.
Her articles have regularly been featured at MakeUseOf, iDownloadBlog and many other leading tech publications.