Earlier this year, Apple introduced not only Dolby Atmos support across all of its vast library of songs but also is bringing Spatial Audio and more. This turns those hit songs from your childhood into a brand new experience that you've never heard before. It's truly incredible to listen to a song that is 40 years old, only to have it feel like you're in the booth during the recording.
What is Spatial Audio?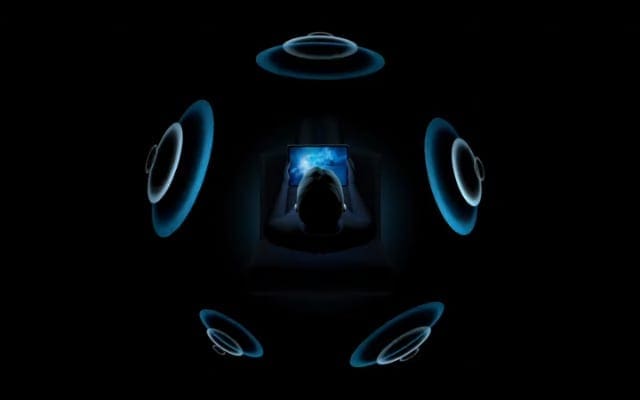 Dolby Atmos and Spatial Audio go hand-in-hand, and for Apple to bring it to its devices is incredible. But what is Spatial Audio? Well, it goes along with the new Apple Music Lossless feature that offers a great increase in playback quality, even over streaming.
Spatial Audio itself is essentially an additional layer that is created on top of Dolby Atmos. This layer is a 3D space making it feel like you're in the room with the band, instead of just having the music evenly distributed in each ear.
That's where the Dynamic Head Tracking comes in with select headphone models. Fire up Apple Music and find a song with Dolby Atmos and Spatial Audio enabled, then turn your head. Depending on where your head is positioned compared to your iPhone, iPad, or Mac, the music will automatically adjust to provide that immersive experience.
How to enable Spatial Audio in Apple Music
Although Apple announced that Dolby Atmos, Lossless, and Spatial Audio are available for everyone, there's a catch. You'll actually need to make sure that it's turned on first. And the process is different for each device type and depends on what headphones you are using.
Enable Spatial Audio in Apple Music on iPhone and iPad
Apple introducing Spatial Audio on the iPhone and iPad is absolutely insane. Even when you pair your AirPods Pro or Max and enable the feature for the first time, you'll be blown away. So what iPhone and iPad models are compatible with this feature? Here's the current list of devices:
iPhone XR (or later except iPhone SE)
iPad (6th generation or later)
iPad Air (3rd generation or later)
iPad Mini (5th generation)
iPad Pro 11
iPad Pro 12.9 (3rd-generation or later)
If you have one of the supported devices and want to get started, here's how you can enable Spatial Audio in Apple Music on iPhone or iPad:
Open the Settings app on your iPhone or iPad.
Select Bluetooth in the menu.
Locate your AirPods Pro or AirPods Max on the list.
Tap the Info button to the right of the name of your AirPods.
Tap the toggle next to Spatial Audio.
Enable Spatial Audio in Apple Music on the Mac
This feature isn't coming to the Mac until later this year when macOS Monterey officially lands. Unlike the iPhone, there are some larger limitations to keep in mind. Spatial Audio on macOS will only work with Macs released with the M1 chip. These are the current models that are compatible:
iMac (2021 model only)
MacBook Air (Late 2020 or later)
MacBook Pro (Late 2020 or later)
If you want to get Dolby Atmos set up for your Mac, here's what you need to do:
Open the Apple Music app on your Mac.
Click Music in the Menu Bar.
Click Preferences from the drop-down menu.
In the Preferences panel, click Playback at the top.
Select the drop-down next to Dolby Atmos.
Click either Always On or Automatic.
The difference between Always On and Automatic is pretty straightforward. This is in reference to devices that are compatible with Dolby Atmos.
Enable Spatial Audio in Apple Music on the Apple TV
Ignoring what your sound system currently looks like, Spatial Audio is coming to the Apple TV 4K (2021) later this year. This includes the dynamic head tracking functionality, but there are limitations.
As you might expect, this feature will only work when you connect the AirPods Pro or Max to the Apple TV. This makes sense considering that your soundbar or TV speakers can't track your head movement. But you can enable Dolby Atmos support in the Music app. Here's how you can enable Spatial Audio on the Apple TV:
Open the Settings app on your Apple TV.
Select Apps.
Scroll and select Music.
From the list, tap Dolby Atmos.
Select Automatic.
The special "dynamic head tracking" feature is not yet available for the Apple TV. Instead, you'll have to wait until tvOS 15 is released this Fall. Plus, you'll be limited to using it with either the AirPods Pro and/or AirPods Max.
What headphones are compatible with Spatial Audio
So there are a few different misconceptions when it comes to Spatial Audio-compatible headphones. Currently, there are only two models that are compatible with the dynamic head tracking feature offered with Spatial Audio.
However, if you are trying to find headphones that are compatible with Dolby Atmos via Apple Music, the list is quite a bit longer.
AirPods
Beats X
Beats Solo3 Wireless
Beats Studio3
Powerbeats3 Wireless
Beats Flex
Powerbeats Pro
Beats Solo Pro
The only way that these headphones can take advantage of Dolby Atmos is when choosing "Automatic" in the Music app settings. If you turn the Dolby Atmos to "Always On", it's only compatible with the AirPods Pro and Max.
How to find supported songs
The next time you open the Apple Music app, chances are that you'll see some spotlight playlists at the top of the page. Apple has curated more than a few different playlists for you to check out Dolby Atmos and Spatial Audio with.
But we've also rounded up some other places that you can go to check out Dolby Atmos and Spatial Audio playlists:
These are just a few of some of the best playlists that we've found so far. But if you browse the Apple Editorial Playlists, we're sure that you'll find some bangers. Then, you can compile and create your own Spatial Audio playlists and share them around!
Andrew Myrick is a freelance writer based on the East Coast of the US. He enjoys everything to do with technology, including tablets, smartphones, and everything in between. Perhaps his favorite past-time is having a never-ending supply of different keyboards and gaming handhelds that end up collecting more dust than the consoles that are being emulated.