Several users have reported that they run into their iBooks Store, not working Readers can see their own books on the iPad, but clicking on Featured /NYTimes / Top Charts just shows a blank screen. This problem happens time to time, especially when there's an iOS or app update (based on our Reader's emails and comments that we have received in the forum).
Related Articles
Before You Troubleshoot
If this problem occurred just after an iOS or App Update, occasionally Cellular Data internet access for iBooks gets turned off during the update and not automatically turned back on following the update. The solution is simple! Go to Settings, select iBooks and turn on Cellular Data under the heading Allow iBooks to Access.
Another way of checking is to visit Settings > Cellular > and toggle on Cellular Data AND under the heading Use Cellular Data For: toggle on iBooks.
Check Apple System Status Page
Sometimes it really isn't you, it's me (or Apple.) Like any technology, Apple system goes down time to time, whether for maintenance or unexpectedly. It happens. It's part of life. So before you perform a bunch of troubleshooting steps unnecessarily, check Apple's System Status page. Make sure there aren't any problems with the iBooks Store.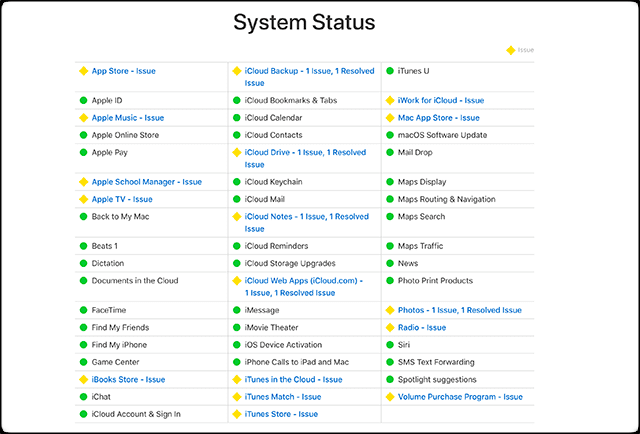 If issues are detected, time is your friend. Be patient and check again in an hour or so. Apple works diligently to fix things, so chances are the iBook Store won't be down for long.
Troubleshooting Tips for iBooks Store Not Working Shows Blank Screen
Step – 1- > Log out of the iCloud Account
Tap Settings > iCloud. Check your iBooks Store and see if it's still not working. Log out of your iTunes account on the iDevice (Settings >iTunes and App Store > Tap on Apple ID > Sign out). See if that updates your access to the iBooks Store
Step – 2- > Look at Restrictions
Tap on Settings > General > Restrictions and toggle the Restrictions ON and OFF a few times. Make sure that your iBooks store is OFF (No restrictions). Check iBooks and see if there are any changes and if you are now able to access the iBooks Store.
Step – 3-> Reset Location and Privacy
Some readers report fixing this problem with iBooks by doing some resets. Go to Settings >General > Reset Location and Privacy. You need to enter your passcode to proceed with this reset. When you reset location and privacy, it returns these particular settings back to factory defaults. This means that all your apps immediately stop using your location until you grant them permission again via Location Services (Settings > Privacy > Location Services.)
It appears that the Reset Locations and Privacy option fixed the issue for many but not all. If this tip didn't work for you, continue in the list below.
Step – 4-> Check Your Date and Time
For some reason, date and time stamps often cause a lot of problems. So let's check that these are correct for where you are currently located. Tap Settings > General > Date & Time and turn Set Automatically ON. This updates the day of the week and the time to match your current location.
Step – 5-> Check Your Language and Region
Another strange but true tip. Changing your language or region often fixes these types of problems! So go to Settings > General > Language & Region. And change your current language. Select any language you are familiar with or a version of your current language, like English (Canada.) Now, try again to open the iBooks Store. If books show up, go back to Settings > General > Language & Region, and change your language back to your preference.
Step – 6-> Clear the iBook Store App Cache
Tap on any one of the bottom toolbar buttons (My Books, Featured, Top Authors, Purchased) rapidly 10 times. It sounds strange but it refreshes the iBook Store App and may just solve your problem.
Step – 7-> Reboot
Press both the Home (or Volume Down for iDevices without a mechanical Home) and Power/Wake/Sleep buttons together for about 15 seconds until the device shows the Apple Logo. Release the buttons and let it start on its own. Check iBooks and see if there are any changes and if you are now able to access the iBooks Store.
Step – 8-> Connect to iTunes
Connect iDevice to iTunes via Computer and check for available updates. If an iOS update is available, update it using iTunes. Remember to backup with iTunes to your local computer before performing any update. Check iBooks and see if there are any changes and if you are now able to access the iBooks Store.
For most people, either a Reboot or updating to the latest version of iOS for your iDevice fixes the issue. Try steps 3 through 8 and see if it helps you with this problem.

Reader Tips & Tricks for iBooks Store Not Working Shows Blank Screen
For me logging out and back into my account via Settings > iTunes & App Store briefly fixed it (until I next opened a book on my bookshelf), other people appear to have had some success by closing the app via the iPad's taskbar and/or doing a soft reset/reboot. If you want to leave feedback to Apple about the problem
I had similar issues this AM. When I tapped on any of the store icons, it just showed me a completely blank screen. I had saved a note with links to iBooks Store pages. These were links for books in my future reading list. Upon clicking a link from the list, it opened it up in the iBook Store and seemed to work. I don't know if it refreshed the store or what, but the link loaded properly in iBooks, and the rest of the store seems to be working. iBooks has been working fine for me since
Essentially, you open for an iBook link in Safari and then click on it so that it can open it in your iBooks app
Renee Riffey tried the following: I just reset my location and privacy settings and iBook is now working! Settings >General > Reset Location and Privacy
Chris suggests: go to iTunes, search for iBooks, when it comes up, select any book and request sample, then hit Store in top right corner, takes you to iBooks, works for me
I fix this problem with my iPad! Go to Purchased in iBooks app. Under books, tap on your Recent Purchases. Look and see if any of your books have the cloud symbol next to them. If so, tap the cloud symbol to manually re-downloaded everything back to your iPad
For those of you connecting to iTunes or iBooks and only seeing a blank white screen, go to your Settings> Safari and change Block Cookies to Allow from Websites I Visit. This worked for me–iBooks Store back
This is how I solved the problem on my iPad. Open iBooks and tap Select from the upper right corner. Tap Select All. The choose Move from the upper-left corner. In the drop-down menu, create a New Collection and call it Move Folder. Then move all selected items from your Bookshelf to that new folder. Once you move all items go back to the main iBooks screen My Books. Now iBooks should connect to the bookstore. If not, restart the app by double tapping Home and swiping up. Once everything is working again, go back into that new Move Folder and return your books to their original location or whatever location you prefer
I asked a friend or family member to share a book link to something in the iBooks Store via iMessage or SMS Text. Just ask them to open the iBooks Store on their phone or computer, find any book, and share the link with you via text. Then all you have to do is open this link and everything works again
Obsessed with tech since the early arrival of A/UX on Apple, Sudz (SK) is responsible for the original editorial direction of AppleToolBox. He is based out of Los Angeles, CA.
Sudz specializes in covering all things macOS, having reviewed dozens of OS X and macOS developments over the years.
In a former life, Sudz worked helping Fortune 100 companies with their technology and business transformation aspirations.