Many iPhone 13 Pro and 13 Pro Max users have complained their devices often take blurry photos. The camera simply fails to focus properly. Sometimes, the metadata for the photos shows only 7MP. On a 12 MP camera, this problem is extremely annoying. The iPhone 13 Pro is one of the best camera phones in the world but sometimes it underperforms. What's causing this issue? What can users do to fix it? Let's find out!
Fix iPhone 13 Pro and 13 Pro Max Blurry Photos
Check the Lighting Conditions
Make sure to double-check the lighting conditions. Sometimes, photos taken in low light might appear blurry. By the way, if you're only getting 7MP on a 12MP-rated camera, press the button with two arrows in the lower part of the screen. That lets you expand the view and get a 12MP picture.
Tap to focus to force your iPhone to bring the image back into focus. Of course, this is not the ideal solution, you don't want to do that every time you're taking a picture. But this simple workaround should quickly solve your camera focus problems.
⇒ Note: Cases with a magnet, especially those with the magnet near the phone lens, could lead to camera focus issues. Remove your case and check if you notice any improvements.
Disable Auto Macro
If you rarely take macro shots, go to Settings, select Camera, and toggle Auto Macro off to disable the feature.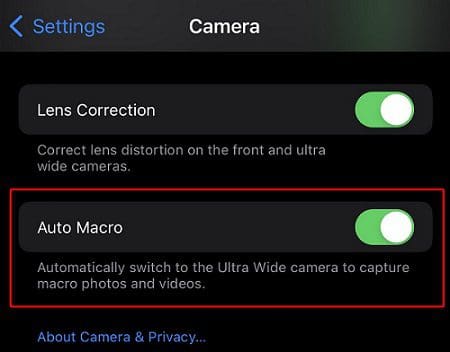 ⇒ Note: To disable Auto Macro, install iOS 15.1 or newer. Older iOS versions don't support this option.
The blurry images could be related to the Macro feature. The camera automatically switches back and forth to find the right macro image. Don't snap a photo when the image is blurry, wait until the camera has refocused. If you take a photo mid-switch, it won't be in focus.
Additionally, you can also disable Lens Correction and Smart HDR. Then, go to Camera Formats and change the efficiency settings to Most Compatible. Snap a new photo and check the results.
Install Halide
Halide is an incredible app that lets you capture really amazing photos. It can also add macro capabilities to any iPhone. If you're not satisfied with the quality of the photos taken by your iPhone 13 Pro's native camera, use Halide to enhance image quality.
Contact Apple Support
If nothing works and you're 100 percent sure the issue is on Apple's end, go to www.apple.com/feedback/camera and leave a comment there. Be sure to give Apple's engineers as many details as possible about the issue that you're experiencing. Then book a Genius Bar appointment to get in-person tech support. Maybe there's something wrong with your hardware.
Conclusion
If your iPhone 13 Pro or 13 Pro Max is taking blurry photos, check the lighting conditions, and tap to focus to bring the image back into focus. Additionally, go to Camera settings and disable Auto Macro, Lens Correction, and Smart HDR. Then, change the camera format. If the issue persists, install the Halide app and contact Apple Support.
Have you ever experienced any photo quality issues on your iPhone 13 Pro? Did you find other ways to solve the problem? Share your thoughts and ideas in the comments below.