In recent years Apple has done a pretty good job at keeping things exciting for developers and those in search of a new device. That trend continues with WWDC 2022, as not only are we getting new software, but Apple also debuted an all-new Mac.
Related Reading
We were expecting at least some mention of the Mac Pro, given Apple's teaser during its last event. But instead, Apple decided to announce the all-new 2022 MacBook Air.
MacBook Air 2022: Specs
Display: 13.6-inch Liquid Retina (2560 x 1664)
Processor: Apple M2
RAM: 8GB / 16GB / 24GB
Storage: 256GB / 512GB / 1TB / 2TB
Camera: 1080p FaceTime HD
Speakers: Four-speaker Sound System w/ Spatial Audio support
Ports: 2x Thunderbolt 3 / MagSafe 3 / 3.5mm headphone jack
Battery: Up to 18 hours of video playback or 15 hours of web browsing
Charging: Fast-charge capable with 67W USB-C Power Adapter
Dimensions:

Height: 0.44-inches
Width: 11.97-inches
Depth: 8.46-inches
Weight: 2.7 pounds

Colors: Silver / Starlight / Space Gray / Midnight
Price: Starts at $1199
MacBook Air 2022: Design and Display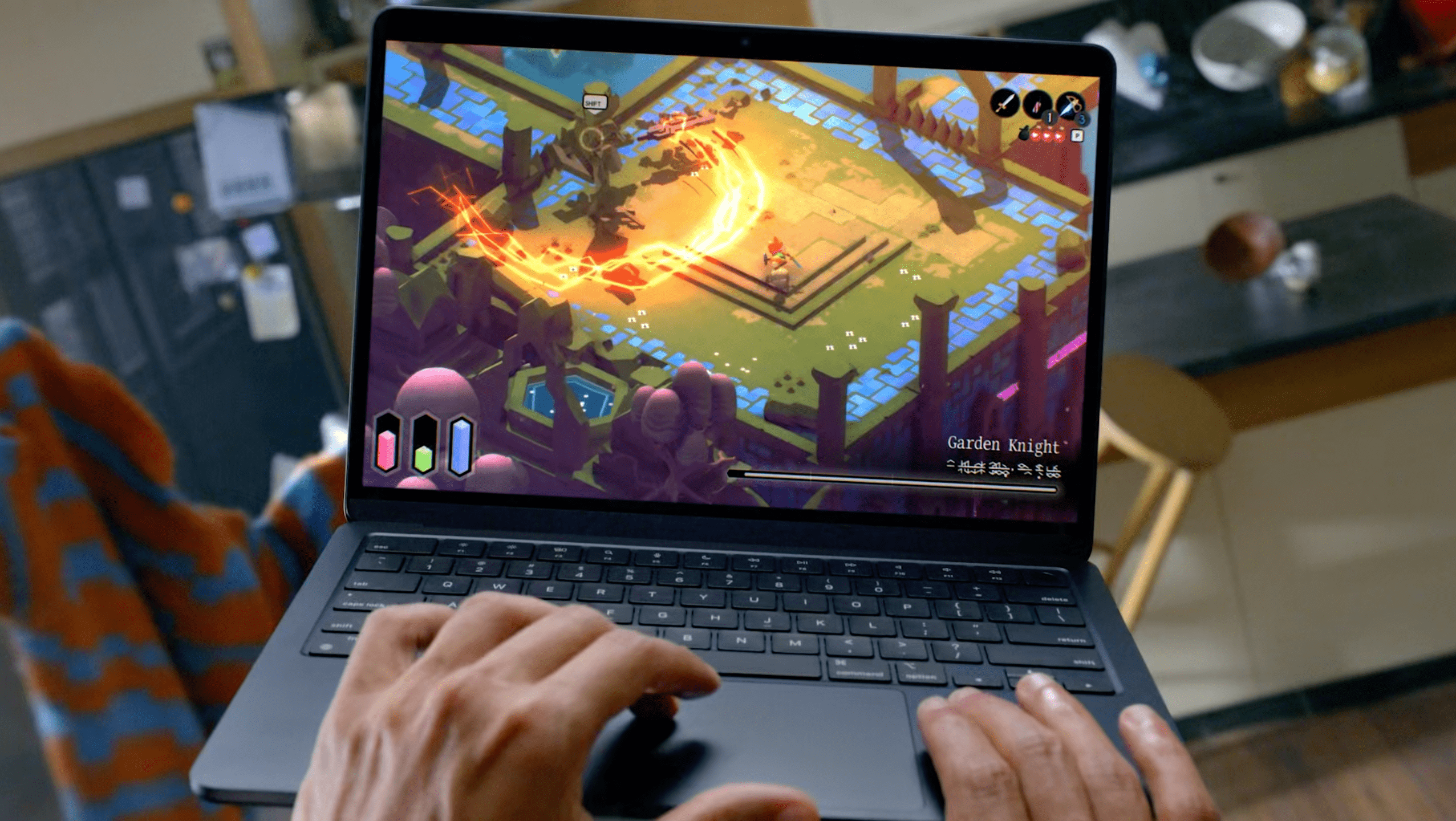 Apple's most popular laptop is finally getting the redesign that it sorely needed. Gone is the envelope-style design from the original MacBook Air. Instead, the 2022 version adopts a more squared-off design, falling in line with the 2021 14-inch and 16-inch MacBook Pro models.
With this redesign, the 2022 MacBook Air features slimmer bezels around all four edges of the display, reaching its largest point in the notch at the top. As is the case with the 2021 MacBook Pro models, the 2022 MacBook Air's notch houses the new-and-improved 1080p FaceTime HD webcam. Apple seems like it's going to stick with the notch in its various MacBook models, at least for the foreseeable future.
In addition to the implementation of a Liquid Retina screen, this display reaches 500 nits peak brightness. It also supports the P3 wide color gamut and even has support for Apple's True Tone technology. Apple's displays continue to impress on so many different levels, including the fact that the MacBook Air 202 offers support for 1 billion colors, which is the highest that we've ever seen on a MacBook Air.
MacBook Air 2022: Processor
But the big story here was the introduction of the M2 processor, providing the successor to the original M1 that was unveiled back in 2020. With the M2, this new chip is up to 1.4x faster than the M1 and up to 15x faster than the last Intel-based MacBook Air. There are two different configurations, with the base model sporting an 8-core CPU, an 8-core GPU, and a 16-core Neural Engine. But a higher-end configuration is available, sporting the same CPU and Neural Engine, but features a 10-core GPU.
One of the benefits of the new M2 chip is its support for even more RAM, as there's an all-new 24GB configuration available. This is available alongside the traditional 8GB or 16GB options that have been available for years. As for storage, the base configuration comes with 256GB, but this can be configured with up to 2TB. Those who want the 10-core GPU model will have 512GB of storage as the minimum.
MacBook Air 2022: Battery Life
Battery life is one of the keys to success for the MacBook Air, and Apple with its M2 is definitely delivering. The 2022 MacBook Air is rated to last for up to 18 hours of video playback, or 15 hours of web browsing. Fast-charge is on board too, as you'll be able to go from 0% to 50% in just 30 minutes using Apple's 67W USB-C Power Adapter. In the box, Apple includes a 30W USB-C Power Adapter with the base model or a new 35W Dual USB-C Power Adapter for those who opt for the 8-core CPU / 10-core GPU version.
MacBook Air 2022: Port Selection
As for port selection, MagSafe is back, courtesy of MagSafe 3 which was introduced in late 2021 with the 14-inch and 16-inch models. This is paired with a 3.5mm headphone jack sporting "advanced support for high-impedance headphones", along with dual Thunderbolt 3 ports. It's a bit surprising to see Apple decide to not include Thunderbolt 4, especially when you consider this is available with last year's iPad Pro model.
MacBook Air 2022: Price and Availability
Apple is doing things differently this year, seemingly following in the same footsteps as the MacBook Pro line. Pricing for the MacBook Air 2022 starts at $1199, an increase of $200 over the "old" standard pricing. That will get you the M2 chip with the 8-core CPU and 8-core GPU, along with 256GB of storage. If you want the more powerful M2 with a 10-core GPU and 512GB of storage, that version starts at $1499.
However, if you happen to just want the cheapest MacBook Air possible, Apple is going to continue selling the 2020 MacBook Air with the M1 chip. Pricing for that version remains $999, still giving Apple a sub-$1000 MacBook in its lineup. All M2 versions of the 2022 MacBook Air will be available beginning sometime in July. And while this will ship with macOS Monterey, you can rest easy knowing that macOS Ventura will be landing as soon as it's officially released.
Andrew is a freelance writer based on the East Coast of the US.
He has written for a variety of sites over the years, including iMore, Android Central, Phandroid, and a few others. Now, he spends his days working for an HVAC company, while moonlighting as a freelance writer at night.