With recent updates and the introduction of iPadOS last year, the iPad is now more powerful than ever. There's still a bit of disconnect between the iPad hardware and the software, but the gap is closing.
Related Reading
A commonly asked question is "can your iPad Pro replace your MacBook Pro". This is a question that rattles around in my brain on a daily basis, and I finally decided to give it a shot. But first, it was time to get some accessories and set everything up.
The centerpiece
The centerpiece of this setup is a 2018 256GB 12.9-inch iPad Pro with Cellular. I have to admit, as soon as the 2020 iPad Pro was announced, I sold my 64GB WiFi 2018 model on Swappa and placed a pre-order for the 2020 variant.
Then, as I read more and more about this new iPad, I realized that this was nothing more than an incremental update. There are a few differences under the hood, primarily the bump to 6GB of RAM and an additional GPU core. But it seems, even after the 2020 Pro got into the hands of the masses, that there's not much of a difference.
Apple's A12X was launched with 7 GPU cores, paired with 4GB of RAM. And if you got the 1TB model, Apple included an additional 2GB of RAM. With the A12Z, you get 8 GPU cores and 6GB of RAM across the board.
The other major difference comes with the camera. Apple introduced the new LiDAR sensor, bringing with it the only hardware difference between the 2018 and 2020 model. With this new camera sensor in-tow, Apple brought a square camera hump similar to what you'll find on the iPhone 11 lineup.
It's obvious now that putting the LiDAR sensor in the iPad was to get this new tech into the hands of developers. Likely, we will be seeing either this same sensor, or an upgraded one, packed into the iPhone 12 line this fall.
But for someone who primarily works with text, and the occasional image editing, the 2020 just wasn't enough of an upgrade. However, you better trust that I picked up a new Smart Keyboard Folio now that it has a darker shade of gray. And it works just fine with the 2018 model.
The rest of the setup
As many have seen, the iPad Pro with Smart Keyboard Folio will work just fine. But after the iPadOS 13.4 update bringing mouse & trackpad support, I wanted to go a step further.
I waltzed into my local MicroCenter, and snagged the last Space Gray Magic Trackpad 2 that they had. This was a couple of weeks after 13.4 dropped, and the Trackpad 2 was flying off of shelves. So this was definitely an impulse-buy, and a necessary one, despite already having the MX Master 3.
As for the keyboard, I primarily use the Logitech MX Keys with my MacBook Pro and custom-built PC. And since this keyboard has three Bluetooth radios built-in, I decided to stick with that.
Now that the trackpad and keyboard were settled, it was time to find a stand. I spent hours perusing Amazon, Best Buy, and just about every other retailer you can think of. Then I remembered something that I heard from Federico Viticci about an adjustable stand. The Klearlook stand was not in stock, so I found the next best thing from Viozon. But it was also out of stock, so I waited a couple of days, saw that it was available, and snagged one.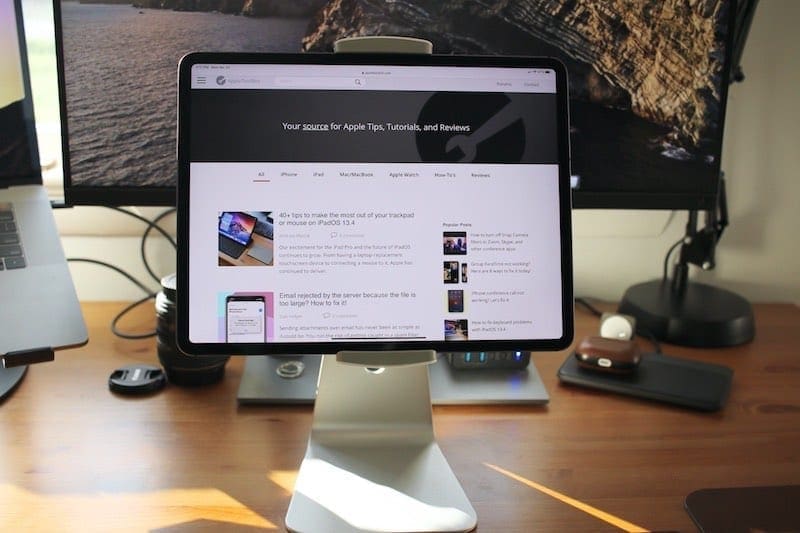 I was beyond excited when it finally arrived. It's been months since I moved so fast to get a package off the doorstep. There is some assembly required, mainly attaching the grip to the stand, but then it was done. I snapped the iPad Pro into place, turned on the Magic Trackpad 2, toggled the Bluetooth on the MX Keys and I was ready to go.
This Viozon stand is absolutely gorgeous, and fits in with the whole "Apple aesthetic". The base is made from an aluminum alloy, and while I wish there was a Space Gray option, the silver still looks fantastic.
Odds & Ends
But no setup is really complete with an extra accessory or two. Now, I'm not sure if this is just my model, or if the cellular model's battery life is just rough, but battery life could be better. And I didn't want to just string a cable across my desk for when I would need to recharge the iPad.
That's where the Satechi 108W Pro USB-C Desktop Charger comes in. The original aim for this was to have a portable charger to stick in my bag for my 2019 15-inch MacBook Pro. But since there is currently no need to go to the office every day, the Satechi Charger has become a staple on the desk.
There are four charging ports, with two USB-C and two standard USB-A ports. And the exciting part about this is the primary 90W USB-C Power Delivery Port. I already knew this would work with the MacBook Pro, so it would definitely work when I need to add some juice to my iPad.
Completing this ensemble is nothing more than a beautiful mousepad from Nomad. I'm a sucker for leather goods, especially if they are well-made. Nomad's Rustic Brown Leather Mousepad is a dream to use, regardless of whether I'm using the Trackpad or the Master 3. It's comfortable against my palm and my wrist, and it just really looks good.
So that's the setup.
What's in like in practice?
There's something that I must admit before diving deeper. I am not a huge fan of using a traditional mouse with the iPad. Even when Apple introduced the Accessibility controls with the initial release of iPadOS. I had them enabled on my "old" iPad Pro, but had no intention of using it with the new one.
There's just something about the mouse that doesn't feel "right" when using the iPad. Everything works as you would expect, and you can customize the various buttons, but it wasn't enough. Enter the Trackpad 2. This is a DREAM to use with the iPad.
If you stop thinking about the pointer controls as a traditional pointer, and start thinking of the pointer as your finger, you'll understand what I mean. I'm fairly certain I heard Myke Hurley tell that to CGP Grey on a Cortex podcast, and it clicked. I digress.
Get some work done
Loading up my current favorite long-form text editor, iA Writer, and getting some writing done is awesome. I don't feel the neck strain of looking down at the iPad in the Smart Keyboard Folio anymore. That's thanks to the fact that the Viozon stand lifts the iPad off the table and gives you better ergonomics.
The head of the stand is adjustable, as you an rotate it 360-degrees. Which is just nifty. But the benefit comes in being able to tilt it from -45-degrees all the way to 180-degrees. You will be able to find the perfect angle, regardless of how tall or short you are. And your back and neck will thank you later for it.
When using the combination of the MX Keys and Trackpad 2, this feels like a laptop. I'm able to switch between apps, throw apps into Split View, add another set of apps in Slide Over and just go to town. If I want to stop working with my iPad in horizontal mode, I can rotate it and see more of the text that I'm working with. It's just all a dream to me.
Safari is a desktop-class browser, so I don't have to worry about awkward resizing anymore. I also don't feel the need to download apps like Google Drive or any of the Google productivity apps.
Speaking of apps, you also have access to the App Store to download and use all of your favorites. But there are even some great ones that take advantage of the big, beautiful iPad display. And more apps are being updated with either keyboard shortcut support or improved mouse & trackpad support.
But the Viozon stand gives me one added benefit that I didn't think of until later. It allows me to use SideCar as a third-monitor for when I'm using the MacBook Pro paired to my 27-inch Dell monitor. And if I'm doing some photo editing, I can throw the app onto the iPad Pro from the Mac, take it out of the stand, and do some fine-tuning with the Apple Pencil.
And we haven't even gotten into the other basics of iPadOS like Shortcuts. All of this is just exciting, even sitting here writing about it now after owning the iPad Pro since early last year.
Why use the iPad Pro instead of a MacBook Pro
You may roll your eyes at this next part. Two weeks before the iPad Pro 2020 was announced, I bought a new 2019 MacBook Pro with TouchBar. That's because my trusty 2015 MacBook Pro wasn't able to hold up during some longer photo-editing sessions. And I couldn't afford to not have a "desktop" Mac.
The reason for that is something that I'm still struggling with. There are some tasks on the iPad that require you to re-tool your brain. For example, I can fire up Pixelmator on my MacBook Pro, and have edited photos done in just a short period of time.
Between the frustrating File Management system on the iPad and a touch-first experience, I've been struggling. So all of this is pointing out that I should use the MacBook Pro instead, right? Wrong.
I live and breathe Apple, even though I also have my trusty Pixel 4 and custom-built PC. If Apple is trying new things and bringing a whole new computing experience, I want to be there on the front lines trying to figure it out.
The level of excitement is unparalleled, and I can't wait to see what's in store for iPadOS 14. I'm hoping some of the software quirks get worked out, but I want to see what else is in store. If Apple is going to drop native mouse and trackpad support in a "point" release, then what does that mean for the next major update? Only time will tell but the future of the iPad is bright.
Conclusion
Some of this may have come off sounding like the ramblings of an Apple fanboy. And that's kind of the point. The iPad is making things possible today that weren't possible even a year ago. Apple is leading the way, and even Android faithfuls are telling folks to go get an iPad if you need a tablet.
While I'm holding out hope for a "true" hardware upgrade for the iPad, it doesn't really matter. I'll likely be picking one up and either holding onto this as a backup, or using it to fund the new one. Either way, Apple is innovating, even if the tech pundits want to tell you otherwise. Just try out using a trackpad with the iPad, and you'll see what I mean.
Andrew is a freelance writer based on the East Coast of the US.
He has written for a variety of sites over the years, including iMore, Android Central, Phandroid, and a few others. Now, he spends his days working for an HVAC company, while moonlighting as a freelance writer at night.