We love that iOS and iPadOS include a Face ID feature called Alternate Appearance! Testing this setting out allows you to create multiple Face IDs, either for yourself (like one with and one without glasses) or even for two different people!
Related Reading
One Device, Many Users
If you share your iDevice with others, authenticating can be a big pain especially for folks with devices that support Face ID.
We Love Touch ID For Supporting Multiple People
Back in the days of using a fingerprint scanner, Apple made it possible to register multiple fingerprints. It's one of the biggest reasons our family loves Touch ID.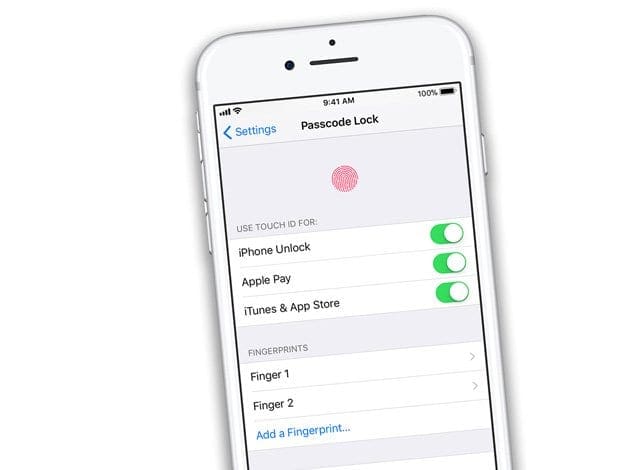 Being able to register one of my fingers on the devices of my kids iDevices is awesome. Plus, it makes it a heck of a lot easier to unlock.
Face ID Limited Users to One!
With the release of new models of iPhones & iPads that support Face ID, Apple allowed us to register a single face to Face ID. That limit of just registering one user was an annoyance and pain point (especially for my partner who can never remember passcodes!) 
We know that a lot of folks out there share or swap devices
It's only natural in a busy household that partners, husbands, wives, and children use each others' devices throughout the day and week. When your out and about and need to distract that fussy child, the last thing you want to think about is Face ID!
For that reason, as soon as Face ID released to the public, users asked Apple to add the ability for Face ID to record multiple faces, just like Touch ID allowed numerous fingerprints. But for most of its first year, Face ID and Apple disappointed us.
But iOS & iPadOS finally change that.
Does Face ID Recognize Two Different Faces in iOS or iPadOS?
The short answer is yes!
While Apple designed the feature to help folks who had trouble with Face ID recognizing them in different dress situations or conditions, like with/without glasses and so forth.
But our tests show that the feature works with two completely different faces too! 
With iOS 12+ and iPadOS, you can have up to two total Face IDs–not an earth shattering change.
But for those of us that share iDevices with our partners or children (maybe even a co-worker), this alternate appearance is a welcome change indeed! 
How-To Add Multiple Users to Face ID
If you want to add a new user to Face ID on your iPhone, the steps are pretty straightforward.
Here is what you will need to do:
Open Settings
Scroll and select Face ID & Passcode
Enter Passcode
Tap Set up an Alternative Appearance 
After you have selected Set up an Alternative Appearance, you or that one other person need to follow the same process as you did the first time–like moving your head in circles to capture its contours.
But once complete, you have two multiple appearances ready for Face ID to use.
Can I Delete or Change An Alternate Appearance for Face ID?
Once you enter an alternate appearance, there's no option to delete it!
Instead, you need to Reset Face ID to change your alternate appearance. Unfortunately, that also means you must re-enter all Face IDs!  
When you tap Reset Face ID, your device removes and deletes all your Face ID data–including your original Face ID and your alternate appearance.
We love this multiple Face ID feature in iOS and iPadOS!
It's made our lives sharing an iPad Pro so much easier–especially for my partner who never seems to remember the numeric passcode!
What about syncing Face ID between devices?
So far, we don't have device syncing of Face IDs–so you need to create your face recognition on all your devices indivudally.
But it would be awesome if Apple created a unified experience across both the iPhone and iPad. Having multiple Face ID users registered syncing across multiple iOS and iPadOS devices is something we hope Apple releases in future updates.
To learn what models currently support Face ID, check out this Apple list.
Andrew is a freelance writer based on the East Coast of the US.
He has written for a variety of sites over the years, including iMore, Android Central, Phandroid, and a few others. Now, he spends his days working for an HVAC company, while moonlighting as a freelance writer at night.