Today, we're going to be talking about one of the more controversial aspects of Apple products, Apple ecosystem features. You've probably heard people refer to the "Apple ecosystem" before. It's a slightly vague term, but it also definitely exists. And in this post, we're going to be covering what the best features of this ecosystem are.
The reason for this is that, in my opinion, the Apple ecosystem is one of the most valuable aspects of purchasing Apple products. And too often, I see people not using these features because they don't know how to or aren't even aware that they exist. Apple isn't great at promoting these features, often leaving users to discover them for themselves.
So if getting more out of your Apple devices is something you're interested in, then stick around, because we're going to be covering some pretty cool stuff!
What is the Apple ecosystem?
Before we get too deep into this post, though, I did want to give a brief refresher on what the Apple ecosystem is. Again, it's a bit of a vague topic, and if you aren't super familiar with tech, you may have never heard of it before.
Put simply, the "Apple ecosystem" is the set of devices that Apple has released and the unique ways that they work together. You could just buy one Apple product, like an iPhone. But if you decide to grab a Mac, too, then you'll notice that you can now send messages from both devices – not just your iPhone.
And if you grab an iPad, too, then you'll find that you can use your iPad as a monitor for your Mac, transfer files from your iPhone to your iPad, and use your iPhone to make purchases on your Mac.
In other words, the more Apple devices you own, the more benefits there are to being an Apple customer. You get rewards for buying into Apple's devices in the form of Apple ecosystem features.
The reason this is a bit controversial is that many view this as anti-competitive. If you have an iPhone, you could buy a Windows computer, but then you'd be missing out because only the Mac is going to "play nice" with your iPhone. The same goes for other tablets, headphones, and so on. Apple could open these features up to non-Apple devices, but then there would be no Apple ecosystem, so it doesn't.
I somewhat agree that these features are anti-competitive, to an extent. But as an average consumer, you and I can't do a whole lot about it. So we may as well enjoy the Apple ecosystem features while they're here. That's my philosophy, anyway!
The best Apple ecosystem features
Alright, now that you know what the Apple ecosystem is, it's time to dive into its best features. It's important to note that we're just going to be covering the best features. This would be a much longer post otherwise. Plus, I don't think that a lot of Apple ecosystem features are worth discussing. Handoff, for example, is a feature I've never used, despite being popular.
A shared clipboard between devices
Kicking off our list of Apple ecosystem features is the feature I probably use the most. Which is funny, because it's so simple and ingenious.
If you have more than two Apple devices, then you can use a shared clipboard between them. That means you can copy something on your iPhone and paste it on your Mac, and vice versa.
This feature is called Universal Clipboard. It works by storing your clipboard in iCloud. So when you copy something on one device, your iCloud clipboard is updated. So any device of yours that's signed in to iCloud will be able to paste what you just copied.
I'm being serious when I say that I use this all day, every day. Sharing links between devices, copying info on my Mac and texting it on my iPhone, moving information between notes and apps, etc. This is so insanely useful, it works 95% of the time, and it's impossible to live without it once you get used to it. Sometimes, it does respond a little slowly, and I have to wait a minute or two for it to update. But 9/10 it works just as you would expect.
Keychain keeps your accounts more secure
Next up is one of my favorite Apple ecosystem features, Keychain. Keychain is available on most Apple devices (though not all). It's used for password generation and management.
If you've ever tried to create a new account for any website in Safari, then you've probably been suggested a long, randomized password by Keychain. Understandably, you may have rejected that password, thinking that you won't be able to remember it.
What you may not have realized is that Keychain will remember it for you! This feature stores all of your password and email combos for you. So you don't have to remember any of them. This makes it easy to start using a random password with all of your accounts, which is much more secure than using the same password for all of your accounts.
The reason is that someone who figures out your password on one website will know your password for all of your accounts. And if you think that can't happen to you, you're wrong.
In fact, I'd bet that most of you reading this will find that your email and password have already been leaked. You can check by pasting your email on this site. So don't wait for something bad to happen before you start using secure passwords. Keychain makes this easy, it's free, and it's accessible on most of your Apple devices!
Universal Control unites your Macs with one of the newest Apple ecosystem features
Next on our list of the best Apple ecosystem features is also the newest. That feature is Universal Control. You can read more about Universal Control here, but here's a rundown for those who haven't heard of this feature yet.
Universal Control allows Mac users to "unite" their other Macs and iPads just by placing them next to each other. Seriously, you can just set two MacBooks next to one another. Then, drag the mouse from MacBook over to the other. It'll pop over to the next screen, allowing you to use one mouse and keyboard between the two devices.
In addition to being cool as heck, this feature also makes it easy to drag files between two devices. You can't drag windows back and forth, though, which is one of my main complaints with this feature. Also, you'll need to enable this feature on both devices for it to work, which you can do in System Preferences, Displays, and then clicking Universal Control… and checking all of the boxes.
This feature works with iPads, too, though it has to be an iPad being paired to a Mac. You can't do this with two iPads sitting next to one another, for some reason.
I do have my issues with this feature, but it's still pretty cool and something that a bunch of Mac users are sure to love. Check it out!
Sidecar turns your iPad into a monitor
If Universal Control isn't your thing, then maybe Sidecar will be. Sidecar is a very similar feature to Universal Control that allows you to use your iPad as a secondary monitor for your Mac.
You can set this feature up quickly in System Preferences > Displays on your Mac. Once you do, connecting to your iPad is straightforward. If you want to learn more about this feature, read here.
In short, this is just like using a traditional monitor as a secondary display for your Mac. You can choose to extend your Mac's display to your iPad or mirror it, depending on your preference. You don't have to plug your iPad into your Mac for this to work, which is pretty convenient. Other than that, this is a straightforward and handy feature!
My one complaint with Sidecar is that for some reason, sometimes, I can't get my Mac and iPad to connect to one another. The only thing that fixes it is restarting my Mac, my iPad, or both. But when it does work, I love using this feature.
iCloud storage and backups keep your devices feeling consistent
A slightly less exciting, but still very useful, item in our list of Apple ecosystem features is iCloud. iCloud is what makes a lot of these features possible, so we're just going to focus specifically on iCloud storage and backups for this point.
For those that don't know, iCloud storage allows you to store certain files in the cloud. Namely, your photos, messages, contacts, and files from the Files app.
If you have iCloud enabled on multiple devices, then you'll be able to instantly see all of your photos, contacts, messages, etc., on all of your devices just by opening their corresponding apps. Not only is this convenient, but it also means that you won't lose your photos just because your iPhone breaks or your Mac falls in a river.
And then, of course, there's file storage, as we mentioned. File storage in iCloud Drive allows you to access your files on all of your iCloud devices. I can be working on this article on one Mac, save it, then open the file on another Mac, my iPad, or my iPhone and pick up right where I left off. It's great for ensuring I never lose any of my work as well as being super convenient.
And lastly, there are iCloud backups. iCloud backups will automatically backup your iPhone and iPad devices to the cloud if you enable them. This means that when you get a new iPhone or iPad, all of your apps, settings, photos, messages, and more will be copied to the new iPhone or iPad. Even your wallpaper will stay the same.
Admittedly, this can make it feel like you didn't really get a new device, but it also means you don't have to go through the trouble of setting up your new device. Out of the box, it'll feel like it belongs to you.
Use your iPhone to type on Apple TV and Apple Watch
Next on our list of the best Apple ecosystem features is a really simple one. It's for the iPhone users out there, which I'm guessing is most of you.
Whenever you start typing on your Apple TV or Apple Watch, your iPhone should vibrate. If you unlock it, you'll see a notification asking if you want to start using your iPhone as a keyboard.
When you do, you'll be able to type on your iPhone and have it appear on your Apple Watch or Apple TV.
This is super useful, considering that typing on an Apple TV or Watch is kind of a pain. You either have to draw each letter by hand on your Apple Watch or scroll through the entire alphabet with your Apple TV remote.
With this feature, you can quickly type out your search or text message with your iPhone's keyboard. Simple, convenient, and nearly always works like it's supposed to. Love it!
AirPlay allows you to cast your screens all over your house
Another one of the great Apple ecosystem features is AirPlay. It's a perfect example of a feature that's hiding in plain sight.
AirPlay allows you to cast the screen of one of your Apple devices to nearly any other Apple device. That means you can transmit your Mac screen to your Apple TV, your iPhone to your Mac, and your iPad to your iPhone.
To do so, just open Control Center on one of your devices and select this option:
Then, pick the devices you want to start streaming your screen to!
It's important to note that for some devices, you can only transmit a video over AirPlay. If that's the case, then look for this symbol when playing a video:
Once you select either symbol, you should see a list of devices that you can start streaming content to from your iPhone.
Alongside being a generally handy feature, this is also great for when one device isn't working as it should, you don't have a cable to plug a device into your TV, and/or you don't feel like watching something on a smaller screen.
HomeKit and Shortcuts make home automation simple
That brings us to a topic I've covered a lot here on AppleToolBox. That's HomeKit and Shortcuts. Both of these features of the Apple ecosystem can be managed from nearly any Apple device, and both are a great way to modernize your home and device usage.
That's because both of these Apple ecosystem features are based in automation. HomeKit allows you to connect smart home devices to your Apple account. From there, you can manage, edit, and automate these devices on your iPhone, Mac, iPad, and more.
And with Shortcuts, you can automate even more aspects of your Apple experience. It's packed with features, ideas, and integrations, making it a valuable time-saving resource.
Combined, you can use these features for things like:
Automating when the lights in your home turn on and off
Automatically locking your doors and windows at night
Email reports to your boss at the end of each week without lifting a finger
Put your devices into "work mode" when you arrive at work
And way more! You can get some ideas for automating your home here and more ideas for the Shortcuts app here. And if you already know a lot about both of these apps, here are some of the worst, most evil Shortcuts you can create on your iPhone – you know, to get the creativity going!
Answer calls and texts on any of your Apple devices
Out of all of our suggestions for the best Apple ecosystem features, this one is probably the most obvious. I doubt anyone reading this doesn't know you can do this, but I think this is an excellent ecosystem feature.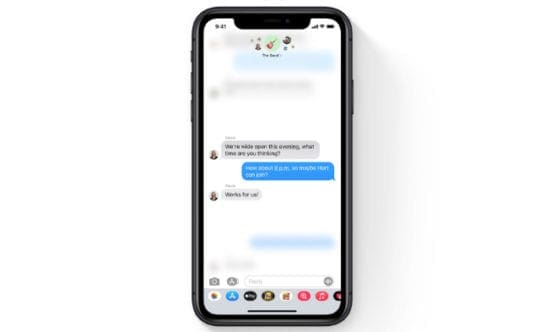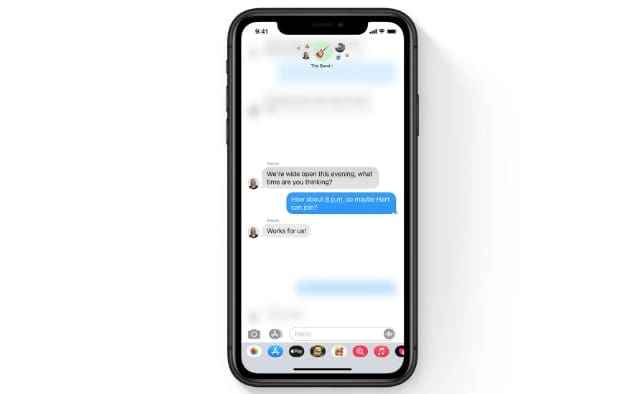 For those that don't know, you can send messages and make calls from your phone number on any of your Apple devices. So long as you have an iPhone, at least. Just set this up in your iCloud account settings on your various devices and you'll be good to go.
While it's easy to take this feature for granted, it is a massive benefit to using Apple products. It's endlessly convenient, helps you stay in touch with everyone, and gives you the freedom to communicate with others on whatever platform you like best. If you aren't already using this feature, I don't know what to tell you.
Share your WiFi password instantly with one of the best Apple ecosystem features
Another great hidden ecosystem feature is the ability to share your WiFi password with others. If someone in your Contacts tries to sign into a WiFi network that you already have the password for, you'll get a popup on your iPhone asking if you want to share the WiFi password with them.
You can even do this between your own devices. If your iPhone is signed into the WiFi network but your iPad isn't, try signing in with your iPad and you'll get a popup on your iPhone that allows you to share the password to your iPad instantly.
This is super handy for when you have friends over and you want to get them connected to your internet quickly. The one drawback of this feature is that it can be a bit inconsistent. I've had plenty of times where this feature simply wouldn't trigger. But when it does work, it feels like magic.
AirDrop files between your devices
I've mentioned before that one of my favorite Apple ecosystem features to share with others is AirDrop. It's one of those features that so many users don't know they have, but once they use it, they can't stop.
For those that don't know, AirDrop is a feature that allows you to share files and data over Bluetooth. It only works between Apple devices, of course, which is its one drawback.
Using this feature is super easy! You can enable it by opening Control Center on your device, long-pressing the connectivity box in the top-left (where you see the Airplane Mode and WiFi settings), then enabling AirDrop. You can set this feature to Contacts Only or Everyone, which will allow anyone with an Apple device to AirDrop files to you. Don't worry, though – you can still deny AirDrop requests before they're sent to your iPhone, so people can't just send you malicious content.
I recommend using the Everyone setting, as I haven't had the most consistent results with Contacts Only.
Once you've enabled this feature, you can use it by tapping the Share button on any of your devices and choosing AirDrop. Since this feature uses Bluetooth, you do need to be physically near the person you're sharing files with. Around ten feet of distance should be good.
Unlock your Mac and iPhone using your Apple Watch
This is one I've used a lot over the last two years, and if you haven't been, you're probably going to be kicking yourself over it. If you have an Apple Watch, you can use it to instantly unlock your Mac or iPhone.
On a Mac, this happens as soon as you wake your Mac up, so long as you're in the same room as it. I will admit that it can sometimes feel like a security issue. I've had my cats bump my mouse while I was in the same room as my Mac, and my Apple Watch unlocked it. So I recommend this one with a degree of caution, as it can make it easy for others to log into your Mac if you're nearby.
How to unlock your Mac with your Apple Watch.
On iPhone, this feature unlocks your Face ID iPhone whenever you're wearing a face mask. But only if you're wearing a face mask, like the ones worn during the COVID-19 pandemic. Face ID will detect that you're wearing a mask, check if your Apple Watch is nearby, and then unlock your iPhone.
How to unlock your iPhone with your Apple Watch.
This second feature has been less consistent for me. Sometimes it works perfectly, and sometimes it seems to refuse to work. But most of the time it's fine, and it's convenient on grocery trips.
Do note that this could also be a security issue, as someone wearing a face mask might be able to unlock your iPhone if you're wearing your Apple Watch in proximity to this person.
Never lose a device with Find My
Last on our list of the best Apple ecosystem features is Find My. Similar to Keychain and AirDrop, this is a feature that you'll find yourself using all of the time if you aren't already.
Find My is a feature that allows you to find your various Apple devices, so long as you have one Apple device on you. Just enable Find My on each of your devices and you're good to go!
All you have to do from there is open the Find My app on any of your devices and you should be able to get an approximate location for those devices. You should also be able to play sounds on your device, making it easier to find if you're nearby.
Maybe I'm just bad at keeping up with things, but I use this feature all of the time. It helps me keep track of my iPhone, find my iPad when it falls under the bed, and quickly realize that I left my MacBook at my friend's house.
This is a big safety net offered by Apple, so definitely take advantage of it!
Start using the best Apple ecosystem features today
And that's it! Those are my picks for the best Apple ecosystem features. While you probably knew about a handful of them, I hope I was able to bring a bunch of new ones to your attention! Despite being a bit controversial, I do find that the Apple ecosystem is a consistently great perk of being an Apple customer. So enjoy it!
For more insights, news, and guides on all things Apple, check out the rest of the AppleToolBox blog.
See you next time!