Apple now has a credit card that's appropriately named the Apple Card. And by now, you've probably heard of it — and may even be considering applying for it. But should you get the Apple Card?
Related:
We are not financial advisers here at AppleToolBox. But to help you decide whether the Apple Card is worth your consideration, we've put together a guide running you through what it's all about.
Here's what you should know.
What is the Apple Card?
Essentially, it's a credit card (offered in partnership with Goldman Sachs). More accurately, it's Apple's take on a credit card.
Importantly, it's not a store card like Apple's previous Barclaycard option. It's a credit card that you use for everyday purchases basically anywhere.
Unlike other credit cards, the Apple Card is built form the ground up to work in Apple Pay (but there's also a physical card for merchants who don't accept the mobile wallet). It also comes with a variety of unique features and more traditional credit card benefits. It launches in Summer 2019.
It's all pretty simple. Which is why taking a deeper dive into the benefits, downsides and other things to consider.
What benefits does Apple Card have?
The Apple Card has some a handful of benefits, some of which are pretty unique in a crowded credit card marketplace. Here are some you should know about.
Quick Approval
Everyone wants instant gratification. And with the Apple Card, the Cupertino tech giant really delivers. For one, you apply for the card directly within the Wallet app — which is almost certainly already on your phone, depending on the age of your device.
Apple says you should hear back very quickly. And as soon as you're approved, you can start using your Apple Card pretty much immediately.
Of course, you'll still need to wait to get your physical titanium card in the mail.
Daily Cash Back
The Apple Card platform has a pretty unique feature: daily cash back. It's pretty much exactly what it sounds like it is.
Essentially, the Daily Cash rewards system will deposit cash back (based on your spending) directly to your Apple Cash card at the end of the day.
This may make up for the fact that the Apple Card's cash back reward rates are about average. Getting access to your rewards the same day is a lot quicker than waiting for the end of your billing cycle.
Sleek card design
Apple, as it does with all of its products, has really paid attention to the details when it comes to the Apple Card.
You should not apply for a credit card just based on the aesthetics. But if you were going to apply for the Apple Card anyway, you'll end up with good-looking piece of plastic (actually, metal).
The physical Apple Card has a clean, minimalist aesthetic. It's crafted from titanium and there isn't much besides your name and an Apple logo — both laser-etched.
Top-notch privacy & security
Apple Card also has a variety of privacy and security benefits over other cards. To start, Apple has an airtight privacy policy — a rarity among technology companies.
It's also a secure platform, due to its use of Apple Pay. Apple Pay is protected by the use of virtual numbers so credit card skimmers won't get your actual card number. (The physical Apple Card's design also lacks any type of financial information.)
You'll also be alerted to suspicious payments basically the minute they happen. Once you do, you can cancel access to your Apple Pay wallet or your physical Apple Card from any Apple device or a web browser signed into iCloud.com.
Some additional benefits of Apple Card
You know about the sleek card design, the daily cash rewards, and the integration with iOS. But there are some other lesser-known benefits to the card.
Here are some.
No annual fee. Unlike some top-tier credits, you won't be charged an annual fee to keep or use your Apple Card.
Baked-in financial tracking. The Wallet app, which integrates with the card, will support a suite of budget and financial tracking tools. That includes being able to see your purchases on a map and by category.
No foreign transaction fees. That could be good for users who frequently travel abroad.
Easy-to-remember payment date. Your balance is due on the last day of the month. Apple will also send you a notification to remind you.
Apple won't charge you a fee for late payments. That's right, no late payment fees — but Apple notes that additional interest may be tacked onto your balance.
Simplicity of rewards. There are no bonus categories to obsess or keep track of. You'll just get cash back.
Easy tech support. Want to get a hold of someone? You can do so via text message right from your iPhone.
08/05/2019 
Goldman Sachs released the Apple Card customer agreement along with its terms and conditions ahead of the Apple Card launch so that users can understand some of the details and fineprint.
The biggest headline is around the rate that Goldman Sachs plans on charging on the card.
Any downsides with the Apple Card?
While the Apple Card comes with a variety of great and unique benefits, it isn't perfect. Here are some of its downsides.
You need to be an Apple user
Android smartphone owners need not apply, unfortunately. To even get the card, let alone use it in your day-to-day life, you'll need to have an iPhone that supports it.
The card will require an iPhone 6 or later running at least iOS 12.4 to even use. That's because of NFC requirements and Apple Pay support. If your daily driver is something other than an iPhone, you won't be able to use it (or even apply for it).
There are no sign-up benefits
While you can be approved and start using your card pretty much immediately, that's about the only benefit associated with the sign-up process.
Apple's credit card does not have an introductory APR rate or any other benefits associated with signing up. If you're looking for something in that category, it may be better to search elsewhere.
The non-Apple Cash Back rates are subpar
If you frequently shop at merchants or stores that don't support Apple Pay, you'll be left with a mediocre 1 percent cash back rate.
That's better than no cash back at all, but it pales in comparison to many rewards cards out there. You can get 2 percent cash back on all spending with some cards, or up to 5 percent cash back in specific categories with others.
You want multiple users
The Apple Card, at launch, won't support authorized or multiple users. That means each member of your family will need to apply for their own version of the credit card.
That, of course, may change as the platform ages and matures. But if you're an early adopter, it's just something to consider.
How does Apple Card stack up against the competition?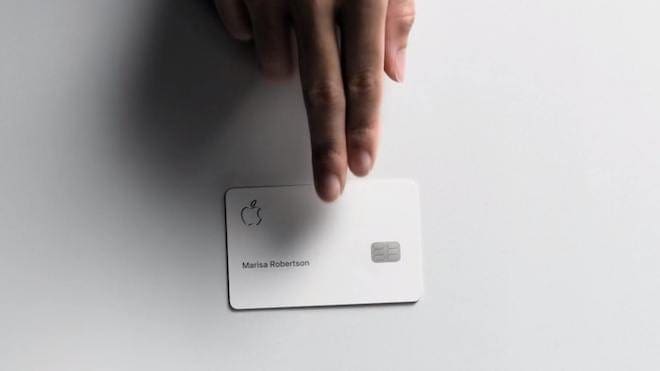 While the Apple Card has a variety of benefits and downsides, it may be useful to compare it to some other popular cash-back credit cards.
Citi's Double Cash offers 2 percent cash back on all purchases. That's competitive and doesn't require you to use Apple Pay.
The Discover It Cash Back offers up to 5 percent cash back in specific categories, which rotate every quarter. That's quite a bit higher than even Apple's top cash back rate.
Chase's Sapphire Preferred card will give you up to $750 toward travel after you spend $4,000 in the first three months of account opening. Apple isn't offering any travel-focused perks.
The Blue Cash Preferred card has a 0 percent introductory APR on purchases and balances transfers for 12 months. The aren't any introductary offers on Apple's.
These are, of course, just a few examples. But they all offer something that the Apple Card doesn't. So you may want to consider them, depending on your circumstances.
Who is Apple Card for?
Ultimately, this card may be a pretty decent option for a lot of people. If any of these apply to you, you want want to give the Apple Card some hard consideration.
If you buy Apple products or services regularly, the 3 percent cash back will come in handy — especially given the price of most Cupertino-designed devices.
The 2 percent cash back for Apple Pay transactions isn't bad. But, of course, you'll need to frequently shop at merchants who support the mobile wallet.
The Apple Card has unique privacy and security features baked right in. If you're a particularly security- or privacy-conscious individual, you may want to consider the Apple Card.
If you're a diehard Cupertino fan, the physical card's clean aesthetics and tight integration with iOS may make it a good fit for you.
Who isn't the Apple Card for?
Although cool and aimed at Apple users, this card definitely is not for everyone. If any of the metrics below sound like they apply to you, you may want to skip applying for the Apple Card and look for a good credit card somewhere else.
Android users. (Or anyone without an iPhone 6 or later.)
Those who frequently shop at stores that don't support Apple Pay.
Users looking for travel-based rewards like airline points.
Credit card maximizers who want introductory rates or benefits.
Those who spend quite a bit of money in specific categories, other than the Apple Store.
What credit score do I need for Apple Card? What are the interest rates?
It's worth keeping in mind that you'll probably need decent credit to get any sort of usable credit limit. While we don't know the exact terms of the approval process, there have been some reports detailing it.
Back in June, an anonymous Apple employee who was testing the Apple Card leaked a few details to iMore.
Among the tidbits that they leaked was the fact that an Apple employee with a credit rating between 600 to 700 was approved with a credit limit of $1,000. That's a somewhat low credit limit, but it makes sense since a credit score between 620 to 660 is generally thought of as low.
It does indicate that it may be a decent choice for users who want to build credit or repair their credit score. The final approval process is subject to change once the card officially drops, however.
The card will have an APR between 13.24 and 24.24 percent, according to Apple. That's, of course, based on your credit score, but it is lower than the national average (17.8 percent).
It's also a fairly wide range for a credit score. That means that it could equally be a good card for users with high credit scores as well as a decent choice for users who credit on the lower end of the spectrum.
Apple and Goldman Sachs Partnership Might Be Over
The recent news of Apple and Goldman Sachs ending their partnership, which encompasses the Apple Card and Apple Card Savings Account, has raised significant questions about the future of these financial products. This development comes after reports of a strained relationship between the two companies, with Goldman Sachs reportedly dissatisfied with the partnership's financial outcomes.
Launched as a combined effort between Apple and Goldman Sachs, the Apple Card was intended to offer a unique credit card experience, integrating closely with Apple's ecosystem. Despite its success with consumers, Goldman Sachs faced challenges with the partnership, including financial losses and regulatory scrutiny.
Reasons for the Split
Goldman Sachs is expected to stop issuing the Apple Card by early 2025, as both companies look for other financial institutions to support the card and savings account. The Wall Street Journal reported that Apple proposed to exit their contract within 12 to 15 months, covering the entire partnership scope. This decision follows Goldman Sachs' significant financial losses and a reduced focus on consumer finance.
Implications for Current Apple Card Users
As of now, there is no clear successor to Goldman Sachs for backing the Apple Card and Savings account. While companies like American Express and Synchrony Financial have shown interest, there are concerns about various aspects of the program, including loss rates. For current Apple Card users, it's business as usual until Apple makes an official announcement. There's no information yet on how this might affect cardholders regarding rates, fees, or other operations.
Apple's Future Plans
Amidst these changes, Apple has been working on "Project Breakout," an initiative to bring more of its financial products in-house. This project involves developing its payment processing technology and infrastructure, aiming to reduce reliance on partners like Goldman Sachs.
The breakup between Apple and Goldman Sachs marks a significant shift in the landscape of financial technology partnerships. While the future of the Apple Card remains uncertain, Apple's commitment to innovation and customer experience remains steadfast. As the situation unfolds, Apple Card customers should stay informed about potential changes and impacts on their financial products.
Will you be signing up for the new Apple Card when it is released next month? Let us know in the comments below.
Mike is a freelance journalist from San Diego, California.
While he primarily covers Apple and consumer technology, he has past experience writing about public safety, local government, and education for a variety of publications.
He's worn quite a few hats in the journalism field, including writer, editor, and news designer.