Nobody's perfect. Even Apple needs a little help to get everything working the way it's supposed to. If you come across a software bug or a missing feature, do you part to help by sending feedback or a bug report straight to Apple.
Without feedback and bug reports, Apple wouldn't learn what does and doesn't work. The more people who send feedback about a particular issue, the more likely Apple is to focus on fixing it.
Related:
Visit Apple's Website to Send Feedback and Bug Reports
The easiest way to send feedback or bug reports to Apple is by going to apple.com/feedback. Select your product, fill in your contact details, and type out your comments to Apple. Explain exactly how to reproduce any bugs so the developers can work on fixing them right away.
How to Submit Feedback on Apple's Website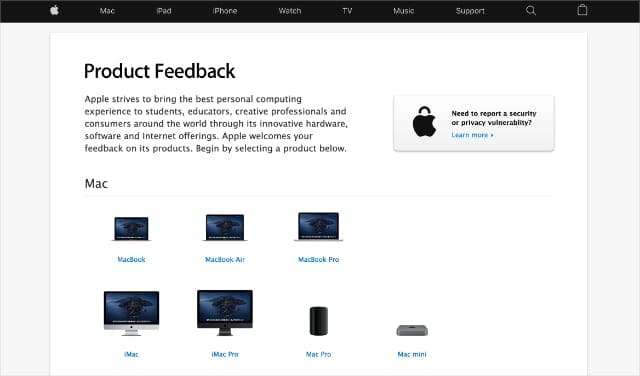 When you visit Apple's feedback website, you first need to select the device, app, or service your feedback or bug report relates to.
You can use Apple's feedback website for any Apple products or services: iPhone, Mac, iPad, Apple Watch, Apple TV, App Store, Apple Music, iCloud, and more.
If the issue involves multiple products—like syncing data from an iPhone to a MacBook—just pick one of them.
After selecting your product, enter your Name and Email Address so Apple can contact you for more information. This doesn't usually happen, so don't hold your breath, but you need to enter your details just in case anyway.
Choose Your Subject and Feedback Type
Enter a Subject title for your feedback. Try to keep this as short as possible, like "Camera bug in iOS" or "Handoff for Apple Music". Apple probably uses it to group similar reports together.
Now open the dropdown menu and choose your Feedback Type:
Feature Request: Share your ideas for Apple's products, such as features you'd like to see in the next software update or iPhone release.
Bug Report: Tell Apple about particular software bugs you've encountered in its software.
Performance: Tell Apple about unexpected performance problems you're experiencing, like long startup times.
Software/Hardware Compatibility: Tell Apple about compatibility issues you've encountered that shouldn't exist. For instance, if your iPhone can't run the latest version of iOS.
Other: Tell Apple about anything else, which might include compliments and positive feedback or specific service complaints.
What to Write in the Comments Section
After creating a Subject title and selecting the Feedback Type, explain the details of your feedback or bug report in the Comments section.
Spend some time to make sure you explain your thoughts and experiences clearly. The Comments section limits you to 800 characters, so try to keep your feedback short and sweet.
It's important to include the following details in your comments:
An overview of the situation: "I took some photos from the Lock Screen on my iPhone, but it never saved the pictures to my library."
Your expectations versus reality: "I expected the Camera to save my pictures to the Photos app, but I couldn't find them anywhere."
Detailed instructions to reproduce the problem: "Press the Side button to unlock the iPhone, then hold the Camera icon on the lock screen. Capture a photo by tapping the shutter button. Lock the iPhone by pressing the Side button again, then unlock and open the Photos app."
Sometimes it's challenging to deliver all that information in 800 characters or less. It often helps to write your comments in a word processor first, allowing you to edit and paste them into the Comments box.
Select Your Software or App Version
Before you send your feedback or bug report to Apple, select the software, app, or device version you experienced the problem with.
The specific information Apple requires depends on the feedback you're giving.
It's very important you select the correct versions, so Apple knows how to reproduce your issues while working to fix them. Follow the steps below to find your particular model number or software version.
How to find your model number and software version on an iPhone, iPad, or iPod touch:
Go to Settings > General > About.
Find your Software Version and device Model Number listed at the top of the page.
How to find your model number and software version on an Apple Watch:
Press the Digital Crown to go to the app screen.
Tap Settings > General > About.
Find your software Version listed partway down the screen, with your Model number beneath it.

Tap About for more information.
How to find your model and software version on a Mac:
From the menu bar, go to Apple > About This Mac.
Find your software version listed at the top of the window above your Mac model.
For particular apps, select [App Name] > About [App Name] from the menu bar to open a similar window with the app version.
How to find your model number and software version on an Apple TV:
Go to Settings > General > About.
Find your software version listed as tvOS partway down the screen, beneath your Model number.
Use the Feedback Assistant for Beta Software
If you take part in Apple's Beta Software Program—to help test software and apps before their public release—you should send feedback or bug reports using the Feedback Assistant.
The Feedback Assistant is an app that appears on your device when you enroll in the beta program. You can find it on the Home screen of your iPhone or iPad or in the dock on your Mac.
You can also visit Apple's Feedback Assistant website if you don't want to use the app. This is handy if you need to send Apple feedback about watchOS, tvOS, or other software and services that don't have a Feedback Assistant app.
How to Send Bug Reports With Feedback Assistant
To use Feedback Assistant, you need to sign in with your Apple ID account. This lets Apple collect data about your device, software, apps, crash reports, and more, making it easier to reproduce the bug you found.
After signing in, hit the pen and paper icon to create a new feedback submission or bug report to send to Apple.
Use the dropdown menus to select your software and the bug details, then write a short descriptive Title.
After creating a title, write a complete description of the issue in the Description box. Be sure to give clear instructions for how to reproduce the issue, along with what you expected to happen and what actually happened.
At the bottom of the feedback page, you can attach screenshots or a screen recording to demonstrate the issue. If it's possible for you to do this, it usually makes it far easier for Apple to work on creating a solution.
Finally, hit Submit to send your feedback or bug report to Apple.
FAQs About Sending Feedback to Apple
We've gathered together some common questions about sending feedback and bug reports to Apple. If you can't find the answer to your question here, post a comment and we'll get back to you as soon as we can.
Does Apple Respond to Feedback?
Not usually. Apple receives a lot of feedback and doesn't normally respond to individual people. That said, someone will read your feedback and use it to determine which bugs to address, even if you never get a response.
Where Can I Send Complaints to Apple?
If you're unhappy with any of Apple's products or services, you should use Apple's feedback website to send a complaint. You might want to select Performance or Other as the type of feedback to send.
Does Apple Pay If You Find a Bug?
That depends. Generally speaking, Apple doesn't pay customers for alerting them to normal software bugs. However, there is a "Bug Bounty" program that pays people who discover vulnerabilities in Apple's security and privacy.
These rewards go up to $1 million depending on the security feature you're able to compromise. Take a look at Apple's page on security vulnerabilities for more information.
How Do I Send Feedback and Bug Reports for Third-Party Apps?
If you found a bug in a third-party app (anything not developed by Apple) you need to send feedback directly to the actual developer. Apple can't fix third-party bugs, so there's no reason to send feedback to Apple.
Open the App Store and search for the third-party app you have feedback for. Beneath the app description, find a link to the Developer Website. From here you should be able to contact the developer with your comments.
Contact Apple Directly for One-to-One Support
Sending feedback and bug reports is a great way to help Apple improve its products, software, and services. But since Apple doesn't usually respond to feedback, that won't help if you can't use your device because of a problem.
In those circumstances, you should chat with Apple Support directly. Rather than working to improve Apple's products, the Support team is dedicated to helping users fix specific problems. They should be able to help you out.