You can find the Apple TV app on a range of different devices: from your iPhone to your Samsung Smart TV. But it's not immediately clear what Apple TV shows are free, but don't worry, as we've got you covered!
Related:
Is the Apple TV App Free to Use?
The Apple TV app itself is completely free. But this app is merely a portal to access video content from a range of other services, most of which require a subscription or a separate purchase.
For instance, if you want to watch something from HBO Max or ShowTime, you need an active subscription to those services.
That said, some ad-supported services let you watch their content for free. The Apple TV app often lists these services alongside paid content, so it isn't always clear what is and isn't free.
What's more, you usually need to use the dedicated app for each service when you want to watch its shows anyway. Think of the Apple TV app more like a high-tech TV guide.
What Can I Watch for Free on Apple TV?
The shows you can watch for free vary based on the country or region you're in. Here in the UK, you can watch anything on BBC iPlayer, ITV Hub, All 4, and My5 for free. In the US, you're likely to have different options.
To find out if a show is free to watch, tap it from the Apple TV app. You should see a blue button linking to the app that show is on, this usually says if you can play an episode or if you need to pay for it first.
Since the launch of Apple TV+, the company has been working in different ways in an attempt to entice potential subscribers. This includes the ability to watch the Premiere episode of the most popular Apple TV+ shows for free, without needing to sign up for a subscription. Here's the list of the different show premiere's that you can watch now:
Ted Lasso
Shrinking
Extrapolations
Black Bird
The Reluctant Traveler
Real Madrid: Until The End
Monster Factory
Severance
The Problem with Jon Stewart
The Morning Show
Hello Tomorrow!
Truth Be Told
Dear Edward
Servant
Bad Sisters
See
Slow Horses
Foundation
For All Mankind
Invasion
Liason
Tehran
Defending Jacob
Super League: The War For Football
Make or Break
Can I Watch Apple TV+ for Free?
Apple TV+ is Apple's subscription streaming service, and the only place to watch Apple's original shows, such as The Morning Show, For All Mankind, or See.
Apple TV+ isn't free, but it is quite easy to get a free trial to watch those shows.
If you've never used the service before, you can get a free seven-day trial by signing up in the Apple TV app. Even better than that, you get an entire year of Apple TV+ for free when you purchase any of the following products:
iPhone
iPad
iPod touch
Apple TV
Mac
After making the purchase, the Apple TV app should prompt you to activate your one-year trial. If it doesn't, go to Apple's website and sign in to activate it instead.
Is There a Monthly Fee for Apple TV+?
After your free trial ends, you can renew your Apple TV+ subscription for $6.99 per month. You can also choose to cancel your subscription if you don't plan to keep using it.
To cancel your subscription, go to Settings > [Your Name] > Subscriptions > Apple TV+ from an iPhone or iPad.
How to Sign Up for Apple TV+
If you're intrigued by what Apple TV+ has to offer, and are satisfied with the content library that's made available, you can sign up for the service. Provided that you didn't already cancel the subscription, there's nothing more that you need to do when signing up for a free trial. But here are the steps to take if you want to sign up for Apple TV+ at a later time.
Make sure you are signed into your Apple ID from your iPhone or iPad.
Open the Apple TV app on your device.
In the bottom toolbar, tap the Originals tab.
Tap the Subscription button.
Follow the on-screen steps to activate your Apple TV+ free trial.
If you are not eligible for an Apple TV+ free trial, follow the on-screen steps to activate your subscription.
There are a plethora of ways to get a free trial for Apple TV+ if you aren't already a subscriber. In most cases, you'll find either a one-month or three-month free trial included with select purchases of Apple (or Beats) products. However, Apple has also been known to throw in a year subscription to Apple TV+ when purchasing a new iPhone, iPad, Apple TV, or even a Mac.
Something else worth noting is that if you subscribe to Apple One, then you'll also gain access to Apple TV+. This is a subscription bundle that was introduced back in 2020 as a way for Apple users to bundle all of the company's different services under one umbrella.
With the Apple One Individual plan, the $16.95 per month plan includes Apple Music, Apple Arcade, iCloud+ (with 50GB of cloud storage), and Apple TV+. The company also offers an Apple One Premier plan if you want the services mentioned above, along with an increase in iCloud storage to 2TB, in addition to Apple News+ and Apple Fitness+.
Do I Need an iPhone or iPad to Watch Apple TV+?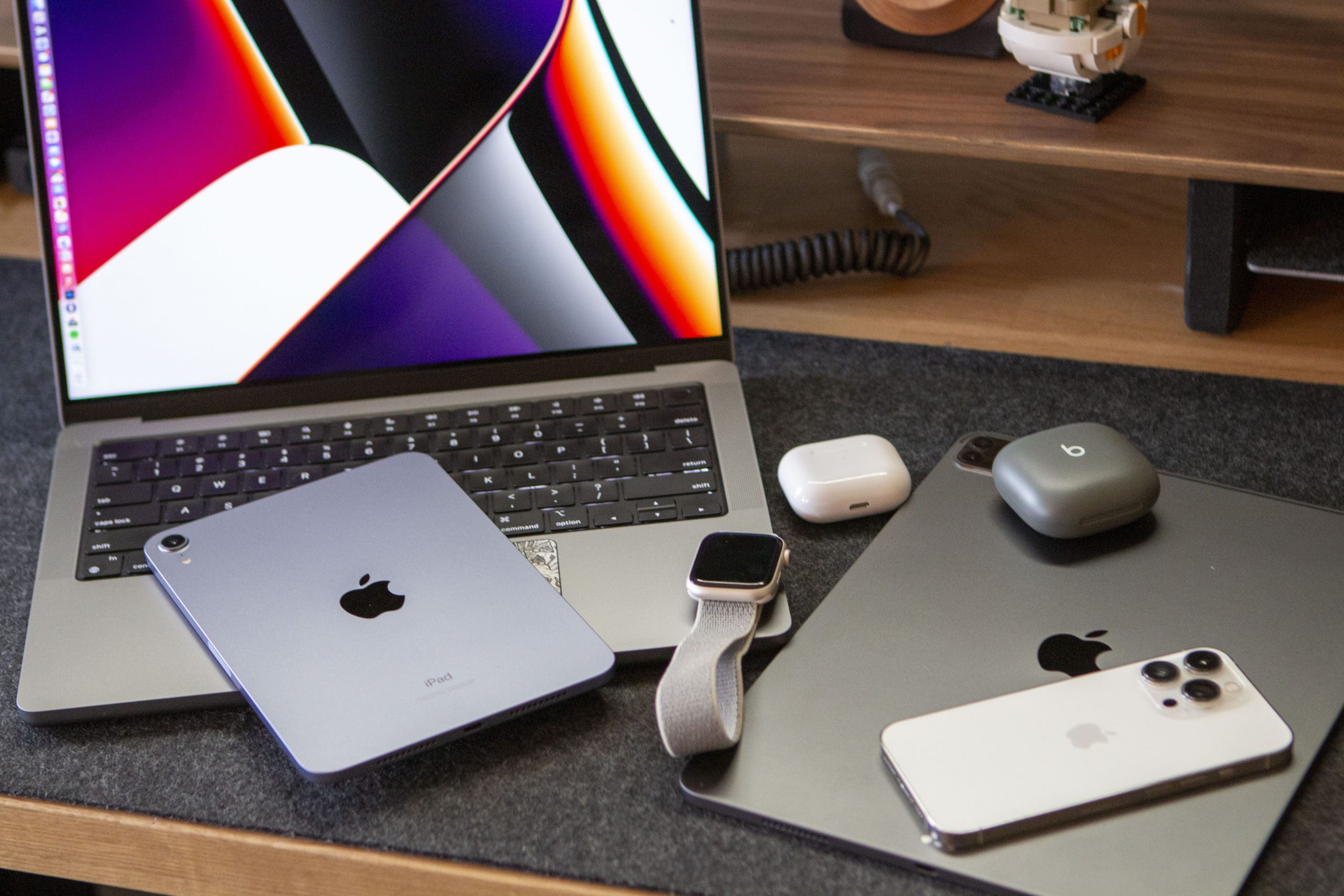 You can watch Apple TV+ on any device with the Apple TV app, including:
iPhone
Android phones
iPad
iPod touch
Mac
Apple TV (4K, HD, and 3rd Generation)
Windows PC
Samsung Smart TV
LG Smart TV
Sony Smart TV
Panasonic Smart TV
VIZIO Smart TV
HiSense Smart TV
Roku
Amazon Fire Stick
Google TV
Android TV
PlayStation 4
PlayStation 5
Xbox One
Xbox Series X
Xbox Series S
What Can I Watch for Free on Apple TV+?
You can watch any of Apple's content on Apple TV+ for free if you have an active subscription or a trial. That includes kids' shows like Snoopy in Space, mature dramas like For All Mankind, and even feature films like Hala.
Apple TV+ doesn't have as many shows as Netflix or Amazon Prime. But everything is made by Apple and exclusive to this service.
Some of the highest-rated shows include:
Ted Lasso
The Morning Show
Snoopy in Space
The Elephant Queen
Helpsters
Servant
See
Mythic Quest: Raven's Banquet
For All Mankind
Truth Be Told
Dickinson
Liaison
The Reluctant Traveler
Shrinking
Check out our other posts to find out more information about Apple TV+.