Find My Friends made it easy to use Apple devices to locate your friends and family. You could use it to check if your spouse had left work, find out which bar your friends are at, or make sure you know where your kids are. It's a valuable tool, but Find My Friends is missing from iOS 13 and iPadOS.
Find My app is also available for the first time for your Mac, when you update to macOS Catalina (and beyond.) With Mac's Find My app, you can track all your Apple devices even when they are offline or for MacBooks when they are closed.
Apple's Find My is automatically installed with iOS 13, iPadOS, and macOS Catalina.
These latest software releases from Apple have been littered with bugs. But the lack of a Find My Friends app isn't one of them. In fact, earlier this year, Apple announced that Find My Friends is combining with Find My iPhone to make a new app.
It's called Find My, and in this post we've explained how to use it and where it is on your iPhone, iPad, iPod touch, and Mac.
Related:
What happened to Find My Friends in iOS 13 and iPadOS?
The standalone Find My Friends app from iOS 12 combined with Find My iPhone to make the new Find My app in iOS 13 and iPadOS. You use Find My to locate friends, family members, or missing Apple devices.
Find My is easy to use, with separate tabs for finding People or Devices. Each tab features a familiar map, pinning each person or device in its respective location. You can also select particular people or devices from the list beneath the map for more information.
A third tab, titled Me, allows you to view and edit details about your own location. Choosing how you share it, whether you allow friend requests, and what notifications you want to send or receive.
Where is the Find My app on my Mac or in iOS 13 or iPadOS?
For Macs, Find My is located in your Applications folder.
Find My takes the location of the Find My iPhone app after you update the software on your iPhone, iPad, or iPod touch. That said, other apps may have shifted around during the update as well, making it hard to find.
If you can't see the Find My app on your Home screen: open it, download it, or discover what folder it's hiding in using Spotlight.
How do I use Spotlight to find the Find My app?
Go to the Home screen on your device.
Drag down from the middle of the screen to reveal a search bar.
Search for 'Find My' to discover its location:

If Find My isn't installed on your device: The search results link to a page on the App Store where you can download it.
If Find My is in a folder on your device: The name of the respective folder is listed to the right of the Find My app.
Otherwise: If there is no link to the App Store and no folder name, Find My is somewhere on your Home screen. You can search for it or open it directly from Spotlight.
Where is the widget for Find My Friends?
Widgets are small tools you access from the Home screen to get a quick glimpse at data from different apps. You can use them to check the weather, view your calendar, read the headlines, or do many other tasks.
Many of us used the Find My Friends widget in iOS 12 to quickly see the location of our friends or family members. Sadly, this isn't possible in iOS 13 or iPadOS because there isn't a widget for the Find My app.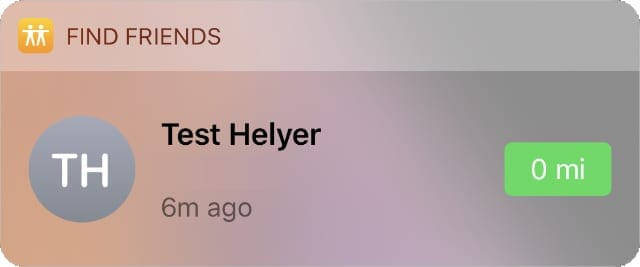 The best you can do — short of opening the Find My app — is add a Shortcut widget that automatically opens Find My to a particular person or device.
How do I make a Shortcut widget for the Find My app?
Open the Shortcuts app on your iPhone, iPad, or iPod touch.
Tap the Add (+) button in the top-right to create a new shortcut.
In the search bar, type 'Find My.'
Tap the Find My app and choose the particular action you want.
Alternatively, add the 'Open App' action and choose to open Find My.
Tap More (…) in the top-right and turn on 'Show in Widget.'
Finally, tap Next, name your widget and tap Done.
The widget is visible from the Shortcuts widget on your Home screen.
How do I use the Find My app to find my friends?
Find My looks and works differently to the Find My Friends app. We put together these short instructions to show you how to get up and running with the app: sharing your location and seeing the locations of others.
Share your location from Find My
If you want other people to be able to see your location, you need to share your location from within the Find My app. 
When you first open the Find My app, it prompts you to turn on Location Services and allows you to choose when the app can use your location:
Allow While Using App
Allow Once
Or Don't Allow
We suggest you Allow While Using App. If you choose to Allow Once, the same prompt reappears every time you open Find My on your device. You can change this at any time by going to Settings > Privacy > Location Services.
In the Find My app, tap on 'Me' in the bottom-right of the screen. Now turn on the toggle to 'Share My Location.' You can temporarily turn this option off whenever you want your location to become private. 
Choose what device to share your location from
If you have multiple Apple devices, you can only select one of them to share your location from. To do so, open Find My on that particular device and go to the 'Me' tab. Tap 'Use this [iDevice] as my location.'
When you share your location from an iPhone paired with a GPS-compatible Apple Watch, your location switches to the watch whenever it's out of range of the iPhone. For example, if you leave your iPhone behind on a run, your location switches to your Apple Watch.

Add friends and family to the Find My app
It isn't as easy to start following other people on the Find My app in iOS 13 or iPadOS as it was with Find My Friends. To choose which contacts you want to see the location of, you first need to share your location with them.
So the easiest way to see someone else's location is to have them send you an invitation from Find My on their device. Otherwise, you need to invite them to see your location first.
To share your location, tap on the 'People' tab in the bottom-left of Find My and hit the button to 'Start Sharing Location.' Find My suggests your favorite contacts to share locations with, but you can send invitations to anyone.
Choose to share your location for the following time periods:
one hour
until the end of the day
or indefinitely.
After you send the invitation, tap your contact's name to see more information. Now you can 'Ask to Follow Location.' If they approve your request, their location appears on your map, you can now stop sharing your own location if you wish to.
What do you find most useful about following the location of your friends and family? Let us know if you've got any questions about the new Find My app. We'll do our best to get the answers for you!
If you've got a problem with Find My, we might have already found the solution in our iOS 13 and iPadOS problem-solving post.
How to refresh location with Find My iPhone in iOS 13 and iPadOS
Apple designed the Find My app to automatically refresh the locations for both your People and Devices every minute or so…
But if that's not working, tap the name of the person or device. That should open their card and refresh their location information.
If that doesn't work, close the app and relaunch it–that always works!