The newest flavor of Apple's mobile platform has plenty going on. iOS 13 and iPadOS now feature the much anticipated Dark Mode, numerous privacy and security enhancements, improved multitasking support and many more changes to some of the commonly used apps such as Photos, Reminders, and Maps.
Unfortunately, new updates with new features come with new problems. A few of these problems are rearing their ugly heads on iOS 13 and iPadOS support forums already.
The good news is that you can fix most of these annoyances rather quickly on your own, without a call to Apple Support or setting up an appointment to visit an Apple Genius. Here are the main problems with advice on what to do about them.
iOS 13 and iPadOS Common Problems Guide – Overview
In this iOS 13 and iPadOS guide, we walk you through troubleshooting and fixing (or working around) many of the common iOS 13 and iPadOS problems and annoyances.
And for issues that require deep dives, we link you to articles and resources that detail how to fix that specific issue with step-by-step instructions.
This comprehensive guide is divided into several key sections ranging from basic install and update issues, tips and tricks to easily get the most out of the new features and troubleshooting ideas for some of the essential apps such as iMessage, Notes, and Mail.
Where possible, we have also created simple cheat-sheets with essential tips that have worked for our readers over the years when dealing with some of these common iOS annoyances. Readers' feedback and tips are also integrated into quick tips.
So if your iPhone, iPad, or iPod has problems with installation, communication, connectivity, camera, and battery or power, check out this guide first and see if you can solve the problem on your own.
We do recommend that you make a full backup of your iPhone, iPad, or iPod touch first.
Please share your favorite tips, tricks, and tune-ups or send your comments with screenshots, etc. to [email protected]
iPadOS and iOS minor updates are here!
Already, Apple has released the next minor update to its software for iPadOS and iOS.
If you haven't already, connect to a computer to update to iOS 13.x and restart your device to see if it fixes your problems.
Apple included a list of the problems that these minor updates are designed to fix in their respective release notes.
If you've experienced any issues, update your device to the latest software and test it again. Ideally, use a computer to update your device as it's a more complete installation of the software.
How to fix iOS 13 and iPadOS install errors and problems
If you're trying to install the latest iOS 13 or iPadOS update, but having trouble updating, there are plenty of remedies.
Common reasons why iOS 13 might fail to update
There are five main reasons why iOS updates fail to install:
lack of free storage on the iPhone or iPad
not enough charge on the device
low-quality Wi-Fi strength
problematic Proxy or VPN
Apple servers are busy, leading to delays in installation.
Create free storage on your iPhone or iPad before installing iOS 13 or iPadOS
First, make sure you have at least 4–6 GB of available space on your device for the update — check your device's storage in Settings > General > [iDevice] Storage. If you don't have at least 4GB of space available, remove some apps, photos, videos, or other storage hogs and free up more space on your device.
After clearing enough space, restart your device and try installing iOS 13 or iPadOS again.
How do I get rid of "Other" space on my iPhone, iPad, or iPod touch?
A lot of users struggle to clear enough free space for iOS 13 or iPadOS because so much storage is taken up by "Other" or "System" data. Take a look at this article to find out what you can do about that.
What if I can't clear enough space to install iOS 13 or iPadOS?
It's tough to clear 4–6 GB of free space if your iPhone or iPad only has 16 GB to start with. If this is the case for you, try updating your device using a computer. Connect to iTunes or Finder and use that to check for updates for your device. Failing that, make a backup and erase your device. Then you can install the update and restore your backup.
iOS 13 or iPadOS update fails multiple times?
For repeated install errors, we highly recommend you update your device using iTunes (for macOS Mojave and below and Windows) or Finder (for macOS Catalina and above.) When you update via iTunes or Finder, Apple installs a full version of iOS or iPadOS onto your device, including all the code changes and all the unchanged code.
When using the Software Update function in your device's Settings app, that over-the-air update installs just the code that changed and is not a complete iOS or iPadOS update.
If using a VPN or Proxy on your iPhone or iPad, disable it and try installing. Change your Wi-Fi DNS service to 8.8.8.8 or 8.8.8.4 and see if you still have problems installing iOS 13 or iPadOS.
Stuck on Boot loop or Apple Logo when updating to iOS 13 or iPadOS?
Every now and then with iOS and iPadOS updates, many older devices get stuck with the Apple logo towards the end of the update. The download and verification processes go through without hiccups but the update fails, getting stuck with the Apple Logo or a boot loop process.
If you find yourself in this situation, the best thing to do is Force Restart your iPhone, iPad, or iPod touch. Then try to install the update again, either from the Settings or using a computer. If that doesn't work, download a fresh iOS 13 or iPadOS IPSW file from ipsw.me and use that to update your device.
Discover more about fixing uncommon install issues using the guide below:
Several users found that after updating their iPhone or iPad to the latest update, a notification required them to update their Apple ID details. This isn't a big issue, you can find out how to fix it here.
How to switch from iOS 13 or iPadOS beta to the public iOS 13 and iPadOS
If you've been test-driving iOS 13 through Apple's beta software program, you need to delete the beta profile from your Settings to go back to the general releases:
Go to Settings > General > Profiles.
Tap on the iOS 13 & iPadOS 13 Beta profile.
Tap Remove Profile.
The next time Apple releases a later software update than your current Beta software, you can update from the Settings as normal.
Connection problems: Wi-Fi, Bluetooth, GPS and other connectivity issues on iOS 13 and iPadOS
iOS 13 and iPadOS support the latest standard from the Wi‑Fi Alliance to provide you with a secure browsing experience.
Apple also introduced features that allow your iPhone, iPad, or iPod touch to remember popular Wi-Fi networks you often connect to. Read up on the new Wi-Fi privacy features and other improvements in iOS 13 or iPadOS.
Common reasons your Wi-Fi has problems with iOS 13 or iPadOS
Here are some of the most common reasons you may experience slow Wi-Fi or poor connection after updating to a new mobile operating system:
Your router needs a firmware update or a reset.
The advanced settings on your router are incorrect, particularly if you are on a Mesh network (check the roaming speed setting).
Most Wi-Fi issues are easily solved via these three approaches. Try each of them and see if it solves your problem:
Forget your Wi-Fi Network from the Settings, then restart your device and the router before joining again.
Reset the network settings on your device via Settings > General > Reset > Reset Network Settings.
Reset all the settings on your device via Settings > General > Reset > Reset All Settings.
Wi-Fi connection problems for iPad Air 2 users
The release of iPadOS yesterday came with the discovery of a new bug that only seems to affect iPad Air 2 devices. With this bug, users are unable to connect to a Wi-Fi network, as their iPad keeps prompting them to re-enter the password.
Despite entering the correct password countless times, the iPad Air 2 never connects to Wi-Fi. There are a couple of workarounds for this: remove the password from your Wi-Fi network or erase and restore your iPad.
Removing the password from your Wi-Fi network evades this bug but also risks the security of all your devices connected to the network. It isn't advised. Some users were able to find a middle ground here by implementing a MAC filter.
Alternatively, erasing your iPad Air 2 and reinstalling the software through iTunes seems to be an effective solution. However, it's very time-consuming to do so. You also need to make sure you have a backup first!
AirPort Utility app keeps crashing on iPadOS and iOS 13.1
AirPort users are in despair as the app repeatedly crashes on the new software. Apple's update to iOS and iPadOS 13.1 hasn't fixed this issue, and there aren't currently any reliable solutions.
Some users say that turning Wi-Fi Scanner on in the Settings helps, but others are still at a loss.
Hopefully, AirPort Utility is more stable in the next update from Apple.
GPS Accuracy Issues following Update?
Many of the GPS issues experienced in prior iOS platforms were addressed in iOS 12. We found the GPS function to be stable and strong even within the iOS 13 betas.
GPS accuracy depends on the number of visible GPS satellites. Locating all visible satellites can take several minutes, with accuracy gradually increasing over time.
If you experience GPS accuracy issues following the iOS 13 update, Apple suggests two key actions to improve GPS strength on your device:
Make sure that you've set the date, time, and time zone correctly on the device in Settings > General > Date & Time. If possible, use Set Automatically. Toggle it off and on and check if the accuracy improves.
Keep a clear view in several directions. Walls, vehicle roofs, tall buildings, mountains, and other obstructions can block the line of sight to GPS satellites. When this happens, your device uses Wi-Fi or cellular networks to determine your position until the GPS satellites are visible again.
The rumored new R Series location co-processor in the iPhone 11 models is expected to feature ultra-wide-band technology which makes location accuracy even more precise.
Important GPS note for older iPhone and iPad models that aren't eligible for new updates
Users with older iPhones or iPads, who could not update to iOS 12 should check out Apple's iOS 9.3.6 and iOS 10.3.4 updates. These exclusive updates from Apple (announced in July 2019) were provided to tackle GPS-related issues on older devices.
Apple had mentioned that:
Starting November 3, 2019, some iPhone and iPad models introduced in 2012 and earlier will require an iOS update to maintain accurate GPS location and keep the correct date and time. This is due to the GPS time rollover issue that began affecting GPS-enabled products from other manufacturers on April 6, 2019. This does not impact any devices until November 3, 2019.
Connectivity issues between iPadOS and your USB drive, mouse, or other accessories
iPadOS and iOS 13 are the first major mobile platforms from Apple that bring full-blown support for external storage.
For those of us who use our iPads and iPhones for Photos or other media, the ability to read and process external storage is a major advantage.
The integration of external drives with your iPhone or iPad happens via the Files app, which is also revamped to meet new requirements, such as support for nested folders.
We tested numerous USB drives and external drives with multiple iPhones using iOS 13 and iPads using iPadOS over the past few months. Connection or access issues between the iPad or iPhone and the drive could be due to many reasons.
Common reasons your iPad or iPhone is not connecting to external storage
Powered drives and even some non-powered drives only work when the device is connected to power.
The format on your external drive is wrong or incompatible with iOS 13 and iPadOS.
You need to shut down your iPhone or iPad, then connect the external drive before powering it back on.
The permission settings for your USB accessory are wrong, check them in the Settings app.
You need a special connection, cable, or adapter to make your drive work.
Power Tip #1: You can load up your movies and music onto your external storage and view or listen to them on your device without needing to copy the files thereby saving storage space on your device. We tested the SanDisk iXpand and were quite pleased with the results.
Power-Tip #2: You can now backup your iPhone or iPad photos to an external drive easily. Similarly, zip and unzip functions are a breeze with the new Files app on iPadOS.
What about connecting a mouse or trackpad with my iPad?
Except for Apple's own Magic Mouse, we haven't seen too many issues with connecting a mouse or trackpad with iPadOS. Here are some common tips to consider if you run into problems:
Check that your mouse or trackpad isn't already connected to another device.
If your mouse or trackpad has a power switch, make sure it is on.
Update the software on your iPhone or iPad.
If applicable, fully charge your mouse or trackpad or change its batteries.
Inspect the ports, cables, and connectors for signs of physical damage.
Try adding the mouse or trackpad in Accessibility's Switch Control settings.
Restart your iPhone or iPad as well as your mouse or trackpad.
Disconnect your mouse or trackpad from everything and try connecting it again.
Sidecar set up, connection, and usability issues
Sidecar is one of those features that proved to be a major motivating factor for many users to get on the iPadOS beta bandwagon. You no longer need a third-party app to achieve this and users are taking notice.
Having your iPad display double up as an extra monitor for your Mac running macOS Catalina is awesome! This brand new feature in iPadOS is easy to set up and use.
Communication problems: iMessage, FaceTime, eSIM and other communication issues on iOS 13 and iPadOS
Apple includes a few new features for iMessage and FaceTime with iOS 13 and iPadOS, including eSIM and dual SIM support for both phone numbers, better searching in Messages, and a new user profile section that allows you to choose who you want to share your name or photos with.
And of course, there are new animoji faces with a mouse, an octopus, and a cow. And there are also a lot of new memoji customizations, from makeup to all types of piercings.
After an update, it's not uncommon to have issues with the Messages app, FaceTime, or even the Phone app. Let's take a look at some of those common issues.
Message app and iMessage problems with iOS 13 and iPadOS
The first time you open Messages after updated to iOS 13 or iPadOS, you might see a message that Messages is indexing. If you see this, don't worry — it's an expected part of the greatly improved search function in Messages.
Stuck on iMessage or FaceTime waiting for activation?
After a major iOS or iPadOS update, iMessage and FaceTime may need to reactivate. Occasionally, they get stuck in this process, especially when Apple's servers are slammed with requests.
What usually works is toggling off iMessage or FaceTime, then waiting 20-30 seconds and toggling it back on to force the services to reconnect to Apple's servers.
For iMessage: Go to Settings > Messages > iMessage
For FaceTime: Go to Settings > FaceTime
Are photos and attachments missing from your iMessage conversations?
One of the best things about iMessage is the ability to send high-quality photos to your friends and family. Lots of us have collected impressive collections of photos in our conversations, chronicling our relationships for the past few years.
Worryingly though, the existing photos seem to have vanished from Messages in iOS 13. When you tap the "i" button at the top of a conversation, you should see all your media.
If you don't see your photos, it's likely that your device is indexing all your messages for the enhanced search function.
You should see your device return to normal behavior after this indexing completes — the time it takes depends on your internet's speed and how much data the Message app stores.
In the meantime, you can still scroll back through conversations and find the photos, so they haven't been deleted.
Messages is not syncing between devices?
If your Messages aren't syncing between devices, make sure you turn on Messages in each device's iCloud settings.
Go to Settings > [Your Name] > iCloud > Messages and toggle it on for all your devices.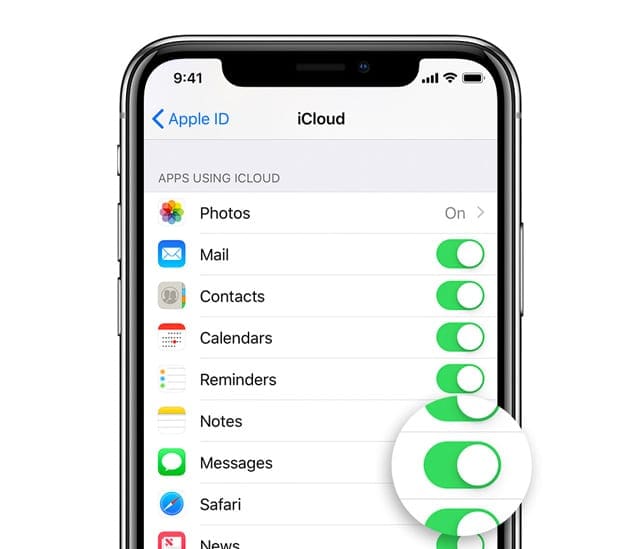 If it's already turned on, try toggling it off, wait 10 seconds or so, and then toggle it back on.
For messages to sync with a Mac, it must run macOS High Sierra 10.13.5 or later.
eSIM and Dual-SIM support in iOS 13
Our last communication item to understand is eSIM and iOS 13. You should definitely check out our detailed guide if you are considering switching to an e-SIM from a physical SIM. We highlight the various choices, carrier options and other essentials in it.
Regarding connection issues and other dual SIM related setups, please refer to our deep-dive guide which has been updated for iOS 13.
If you upgraded to a new iPhone and would like to transfer your eSIM to the new device, you may want to check out this article.
Syncing problems: iCloud, Reminders app, Mail app, Apple Music, and more
Other than Mail, we didn't encounter too many issues during our beta testing with iOS 13 and iPadOS. Most issues that showed up were primarily related to iCloud sync problems.
For example, after the update, we found that we couldn't find some of our old Notes or some of the PDF and Books content. The best solution we found for this was turning Notes or Books on and off in iCloud, then allowing plenty of time with the respective apps open for iOS 13 or iPadOS to rescan all the content.
Reminders Missing or Reminder Lists Empty after the update?
Are your Reminder lists missing on your iPhone after updating to iOS 13?
If you see this, you are not alone. Many users are experiencing this issue following the update. It appears the root cause of this issue is around iCloud sync issues.
Reminders are taking a long time to sync across devices and from iCloud in general. Give it a day or so and hopefully, your reminder lists and items will begin populating on their own.
Some users needed to wait over three days before all their Reminders returned. But they did return.
What if my Reminders don't come back?
We are hopeful that iOS 13.1.1 fixed this issue. We tried signing out of iCloud and signing back in with limited success for this issue.
Some users report that when you open up your Reminders on iCloud.com, it forces syncing to resume on your devices.
Either way, if you're worried about lost Reminders, you can check your them on iCloud.com to make sure they haven't been deleted:
On your computer, go to iCloud.com and sign in with your Apple ID.
Click on Reminders and review all the available items on your account
If some of your Reminders are missing from iCloud.com, click on your account and choose Account Settings.
Scroll to the bottom of the page and find the Advanced section. You can restore any lost or deleted Reminders using this feature
Word of Caution: If you do decide to "upgrade" the Reminders app on iOS 13 to get the new features, you may lose all the syncing functionality between your iPhone and Mac.
Syncing Reminders to your Mac will work only after you upgrade to macOS Catalina, scheduled for release later this month. If you use Reminders on your Mac, don't upgrade the iOS 13 or iPadOS Reminders app on your iPhone or iPad yet.
The Mail app has one too many problems in iOS 13 and iPadOS
The native Mail app on iOS 13 and iPadOS has too many issues, according to many users who have recently updated their iPhone or iPad.
Cannot verify server identity or No Sender / No Subject on your emails?
Apart from some issues related to formatting, the main problems reported so far are "Cannot verify server identify" error messages when opening emails and emails showing "No Sender" or "No Subject" or both!
Regarding the first error surrounding server identity, the only way around it is to remove your mail account then add it back in. Go to Settings > Accounts & Passwords to remove and re-add your accounts. Unless you're using a POP email, you shouldn't lose any data from doing this.
We have seen the "No Sender/No Subject" issue before in older iOS releases. What mostly worked then is to toggle the Date/Time Automatic settings and restarting your device. It's worth a try if you are having trouble with this issue.
Not seeing any options for archive, reply all, or forwarding when viewing an email?
iOS 13 and iPadOS tucked away some common email options like reply all and forward the message.
When viewing an email, the only options you now see are the Trash and Reply icon. There are no other icon options in the bottom row like there used to be.
But it's an easy change!
Just tap that reply icon and you see all the additional email options, like reply all, forward, flag, move, archive, mark, and so forth.
We're not sure why Apple made this change since there is a lot of blank space available for additional icons and options. The iPhone's footer bar could be filled with many useful icons and action for email.
But for now, it is what is it is.
iOS 13.1 & iOS 13.1.1 should address the majority of these Mail-related issues 
We haven't received any reports from readers with potential workarounds for Mail related issues on iOS 13.
Apple Music Library empty or not syncing after updating to iOS 13
Several users have reported that Apple Music does not sync and the music library is empty after updating their device to iOS 13 or iPadOS.
We have seen this issue with iOS 13 GM as well as iOS 13.1 Beta 3.
Users report that when they try to play a song they know exists in their library, they get a message that 'This song is not available in your country or region."
The good news is that your Apple Music library is not wiped out and is still with the help of a few time-consuming steps. You need to use a computer to do it.
In order to restore your Apple Music library with iOS 13 or iPadOS, you will need to follow these steps:
Back up your iPhone using iTunes. An iCloud backup will not help, it needs to be an iTunes backup.
Download the latest IPSW file for iOS 13 and your device from ipsw.me or another source.
Using iTunes restore your iPhone with the downloaded IPSW file.
After the process is complete, restore from the backup you made in the first step.
Restart your iPhone and then launch Apple music to check
Playlists have the wrong artwork on iOS and iPadOS 13.1
If you enjoy creating a lot of different playlists for your music, you may have noticed the artwork in the Apple Music app has changed. A lot of users have noted that the artwork seems to be randomly selected now, without necessarily representing the songs in your playlist.
This is a bug with iOS and iPadOS, but unfortunately, it wasn't fixed with the release of 13.1.
It's possible to manually choose the artwork you want from iTunes, however, this means you don't get the cross-section playlist artwork normally present in Apple Music. This only way to get that is to remove every playlist and manually recreate them.
Alternatively, wait for the next update from Apple and hope it fixes the problem this time!
Shortcuts stop working with CarPlay in iOS 13
Siri Shortcuts are a fantastic tool in iOS that only gets more powerful with iOS 13. You can use them to create custom, Siri-controlled functions for all manner of things on your device.
Many users cleverly created Siri Shortcuts to use with CarPlay, to avoid needing to look at their iPhone screen while driving. But iOS 13 seems to cause problems with this since Siri Shortcuts don't currently work with CarPlay in iOS 13.
Fortunately, we've got a few suggestions for you to try that might fix it:
Restart: Power off your iPhone and your in-car entertainment system, then connect them again.
Turn Siri off and on: Since Siri Shortcuts use the personal assistant on your iPhone, try restarting it to fix the problem. Go to Settings > Siri & Spotlight then toggle all Siri options to restart it.
Turn Bluetooth off and on: Open the Settings app and turn Bluetooth off, wait a moment before turning it on and connecting your device again.
Reset Network Settings: This resets everything to do with networks on your device, including Wi-Fi passwords. Go to Settings > General > Reset > Reset Network Settings.
Episode Unavailable message on Podcasts app?
When you try and play an episode of your favorite Podcast show, do you see an error message that says that the episode is temporarily unavailable?
In our experience, we have found that this error message primarily shows up when you have a weak Wi-Fi or cellular signal. The best way to fix this annoyance is to toggle the cellular setting for Podcasts to OFF and then ON followed by restarting the Podcasts app.
Tap on Settings > Cellular and scroll down and locate the Podcasts app. Toggle the cellular setting here to OFF and then ON. Now give it a try and it should work without hiccups! We just wish that the error message was more actionable.
Problems with the Home Screen, Apps, and 3D touch or Haptic touch
iOS 13 and iPadOS bring 3D touch actions to everyone, including devices that previously didn't support 3D Touch.
With iOS 13 and iPadOS haptic and 3D touch do the exact same things. 
These are called Quick Actions and with them, when you press and hold on an app icon, you get options to quickly perform actions specific to an app.
For example, when long-pressing the WiFi button in Control Center you get options to quickly connect to available networks without opening your Settings app.
Unfortunately, some folks are very unhappy to see certain 3D Touch features, like Pop, leave the scene.
At this point, you can't disable the long-press to get 3D touch menus back but you do get haptic feedback when you long-press to access the Quick Action options.
And given that the latest iPhone 11 models don't include 3D Touch, we'll have no choice but to embrace the haptic touch Quick Actions of iOS 13 and iPadOS.
Want to turn off Quick Actions?
Sadly no, there isn't a way to disable Quick Actions in iOS 13 or iPadOS. At least not yet.
Are the app icons on your iPad too small or large?
With iPadOS, Apple gives us some options on how our home screen look! This change includes two options: one for More icons on the screen and one for Bigger icons on your screen.
Change your iPad's Home Screen Layout
Go to Settings > Home Screen & Dock or Settings > Display & Brightness
Scroll down to the section App Icons or Home Screen Layout
Choose More for smaller icons and more app icons on the screen — you also have the option to show Today View on your home screen
Choose Bigger for larger icons with fewer apps on each screen — Today View is not shown on your home screen
To learn more about iPadOS' home screen options, see this article: Customize your Home Screen app icons and Today View in iPadOS
App icons still not big enough?
If selecting Bigger for your home screen layout isn't enough, you can experiment with your iPad's accessibility options for Zoom. With zoom, there is no one-size-fits-all, so you'll need to test out variations to find what works best for you and your eyes!
Go to Settings > Accessibility
Tap Zoom
Toggle Zoom on
Once on, experiment with the zoom settings that work best for you!
Follow Focus: Track your selections, the text insertion point, and your typing

With Follow Focus enabled, you also get options for Smart Typing: Switch to Window Zoom when a keyboard appears

Keyboard Shortcuts: Turn on keyboard shortcuts to control Zoom
Zoom Controller: Turn the controller on, set controller actions, and adjust the color and opacity
Zoom Region: Choose Full-Screen Zoom or Window Zoom
Zoom Filter: Choose None, Inverted, Grayscale, Grayscale Inverted, or Low Light
Maximum Zoom Level: Drag the slider to adjust the level
Missing apps on your iPhone's Home screen after iOS 13 or iPadOS update?
If an app you always use is not on your Home screen after updating to iOS 13 or iPadOS, swipe through all your app Home screens to see if it was moved during the update.
You usually find iOS or iPadOS moved displaced and missing apps to the last home screen. If you can't find it, pull down to access Spotlight and try searching for it.

There's also a new Quick Action item to Rearrange Apps when you long-press an app icon or folder on your home screen or in your Dock.
Unable to rearrange app icons? 

Not able to delete or move apps? Apps not staying in a new location or folder?

Some readers find that their apps aren't staying put in their folder or location. Other users can't delete apps like they used to and instead, see the Quick Actions menu.
To move or rearrange apps
Rest your finger on the app you want to move
From the Quick Action menu, tap Rearrange

You need to select 'Rearrange Apps' before you can delete Notes.

Your apps jiggle
Tap again on the app and drag the app icon to where you want it, keeping consistent pressure on the app as you move — if you lift your finger, the app goes back to its original place. If it's not working for you, press harder on the app icon!
Drop the app into your preferred location and release all finger pressure
To delete apps, press the app icon a little longer than you're used to doing — keep holding it even when the Quick Action menu shows up. Eventually, the icons will start to jiggle, then you can release it release. After that, delete all the apps you want as usual!
If your apps aren't sticking to their new locations, take a look at your zoom settings:
Go to Settings > Accessibility > Zoom and turn it off. Then move your apps again and see if they stick this time!
Some readers found that disabling QuickPath's setting for the slide to type fixed the issue for them. Go to Settings > General > Keyboard > toggle off Slide to Type

QuickPath typing doesn't work if the Slide to Type setting is turned off.
Is your iPhone, iPad, or iPod touch lagging when scrolling between Home screens?
Lots of iOS 13 and iPadOS users have noticed a lag when switching between screens on the Home screen of their device. What used to be buttery smooth is now jittery and stuttered. It seems to be a processing problem, one that's easy to fix by reducing the transparency on your device.
Typically, this happens when users have lots of folders on their Home screen. The transparency of these folders is too demanding on the processor as you swipe them across the wallpaper. Hopefully, Apple fixes this in future updates, but for the meantime, you can reduce transparency instead:
Go to Settings > Accessibility > Display & Text Size.
Turn on the option to Reduce Transparency.
Slide Over is blurry in iPadOS
iPadOS introduces or advances a lot of great task management features on the iPad, including Slide Over. This feature allows you to "slide over" a narrow version of your apps from the right side of the display giving quick access to other apps without leaving the one you're in.
Several users have experienced an issue where the entire screen blurs as they enter the Slide Over app switcher — done by swiping up from the Slide Over window.
It's easy to fix this issue by restarting your device. Failing that, go to Settings > General > Reset > Reset All Settings.
Swiping up from the Home bar doesn't work on iPhone X or later?
Several users have found they can't close apps, switch apps, or even return to the Home screen on their iPhone X or later. After swiping up to unlock the device, the gesture stops working in iOS 13. The only way to close an app is by force restarting.
Don't waste time restoring the software on your device for this fix, because it doesn't work! Some users believe this is related to third-party screen repairs.
In the release notes, Apple says that iOS 13.1 fixes a notification to recognize third-party displays. But they don't mention fixing this troublesome bug.
In the meantime, turn on a software Home button using AssistiveTouch:
Go to Settings > Accessibility > AssistiveTouch.
Is screen rotation not working after iOS update?
First, check if you have any Zoom settings enabled via Settings > Accessibility > Zoom. Toggle these off temporarily and see if you can rotate your screen.
If that didn't work, turn off Dark Mode and open Control Center and see if you can lock or unlock screen orientation. If so, try changing your screen's orientation and see if dark mode caused the problem.
If this issue occurs on videos, put them in full screen and then rotate the device.
Can't find where to update apps in the App Store?
It's not you, it's Apple!
To make room for the Arcade tab in the App Store, Apple moved the Updates tab to your account settings. Tap on your profile picture or the profile icon in the top-right to find all the update functionalities.
You can also long-press on the App Store icon to bring up a Quick Action menu with fast access to the Updates function.
Did the camera and flash stop working when you updated to iOS 13?
Several users, including owners of the brand new iPhone 11 Pro have experienced problems with the camera and camera flash in iOS 13. It seems the camera stops working — showing nothing but a black screen and a shutter button — for some unlucky users.
Many were able to resolve this by restarting or force restarting their devices. However, if that doesn't work, try temporarily changing the video quality in your Camera Settings:
Go to Settings > Camera.
Tap Record Video and lower the quality to 720p.
Camera problems extend from the rear-facing camera to issues with the front-facing camera as well. Although this is most notably with third-party apps such as Snapchat. It's likely the solution for this will come when Snapchat updates their app to make it more compatible with iOS 13.
Some users have found the front-facing camera is dimmed for the FaceTime app. But this is easily fixed by force restarting your device.
WeChat doesn't work with iOS 13
WeChat, if you haven't heard of it, is what you get when you combine Facebook and WhatsApp into a totally new app. It's hugely popular in many countries and lots of people use it to manage their independent businesses as well as for socializing.
Unfortunately, there seem to be a lot of compatibility issues with WeChat and iOS 13. For many users, WeChat fails to work at all, although some of them were able to fix this by going to Settings > General > Reset > Reset All Settings.
If you depend on WeChat, we don't recommend you upgrade to iOS 13 until these issues are ironed out in future updates.
Calendars is creating duplicate birthdays for your contacts
Although Apple has already released iOS 13, it might take a little bit of time for all the other Apple services and third-party services to work seamlessly with it. One of the apparent symptoms of this is duplicate birthdays appearing in the Calendars app.
Some users found as many as three duplicate birthdays added to their Calendar for the same contact. Upon tapping on these birthday events, most of them don't link to a valid contact card.
If updating didn't work, the best solution we found for this is to un-sync and resync the accounts that your birthdays link from iCloud, Email accounts, or Social Media.
Go to Settings > Password & Accounts:
Tap each email account and turn off Contacts.

Toggle contacts off and on for each of your accounts.
Photos crashes when you scroll
Users with more than just a couple of hundred photos on their devices — which is most of us, these days — are experiencing a problem where the Photos app crashes when you scroll through them.
Normally, you can tap the top of the Photos of the app to fast-scroll to your oldest photos and videos. But doing this in iOS 13 and iPadOS causes the Photos app to crash, returning you to the Home screen.
We haven't come across any solutions for this yet and it wasn't addressed in Apple's release notes for iOS 13.1.
Other app-related problems and fixes for iOS 13 or iPadOS
Since many of the apps have seen a change in functionality, here's a list of our top articles with tips and tricks for iOS 13 and iPadOS:
Power & performance problems
Battery blues
Following a major update, it's very normal to see reduced battery performance for a few days as the operating system re-indexes things in the background.
If your battery life does not improve within a few days, launch the Settings App and go to Battery > Battery Health.
Check out any recommendations here that Apple wants you to adopt. Identify apps that are using too much of your battery juice and reviewing the Battery health usage report details.
Finally here is a list of 9 specific settings in iOS 13 that you can double-check to make sure you are maximizing your iPhone battery performance on iOS 13.
Can't charge past 98%
Some users can't charge their iOS 13 or iPadOS devices past 98% no matter how long they leave it on the charger. It doesn't seem to matter how long you wait, you can't always get that last 2% charge!
Restarting your iPhone or iPad provides a temporary fix. For the time being, we'd suggest ignoring the last 2%, since it's not a good idea to leave your device on charge longer than it needs to be.
iOS 13 and iPadOS are pretty fast when it comes to performance
The apps open up without any issues and there are no delayed animations. If for some reason, you find your iPhone or iPad sluggish in performance after the update, check out the tips below:
We hope that you find this comprehensive troubleshooting guide helpful. Please remember to update your iPhone to iOS 13.1 before trying to install watchOS 6 on your Apple Watch.
You may need to reset your Apple Watch before notifications come through to it. Hold the digital crown and the side button until an Apple appears on the display.
Speed problems for iPad Air 2 users
The iPad Air 2 seems to be suffering from being one of the oldest devices still compatible with iPadOS. As a result, several readers are struggling with severe speed problems, where it might take 20 minutes just to navigate through the Setting.
The only thing found to fix this issue so far is erasing and restoring your device from a backup. You can do this from Settings > General > Reset > Erase All Content and Settings.
But it's probably quicker to restore your device using Recovery Mode.
Issues with the iPad Pro 10.5-inch on iPadOS 13.1
Some unlucky iPad Pro 10.5-inch owners had their device completely stop working after upgrading to iPadOS 13.1. After the iPad Pro is bricked by the new software, you can't fix it by force restarting or restoring the device.
The only solution at the moment — until Apple patches this software — is to put your iPad Pro 10.5-inch in DFU mode and downgrade to iOS 12.4.1.
This problem doesn't happen to every iPad Pro, you might have better luck trying to upgrade the software a second time.
Pay it forward
If you've got a problem or a solution (or even a gripe) please share with us and our readers in the comments section below.
We'll do our best to help with any issues…and if we don't know the answer or a workaround, another reader might!
And check back during the next few weeks as we plan on keeping this article updated with various tips/tricks/fixes based on our readers' emails and comments.