The newest flavor of Apple's mobile platform has plenty going on. iOS 13 and iPadOS now feature the much anticipated Dark Mode, numerous privacy and security enhancements, improved multitasking support and many more changes to some of the commonly used apps such as Photos, Reminders, and Maps.
Unfortunately, new updates with new features come with new problems. A few problems are rearing their ugly heads on support forums. Here are the main ones with advice on what to do about them.
But the good news is that you can fix most of these annoyances rather quickly on your own, without a call to Apple Support or setting up an appointment to visit an Apple Genius.
iOS 13 and iPadOS Common Problems Guide – Overview
In this iOS 13 and iPadOS guide, we walk you through troubleshooting and fixing (or working around) many of the common iOS 13 and iPadOS issues and annoyances. And for problems that require deep dives, we link you to articles and resources that detail how to fix that specific issue with step-by-step instructions.
This comprehensive guide is divided into several key sections ranging from basic install and update issues, tips and tricks to easily get the most out of the new features and troubleshooting ideas for some of the app essentials such as iMessage, Notes, and Mail.
Where possible, we have also created simple cheat-sheets with essential tips that have worked for our readers over the years when dealing with some of these common iOS annoyances. Readers feedback and tips are also integrated into quick tips.
So if your iPhone, iPad, or iPod has problems with installation, communication, connectivity, camera, and battery or power, check out this guide first and see if you can solve the problem on your own.
We do recommend that you have a full backup of your iPhone or iPad.
We're updating this article daily, so if your problem isn't listed, please add it to the comments section. 
Please share your favorite tips, tricks, and tune-ups or send your comments with screenshots, etc. to [email protected]
How to fix iOS 13 and iPadOS install errors and problems
If you're trying to install the latest iOS 13 or iPadOS update, but having trouble updating, there are plenty of remedies.
Common reasons why iOS 13 might fail to update
There are five main reasons why iOS updates fail to install:
Lack of free storage on the iPhone or iPad
Not enough charge on the device
Low-Quality Wi-Fi Strength
Existing Proxy or VPN type app
Apple servers busy during the initial roll-out leading to delays in installation
Free storage on your iPhone or iPad is critical for a successful update
First, make sure you have 4-6 GB of available space on your device for the update–check your device's storage in Settings > General > Storage. If your device does not have at least 4GB of space available, remove some apps, photos, videos, or other storage hogs and free up more space on your device.
Once your device has 4-6+GB of available storage, restart your device and reconnect to your WiFi network or iTunes and try downloading and installing the update again (use Finder app in macOS Catalina.)
iOS 13 or iPadOS update fails multiple times?
For repeated install errors, we highly recommend you update your device using iTunes (for macOS Mojave and below and Windows) or Finder (for macOS Catalina and above.) When you update via iTunes or Finder, Apple installs a full version of iOS or iPadOS onto your device, including all the code changes and all the unchanged code.
When using the Software Update function in your device's Settings app, that over-the-air update installs just the code that changed and is not a full and complete iOS/iPadOS.
If using a VPN or Proxy on your iPhone or iPad, disable them and try installing. Change your Wi-Fi DNS service to 8.8.8.8 or 8.8.8.4 and attempt updating your iPhone to iOS 13.
Stuck on Boot loop or Apple Logo when updating to iOS 13
Every now and then with iOS updates, we have noticed that many older devices get stuck with the Apple Logo towards the completion of the update. The downloading and main verification process goes through without hiccups but the update fails towards the end and simply gets stuck with the Apple Logo or a boot loop process.
If you find yourself in this situation, the best thing to do is to force restart your iPhone or iPad and then try to re-run the update from Settings > General> Software Updates OR preferably use iTunes and iOS 13 IPSW file and try updating the device.
You can deep-dive into fixing these type of the more uncommon install issue using the guide below.
Several users find that after updating their iPhone or iPad to the latest update, a notification shows up requiring them to update their Apple ID details. This is not that big of an issue and you can easily take care of it with a few simple steps.
Wi-Fi, Bluetooth, GPS and other connectivity issues on iOS 13 and iPadOS
iOS 13 supports the latest standard from Wi‑Fi Alliance to provide you with a more secure browsing experience. Apple also introduces features that allow your iPhone or iPad to remember the popular Wi-Fi networks that you most often connect to. You can read up on the new Wi-Fi privacy features and other improvements in iOS 13.
Common Reasons your Wi-Fi is not working with iOS 13 or iPadOS
Here are some of the most common reasons why you may experience slow Wi-Fi or poor connection problems after updating to the new mobile operating system.
Your Router needs a firmware update and or a reset.
Check Router advanced settings if you are on a Mesh network (particularly the roaming speed setting. See Deep dive guide for details)
Most Wi-Fi Related issues are easily solved via these three approaches. Try each of them and see if it solves your problem.
Try Forgetting the Wi-Fi Network and then Re-Join again after restarting your iPhone and resetting the router
Perform a Reset of Network Settings via Settings > General > Reset > Reset Network Settings
Reset all Settings is sometimes helpful for more stubborn problems.
GPS Accuracy Issues following Update?
Many of the GPS issues experienced in prior iOS platforms were addressed in iOS 12. We have found the GPS function to be pretty stable and strong even within the iOS 13 betas.
If you experience GPS accuracy issues following the iOS 13 update, Apple suggests two key actions to improve GPS strength on your device.
GPS accuracy depends on the number of visible GPS satellites. Locating all visible satellites can take several minutes, with accuracy gradually increasing over time. To improve GPS accuracy:
Make sure that you've set the date, time, and time zone correctly on the device in Settings > General > Date & Time. If possible, use Set Automatically. Toggle it to OFF and then ON and check if the accuracy improves.
Keep a clear view in several directions. Walls, vehicle roofs, tall buildings, mountains, and other obstructions can block line of sight to GPS satellites. When this happens, your device uses Wi-Fi or cellular networks to determine your position until the GPS satellites are visible again.
The rumored new R Series location co-processor in the new iPhone 11 models is expected to feature Ulta-wide-band technology which will make location accuracy even more precise.
Important GPS note for older iPhone and iPad models (NOT eligible for iOS 13)
Users with older iPhones, who could not update to iOS 12 should check out Apple's iOS 9.3.6 and iOS 10.3.4 updates. These exclusive updates from Apple (announced in July 2019) were provided to tackle GPS related issues on older devices.
Apple had mentioned that:
Starting November 3, 2019, some iPhone and iPad models introduced in 2012 and earlier will require an iOS update to maintain accurate GPS location and keep the correct date and time. This is due to the GPS time rollover issue that began affecting GPS-enabled products from other manufacturers on April 6, 2019. This does not impact any devices until November 3, 2019.
Connectivity issues between iPadOS and USB Drives, Mouse or other accessories
iPadOS is the first major mobile platform from Apple that brings major support for external storage.
During one of the recent interviews with MacStories.net, Craig Federighi said jokingly
"External drives. We're willing to acknowledge the 1990s and go all the way back. You know, people still use them sometimes. I'm an AirDrop fan myself, but I understand there are other uses… we know with photographers, the ability to import their photos directly into an app like Lightroom is so important."
For those of us who use our iPads for Photos and other media, the ability to read and process external storage is a major advantage.The major integration of external drives and the iPad is via iPadOS Files app which has also been revamped to meet new requirements such as support for nested folders.
We have tested numerous USB Drives and external drives with multiple iPads running iPadOS over the past few months. Connection or access issues between the iPad and the drive could be due to many reasons.
Common Reasons iPad is not connecting to External Storage
Powered drive or non-powered external drive?
What is format you are using on the external storage?
For basic connection issues, i.e your iPad is unable to recognize the plugged in external drive, shut down your iPad, then connect the external storage and restart it.
Also, make sure to check the permission settings for USB accessory in Settings app.
Do you need a special connector or cable?
Power Tip: You can load up your movies and music onto your external storage and view / listen to them on your iPad without needing to copy over the files thereby saving storage space on your iPad. We tested the SanDisk iXpand and were quite pleased with the results.
What about connecting Mouse or TrackPad with the iPad?
While we have not seen too many issues with connecting mouse and the trackpad with the iPad, here are some common tips for you to consider if you run into issues :
Check that your mouse or trackpad isn't already connected to another device
If your mouse or trackpad has a power switch, make sure it is on
Update the software on your iPhone or iPad
If applicable, fully charge your mouse or trackpad or change its batteries
Inspect the ports, cables, and connectors for signs of physical damage
Try adding the mouse or trackpad in Accessibility's Switch Control settings
Restart your iPhone or iPad as well as your mouse or trackpad
Disconnect your mouse or trackpad from everything and try connecting it again
Power-Tip: You can now backup your iPhone or iPad Photos into an external drive easily. Similarly, Zip and unZip functions are a breeze with the new Files App on iPadOS.
SideCar setup, connection, and usability Issues
SideCar is one of those features that proved to be a major motivating factor for many users to get on the iPadOS beta bandwagon. You no longer need a third-party app to achieve this and users are taking notice.
Having your iPad display double up as an extra monitor for your Mac running macOS Catalina is awesome! This brand new feature in iPadOS is easy to setup and use.
If you are having issues setting up your iPad as a SideCar display device following update to iPadOS, take a deep-dive into our detailed SideCar troubleshooting guide.
iMessage, FaceTime, eSIM and other communication issues on iOS 13 and iPadOS
Apple includes a few new features for iMessage and FaceTime with iOS 13 and iPadOS, including eSIM and dual SIM support for both phone numbers, better searching in Messages, and a new user profile section that allows you to choose who you want to share your name and/or photos with.
And of course, there are some new animoji with a mouse, octopus, and a cow. And there's a lot of new memoji customizations, from makeup to all types of body piercings.
After an update, it's not uncommon to have issues with the Message app, FaceTime, and even the phone app. So let's take a look at some of those common issues.
Message app and iMessage problems with iOS 13 and iPadOS
The first time you open Messages after an update, you might see a message that Messages is indexing. If you see this, don't worry–it's an expected part of the greatly improved search function in Messages.
Stuck on iMessage or FaceTime waiting for activation?
After a major iOS or iPadOS update, iMessage and FaceTime may need to reactivate. And occasionally, they get stuck in this process, especially when Apple Servers are slammed with requests.
What usually works is toggling off iMessage or FaceTime, then waiting 20-30 seconds, and toggling it back on to force the services to reconnect to Apple Servers with your Apple ID.
For iMessage: Go to Settings > Messages > iMessage
For FaceTime: Go to Settings > FaceTime
Messages not syncing between devices?
If your Messages aren't syncing between devices, make sure you toggle on Messages in your device's iCloud settings.
Go to Settings > Apple ID > iCloud > Messages and toggle it on for all your devices.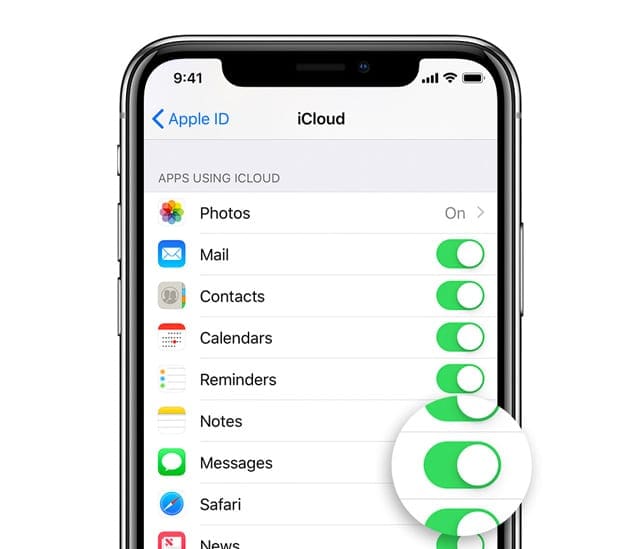 If it's already toggled on, try toggling it off, wait 10 seconds or so, and then toggle it back on.
For messages to sync with a Mac, it must run macOS High Sierra 10.13.5 or later.
eSIM/Dual SIM support and iOS 13
Our last communication item to understand is eSIM and iOS 13. If you are considering moving to a e-SIM from a physical SIM, you should definitely check out our detailed guide. We highlight the various choices, carrier options and other essentials in the article.
Regarding connection issues and other dual SIM related Set-ups, please refer to our deep-dive guide which has been updated for iOS 13.
iOS 13/ iPadOS Issues with Commonly used Apps
Other than Mail, we did not encounter too many issues during our limited beta testing with iOS 13 and iPadOS. Most issues that showed up were primarily related to iCloud sync problems. For example, we found that after the update, we couldn't find some of our old Notes as well as some of the PDF and Books content.
Since many of the apps have seen change in functionality, we have also included a list of our Top 12 articles with tips and tricks here that show you how to use or locate a certain feature in the new iOS 13 and iPadOS.
Battery Drainage Issues after iOS 13 Update?
Following a major update, its very normal to see reduced battery performance for a few days as the operating system re-indexes things in the background. If the battery performance does not improve within a few days, start by launching the Settings App and then go to Battery > Battery Health.
Check out any recommendations here that Apple wants you to adopt. Identify apps that might be using too much of your battery juice by reviewing the Battery health usage report details.
Finally here is a list of 9 specific settings in iOS 13 that you can double-check to make sure you are maximizing your iPhone battery performance on iOS 13. iOS 13 and iPadOS are pretty fast when it comes to performance. The apps open up without any issues and there are no delayed animations. If for some reason, you find your iPhone or iPad sluggish in performance after the update, Please check out the tips below:
We hope that you find this comprehensive troubleshooting guide helpful and a handy resource. Please remember to update your iPhone to iOS 13 /13.1 before trying to install watchOS 6 on your Apple Watch.
Please check back during the week as we plan on keeping this article updated with various tips/tricks/fixes based on our readers emails and comments.
Dan is a freelance writer based in South West England.
He spent two years supervising repairs as a Genius Admin for Apple Retail and uses that knowledge to keep our troubleshooting guides up to date.
Long before that, Dan turned to Apple products from a musical background. Having owned iPods for years, he bought a MacBook to learn sound recording and production. It was using those skills that he gained a first-class Bachelor of Science in Sound Technology.