Is your iPhone touchscreen not working, slow to respond, or not responsive in some ways? If so, you are not alone! Some of our readers have reported problems with their iPhone almost immediately after unboxing!
When the iPhone X Series (X, XS, XR) launched, we expected to see a few bugs and quirks that cause issues. However, one problem we didn't expect to see is issues with being able actually to use the touchscreen.
Follow These Quick Tips To Address iPhone X Series Touchscreen Problems
Remove Cases and/or screen protectors
Heat up the iPhone, especially if in cold climates
Force Restart your device
Update the iOS to the latest version
Disable 3D Touch, if possible
Reinstall iOS using Recovery Mode
Return the device back to factory settings
Turn Off Automatic iOS Updates
Related Posts:
Users everywhere have reported that the touchscreen on their iPhone X/XS/XR has stopped working, regardless of the situation. The first issue arose after it was discovered that cold temperatures were causing problems with touch input.
Since then, there have been more problems arise with the touchscreen. Luckily, there have seemed to have been a few fixes that you can attempt before throwing your $1,000 iPhone against the wall or out the window.
iPhone Touchscreen Not Working Fixes
It's often your case with built-in screen protectors or just those anti-glare screen covers that cause problem. Although many think otherwise, screen protectors often interfere with touchscreens–especially if you are reusing an old one or using a screen protector made for a different model or brand phone.
So before any further troubleshooting, remove any case covers the screen. Or if you use a screen cover, remove that. Then restart your phone and check if the screen responds.
Heat Up Your iPhone A Bit
A few readers tell us that heating up their iPhones did the trick to get the screen responsive.
We don't mean putting on a fire or in the over! Rather, they found wrapping it up in a blanket, towel, or even sitting on it for 5-10 minutes worked. For this to work and generate some moderate heat, the phone must be on.
Give It A Few Taps
Another trick readers use is burping their iPhones! This seems to work for folks whose screen cables are not making good contacts.
It's best to first cover your iPhone X Series phone in a soft towel or cloth to prevent screen damage. Then, give it a few swift whacks on the backside (not screen side!)
We call this burping your iDevice–a firm smack, done just a few times one after the other. Just like burping a baby–gentle but often effective!
If this trick works for you and your device is under warranty, we suggest contacting Apple Support. And ask for an internal inspection since it's likely the cable connecting your screen need repaired or replaced.
Perform a Forced Restart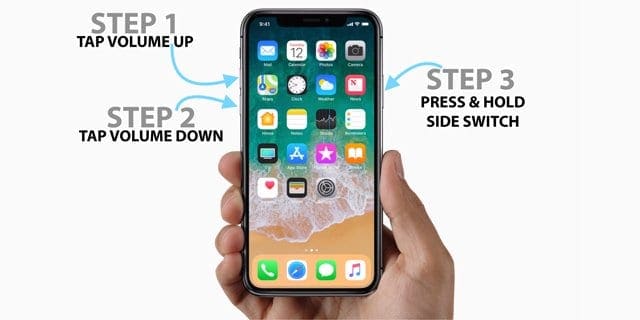 The process to force your iPhone to restart can be a bit frustrating, as you need to perform the steps rather quickly in succession. This is not a factory reset, as you are only forcing your iPhone to simply power down.
Press the Volume Up button and release.
Press the Volume Down button and release.
Press and hold the Side button for 10-15 seconds until your iPhone reboots.
In the event that you followed the steps above and your iPhone doesn't reboot, you might want to try pressing the buttons in a faster sequence. The timing is key, as you'll need to make sure the iPhone recognizes what it is that you're trying to do.
Some readers tell us they need to force restart multiple times (like 3 times) to get this to work.
Check for a Software Update
To put it plainly, some folks are afraid of software updates. This is especially true for Windows users, as software updates can completely bring your system to a halt. However, there are some software updates that are really quite useful.
Open the Settings app.
Tap General.
Select Software Update.
Your iPhone will check to see if an update is available.
If the update is available, tap the Download and Install button.
However, if there is not an update available, you may need to check out the next option on our list.
Use iTunes on a computer to check for software updates if your screen is completely unresponsive
Use a computer with the latest version of iTunes already installed on it

It does not need to be your computer

Connect your iPhone
Open iTunes
Select your device
Choose Summary and then tap Check for Update
Click Download and Update
If requested, enter your passcode
Turn Off Automatic Updates on iPhone
iOS 12 and above feature automatic updating of your device. We suggest you turn this setting OFF. With Automatic Updates, your iOS device updates automatically to the latest version of iOS when connected to a power source and a WiFi connection. The updates usually take place overnight, when you are not using your device.
Quite a few of our readers discovered that after their iPhones updated automatically, their phones became unresponsive to their touch. That's why we recommend updating manually!
Open the Settings app on your iPhone or iPad.
Tap General.
Tap Software Update.
There should be a button that says Automatic Updates, tap that button.
Tap the toggle next to Download iOS Updates to the On position.
Next to Install iOS Updates, tap the toggle to the Off position.
In doing so, this will download the update when you are connected to Wi-Fi, but won't actually automatically install any pending updates until your iPhone is placed on a charger and is connected to Wi-Fi. In the event that you have toggled both options off, then the updates will only be installed manually by navigating to the Software Update section and following the on-screen steps.
Enable/Disable 3D Touch
If forcing your iPhone X Series to restart doesn't do the trick, then you may want to try toggling 3D Touch on and off.
This has seemed to work for some folks, and you can do so via the steps below
Go to Settings
Tap General
Select Accessibility
Scroll down and select 3D Touch
Toggle the switch Off or On (or vice-versa)
To be more thorough, you might want to turn off 3D Touch, Force Reset your iPhone, and then see if everything works.
If not, then you'll want to keep moving down the list.
Try Recovery Mode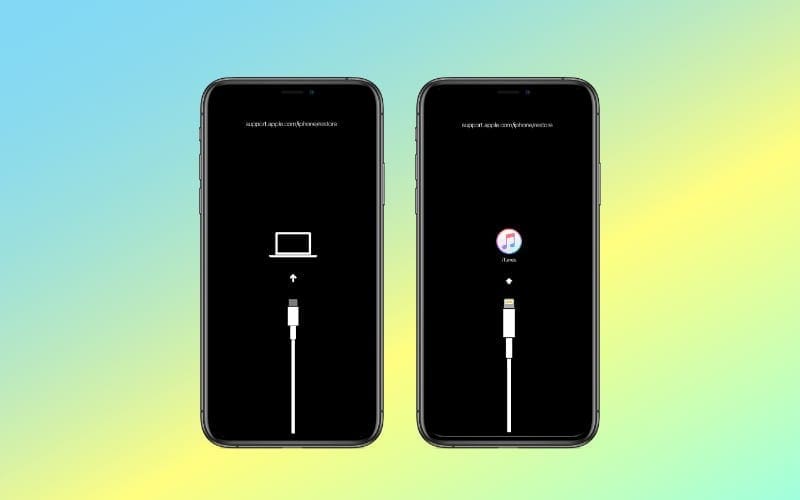 An iPhone, iPad, or iPod touch in recovery mode shows an iTunes or computer icon on the screen, prompting you to connect it to a computer. When you do so, you can choose to Update or Restore the software on your device.
Either option reinstalls the latest available operating software from Apple, but the Restore button also erases all the content and data from your device. Afterward, you can choose to recover a backup or set it up as new.
If possible, we recommend backing up your iPhone before trying to use Recovery Mode to get things working again.
Recovery Mode on iPhone 8, iPhone X, or later
Connect your device to a computer using an Apple-certified USB cable.
Quickly press and release the Volume Up button.
Quickly press and release the Volume Down button.
Press and hold the Side or Top button.
Your iPhone or iPad will restart, keep holding the Side or Top button until it enters recovery mode. Choose to update or restore your device.
Once your iPhone has entered Recovery Mode, you'll then be able to connect it to a Mac or Windows computer. This is necessary as the computer is needed to either download the update and transfer it to the iPhone, or install the latest version of iOS that's currently available.
Restore to Factory Default via iTunes
This next step may be the most frustrating, but it could also be your last hope before making the trek up to your local Apple Store. When all else fails, you should factory reset your iPhone in order to try and work out any bugs.
Backup First
However, before doing that, there are a few steps that you need to take. The first of which is creating an iCloud backup or iTunes backup of your iPhone.
This saves all of your app data, media files, photos, and more so you can restore your iPhone back to normal
Open Settings
Tap your Apple ID at the top
Select your iPhone from the list of devices
Tap iCloud Backup
Tap Back Up Now
Turn off Find My iPhone
The next step before completing a factory reset is to turn off 'Find My iPhone'. We don't recommend leaving this turned off, but it can help figure out what is causing the problem if your iPhone touchscreen is not working.
Open the Settings app on your iPhone.
Tap [Your Name] at the top of the screen.
Select your iPhone from the list of devices.
Tap Find My iPhone.
Tap the toggle next to Find My iPhone to the Off position.
If you do not turn find My iPhone off, then you will not be able to reset your phone back to factory settings.
If your iPhone is entirely non-responsive to touch, you can use a different iDevice to remove the one with the touchscreen problems. Or visit your Apple ID or iCloud Account via a web browser and remove the device there.
Wipe Everything Clean
Now that you have a brand new backup and have turned off Find My iPhone, you can now factory reset your iPhone to its original settings. But of course, if your iPhone touchscreen not working, you'll need to physically connect it to your computer.
Factory Reset iPhone with iTunes on Windows:
Open the iTunes app on your Windows computer.
Connect your iPhone using a Lightning cable.
If a message asks for your device passcode or to Trust This Computer, follow the onscreen steps.
Select your iPhone in the sidebar when it appears.
Click Summary.
In the main window, click the Restore iPhone button.
Click Restore again to confirm
iTunes erases your device and installs the latest iOS.
After your device restores to factory settings, it restarts.
Set it up as new or connect to your recent backup.
Erase Content and Setting With iOS
Open the Settings app on your iPhone or iPad.
Tap General.
Scroll to the bottom and tap Transfer or Reset iPhone (iPad).
Tap Erase All Content and Settings.
Enter your passcode if prompted.
It's important to note that if there is a new software update available, your iPhone will likely download and install it. This is to keep your phone in tip-top shape with the latest version of iOS on board.
Check Out Apple's Display Module Replacement Program
Occasionally, a problem is so widespread that Apple takes notice and investigates to see if there's something wrong with the hardware itself. This has happened at various times over the years, most notably with the last-generation MacBook Pro with its butterfly keyboard. It seems that the touchscreen issues on the iPhone X became such a problem that the company announced a "Display Module Replacement Program for Touch Issues."
According to Apple, "iPhone X displays may experience touch issues due to a component that might fail on the display module." If you are having issues, you may find that the display does not respond, responds intermittently to touch, or reacts even though it was not touched.
If your iPhone is part of the program, you can have it serviced. However, it will first need to be examined in order to "verify that it is eligible for this program." In the event that you are having these problems and want to have them remedied, these are the options at your disposal:
Find an Apple Authorized Service Provider.

Make an appointment at an Apple Retail Store.

Contact Apple Support to arrange mail-in service via the Apple Repair Center.
Apple also notes that despite the problems, this program will not extend the standard warranty coverage of the iPhone X. Additionally, if you experienced problems and paid to have the touchscreen replaced before this program was announced, you can reach out to Apple in an effort to get a refund. Lastly, the program covers affected iPhone X devices for 3 years after the first retail sale of the unit.
Suspect Hardware Issue? Take it to Apple 
Some users discover that they need a screen replacement or that the cable connecting their screen inside their device is loose or not making good and consistent contact.
Regardless of whether you have AppleCare or not, setting up an appointment with your Apple Store's Genius Bar or chatting with Apple or contacting Apple Support (800-692-7753 or 1-800-MY-APPLE) could result in you getting an entirely new iPhone.
Of course, if your iPhone was previously damaged, then you might run into some issues and may end up having to pay some type of deductible. Nonetheless, it's better than paying another $1,000+ for a phone or being stuck with a paperweight.
Let us know if any of these methods worked for you, or if there's a method that we didn't make mention of!
Andrew is a freelance writer based on the East Coast of the US.
He has written for a variety of sites over the years, including iMore, Android Central, Phandroid, and a few others. Now, he spends his days working for an HVAC company, while moonlighting as a freelance writer at night.