Summertime is here, and that means barbecues, fishing trips, vacations, and iOS beta season. iOS 17 was unveiled at WWDC 2023. With it, Apple brings some more "quality of life" improvements. But as is the case with every new iOS release, you might be wondering what iPhones will get the next version.
Related Reading
What's New in iOS 17
During the Keynote, it really didn't seem like iOS 17 was getting much love, after seeing the major additions last year. And that's largely still the case. However, it's clear that Apple is cleaning things up a bit with iOS 17, and offering one of those "fine-tuning" years. There is still a slew of new features arriving, and here are some of our favorites:
Contact Posters: Users can customize how they appear, bringing a completely new look to incoming calls, and choose beautiful treatments for photos or Memoji, as well as eye-catching typography and font colors.
Live Voicemail gives users the ability to see real-time transcription as someone leaves a voicemail, and the opportunity to pick up while the caller is leaving their message. Calls identified as spam by carriers won't appear as Live Voicemail, and will instead be instantly declined.
FaceTime now supports audio and video messages so when users call someone who is not available, they can share a message that can be enjoyed later. FaceTime calls also get more expressive with Reactions such as hearts, balloons, fireworks, laser beams, rain, and more. Powered by Continuity Camera, users can initiate a video call directly from Apple TV, or start the call on iPhone and then hand it off to Apple TV, to see friends and family on their television.
Messages gets significant updates with iOS 17, including an all-new stickers experience with new emoji stickers and the ability to create Live Stickers by lifting subjects from photos. Users can also add effects to Live Stickers that bring them to life, and a new drawer in the keyboard puts all of a user's stickers in one place for easier access across iOS.
AirDrop makes it easy to share a file with a colleague or send photos to a friend in seconds, and with iOS 17, AirDrop gets new ways to share. NameDrop allows users to easily share contact information by simply bringing their iPhones together, or by bringing an iPhone and Apple Watch together.
Autocorrect receives a comprehensive update with a transformer language model, a state-of-the-art on-device machine learning language model for word prediction — improving the experience and accuracy for users every time they type. It also receives a refreshed design to better support typing, and sentence-level autocorrections can fix more types of grammatical mistakes.
iOS 17 introduces StandBy, giving users a full-screen experience with glanceable information designed to be viewed from a distance when iPhone is on its side and charging. StandBy is perfect on a nightstand, kitchen counter, or desk, and can be personalized to display a range of beautiful clock styles, favorite photos, or widgets, including Smart Stacks, which surface the right widgets at the right time.
Journal is a new app that helps iPhone users reflect and practice gratitude through journaling, which has been shown to improve wellbeing. Using on-device machine learning, personalized suggestions can be provided to help inspire a user's journal entry. Suggestions are intelligently curated from recent activity, including photos, people, places, workouts, and more, making it easy to start a journal entry, and scheduled notifications can help build a journaling habit.
Safari adds greater protection for Private Browsing, both from trackers as a user browses, and from people who might have access to a user's device. Private Browsing now locks when not in use, allowing a user to keep tabs open even when stepping away from the device.
What iPhones will get iOS 17?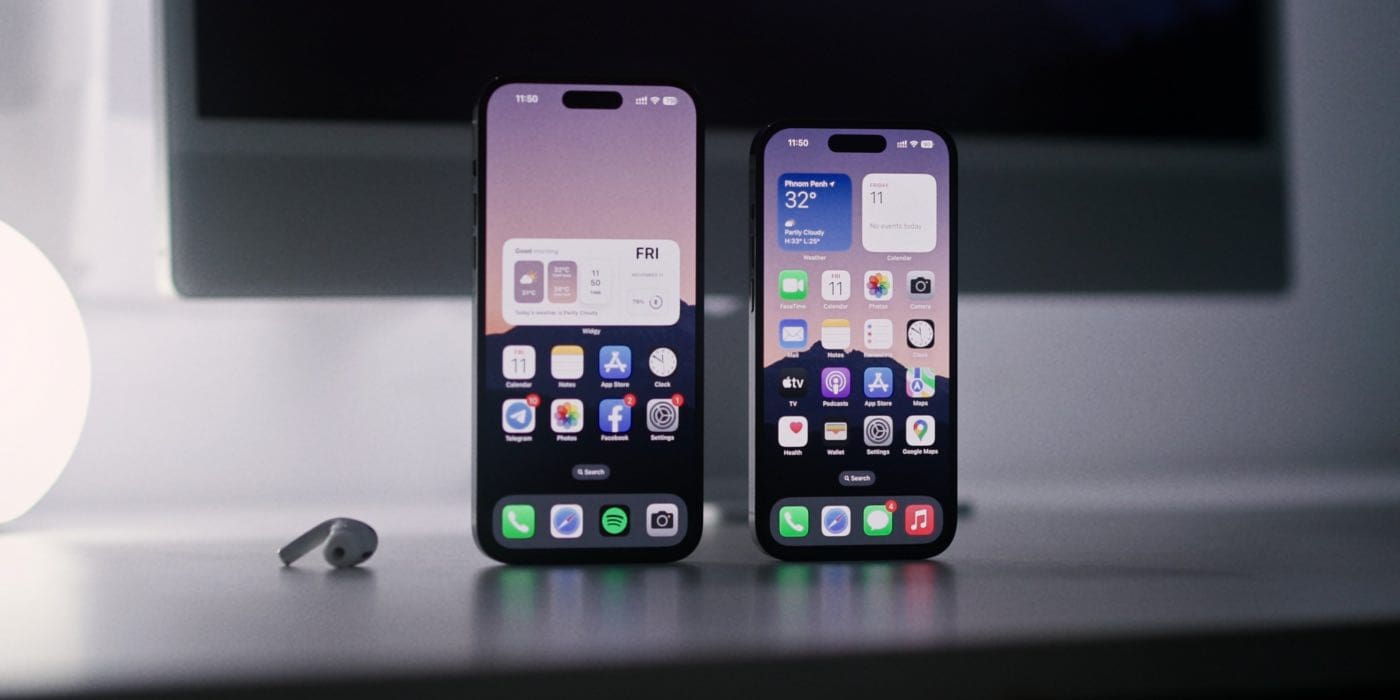 It's no secret that Apple is at the top of the mountain when it comes to keeping its older devices updated. And this trend continues with iOS 17, as Apple is bringing iOS 17 to the iPhone XR series from 2018. Apple did state that some features won't be coming to those older devices, but we'll have to wait and see what those features are.
iPhone 14
iPhone 14 Plus
iPhone 14 Pro
iPhone 14 Pro Max
iPhone 13
iPhone 13 mini
iPhone 13 Pro
iPhone 13 Pro Max
iPhone 12
iPhone 12 mini
iPhone 12 Pro
iPhone 12 Pro Max
iPhone 11
iPhone 11 Pro
iPhone 11 Pro Max
iPhone X

S

iPhone X

S

 Max
iPhone X

R

iPhone SE (2nd generation or later)
When will iOS 17 be released?
The first iOS 17 Developer Beta is available to download and install now. Provided that you have an Apple Developer account, that is. During the WWDC 2023 Keynote, Apple stated that the first Public Beta version of iOS 17 should be coming in July. Outside of that, we aren't sure exactly when that will be, as it could always be pushed back if there are issues with the software.
Apple also confirmed that the final version of iOS 17 will arrive this Fall. This is in line with Apple's schedule over the past few years. It's also likely that we'll see iOS 17 launch just ahead of Apple's announcement of its next iPhone.
Andrew is a freelance writer based on the East Coast of the US.
He has written for a variety of sites over the years, including iMore, Android Central, Phandroid, and a few others. Now, he spends his days working for an HVAC company, while moonlighting as a freelance writer at night.