Are your text messages showing phone numbers instead of names even for contacts saved on your iPhone? Unfortunately, several users get this issue when they update their iPhones or other iDevices to Apple's latest iOS or iPadOS version.
RELATED POSTS
This no-name problem is pretty darn annoying, and you may even find you're unable to use your Messages App when names don't show up. Think about it. How many of us can recite someone's phone number these days without having to check our phones first?
So if you're stuck with this Message app and iMessage contact names missing problem, this post's for you!
Here are a few tips that can help you fix all those missing contact names.
First Things First….
Look at your iCloud Contacts app
iCloud helps you organize and sync contacts between all types of devices, as long as they use the same Apple ID. So when you add or update a contact, iCloud makes that same change on all your devices–no need to manually update.
When you enable iCloud Contacts, all of the contact information stored on each device uploads to iCloud and syncs. So it may be that your contacts are not syncing between your devices and therefore are not updating the contact card with the name and other relevant information.
How to sync iCloud Contacts on iDevices and Macs
For iPhones, iPads, and iPods, go to Settings > Apple ID > iCloud > and toggle on the Contacts app. When asked to Merge or Cancel, tap Merge.
If already on, try toggling it off and choose cancel to force a sync.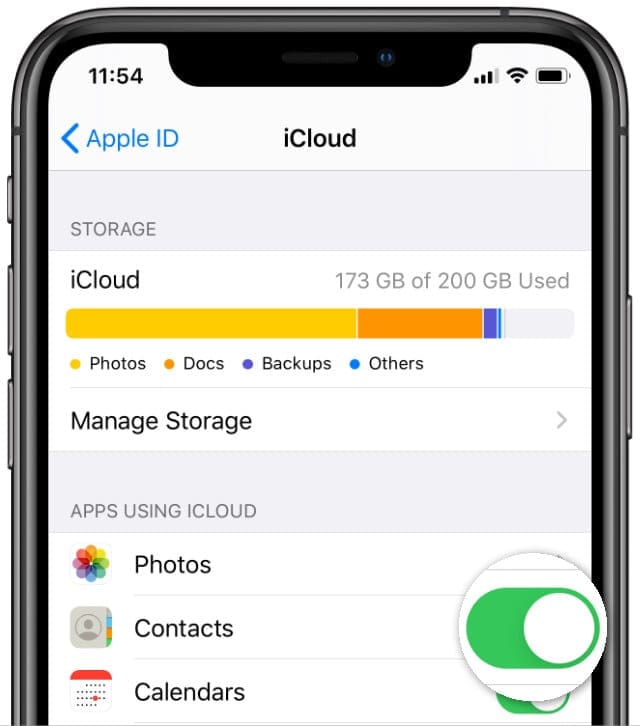 For Mac, go to System Preferences > Apple ID (or iCloud) >  and check the box for Contacts. All of the information stored in your Mac's Contacts app uploads to iCloud and syncs between all devices.
If already checked, tick it off, wait a few minutes, and tick it back on to force a sync.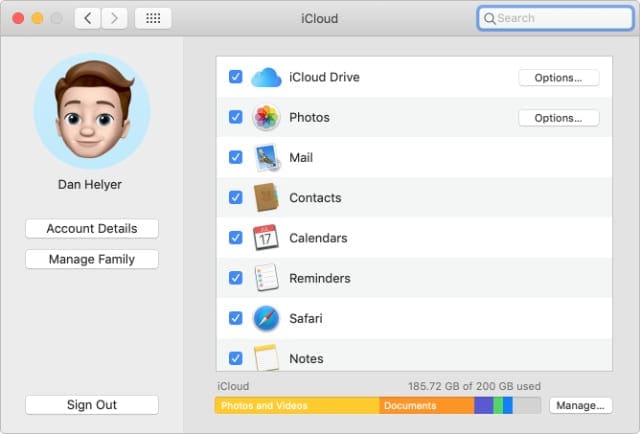 Check Your Contact App Settings!
Reader Corbett shared a great tip for looking first at your Contact App Settings. Open Settings > Contacts and toggle ON/OFF the Shortname and Prefer Nickname features in contacts. Then go back to your Message App and see if it's now working normally.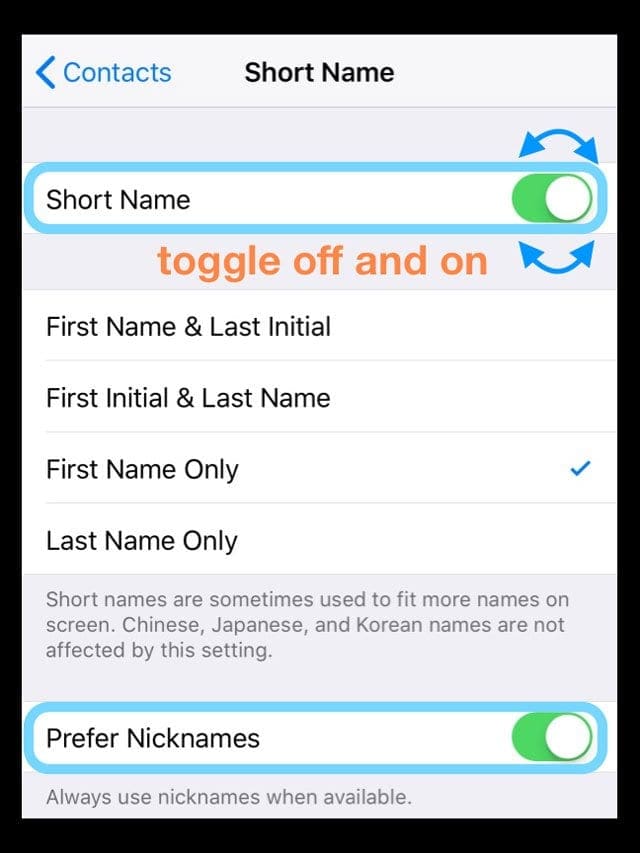 If that doesn't help, continue to these next steps
Step 1: Restarts!
As Apple recommends, when your iPhone or iPad isn't performing as expected, start your troubleshooting with a restart by holding down power until your device turns off. Then power up normally. Check if the problem is gone.
If that doesn't do the trick, try a forced reboot before heading to other fixes.
How-To Force Restart on various models
On an iPhone 6S or below plus all iPads with home buttons & iPod Touches, press Home and Power at the same time until you see the Apple logo
For iPhone 7 or iPhone 7 Plus: Press and hold both the Side and Volume Down buttons for at least 10 seconds, until you see the Apple logo
On an iPhone 8 or above and iPads without home buttons: Press and quickly release the Volume Up button. Then press and promptly release the Volume Down button. Finally, press and hold the Side/Top button until you see the Apple logo
It's a good practice to do a restart on your iDevice following any iOS update. And it often takes care of a lot of annoying issues.
But if restarting didn't help, read on!
Step 2: Check That Contacts Are Syncing
Next, make sure your contacts are syncing to your desired third-party accounts (like Outlook, Google, Yahoo, and so forth.) To check, go to Settings > Passwords & Accounts > and tap on each account listed.
Check that Contacts is toggled ON if you want those contacts to sync with your iDevice. For folks using iOS 10 and earlier, check Settings > Mail > Accounts and perform that same step of toggling on Contacts sync with each Mail account.
If that didn't help, look below for additional tips.
Quick Tips for iMessage Missing Contact Names
Try each of these tips one at a time. Then test before trying the next
Tap on Settings > Messages > MMS Messaging. Turn it off, wait 10-20 seconds, and turn it back on again
Toggle iMessage ON and OFF. Go to Settings > Messages > iMessage
Reset Network Settings. This action does remove any stored WiFi passwords, so make sure you know these before proceeding. Go to Settings > General > Reset > Reset Network Settings
Try forcing your Contacts to rebuild. Open any random contact on your iDevice. Make some edits to the information (like adding a fax number or home phone number—even if it's a fake number) and save. Restart your device by using the Slider to power off the device or Settings > General > Reset > Shut Down. Then power up your iPhone
Check that your iPhone's regional settings are correct
Go to Settings > Apple ID Profile > iTunes & App Store > Apple ID > View Apple ID. Update the region if necessary
Some users report success changing the region to something different, restarting, and then changing it back to their home country/region
Close the Messages App
On an iPhone or an iPad with no home button from the Home screen, swipe up from the bottom of the screen and pause slightly in the middle of the screen to open App Switcher
On an iDevice with a home button, double-click the Home button to open App Switcher
Swipe right or left to locate the Messages app
Swipe up on the app's preview to close it
Toggle Individual Account Contacts Off and On
Go to Settings > Accounts and Passwords.
Select each account that syncs your contacts with your device (like Gmail, Outlook, iCloud, and so forth.)
Open each account and toggle the Contacts button OFF

Toggle contacts off and on for each of your accounts.

Wait 10-20 seconds, then toggle Contacts back ON
After performing this on all connected accounts, check if the issue is solved
After iOS Upgrade are Contact Names Not Showing in Messages?
If you find iMessage showing numbers, not name OR some of your contacts (possibly all) are missing from your iDevice immediately after an iOS upgrade; one option is to restore them back from your iCloud backup.
This fix assumes that you are using iCloud to backup your Contact information. Check this in the screenshot below to see if you are backing up your Contacts via iCloud.
The easiest way to restore your Contacts from a backup is to tap on Settings > Your Apple ID  Profile > iCloud.
Here you find Contacts under "APPS USING ICLOUD." Toggle the Contacts button to OFF and choose Delete from my iPhone. Next, restart your iDevice and come back to this setting and turn back ON Contacts under iCloud.
The time it takes to download from iCloud to your iDevice depends on the total number of contacts saved to your iCloud account.
Using Multiple Contact Lists? Or Have Duplicates? 
If you're using multiple contact lists, like those from work and family/friends or your spouse's and kid's contacts and your contacts, a known issue is that when numerous accounts sync to a single iDevice, the problems arise.
This is especially true if these separate contact lists have the same contact in them–resulting in duplicates or even triplicates. So if you use multiple contact lists, try to combine those duplicates down into one master contact list. Users with this problem report immediate recovery after combing multiple contacts.
Remove Country Code for Home Country Contacts or Vice-Versa
Some users reported that they fixed this problem by editing or removing the country code (for the US that's the 1 at the beginning of a number). For some reason, iOS upgrades often add the country code even to contacts in your home nation. For those contacts, start the phone number with the area code and delete the 1 (or whatever your country code is.) Open your Contacts App to make these changes.
Conversely, a reader found that doing the opposite helped–adding in the country code. She ended up editing just one contact and added the +1 prefix to their mobile number and saved it.
When going back to Messages, right away, not only was that contact's name fixed, it somehow fixed all her contacts! After checking through all her contacts and testing by texting some friends/family, she removed the +1 from that single contact, and everything was still fixed.
Adding the Country Code to the contact number is definitely worth trying if your contacts don't have the country code.
Fixing the Missing Contact Names using Your MacBook
If you have tried the above without any success from your iPhone or iPad, you should definitely try this step if you have your MacBook handy.
This essentially forces the Contact app to re-sync with the iCloud thereby refreshing the information across all devices.
Open Your MacBook and launch the Contacts App ( Assuming Your Contacts are synced across all devices via iCloud).
Click on Preferences… from the Contacts top menu and choose Accounts. Here, select the iCloud Account and make sure to toggle the 'enable/disable' setting a few times, giving 15 seconds or so between the force enable disable. Your last step should be to keep this setting enabled.
Please make sure you are set to fetch automatically as shown in the image below.
Next, completely shut down your iDevice and MacBook, Restart MacBook and then Restart the iPhone or iPad.
Check if your contact names are showing up on your device.
Reader Tips 
Here are the steps that fixed it for Mike's Mac: go to Messages > Preferences >iMessage.  Choose Apple ID – sign out and then sign in again
I don't use iCloud to manage my Contacts. So instead, I manually sync them using iTunes (or Finder.) To do this, open iTunes or Finder and sync your device with the computer–repeat for any additional devices you own
Peter found this great tip for folks who use Gmail for contacts. If you use Gmail and your phone is hooked on there. Change it to iCloud. So in your phone go to Settings->Contacts->Default Account-> iCloud <– as in it will be Gmail, change it to iCloud
All you have to do is go to SYSTEM PREFERENCES > APPLE ID > APPS ON THIS MAC USING iCLOUD. Check the box marked "Contacts" and you're good to go!
Another Great Tip from Jeremy who used his MacBook to take care of this problem. He started by opening spotlight search on his mac, searched "contacts", signed in and then waited approx. 10 min for the spinning wheel to stop by "all exchange". Once this sync completed, all of his iMessages on the Mac showed contact names. Hope this helps.