Are you trying to login to iCloud's website using a browser on your iPhone, iPad, or iPod?  But don't see any login options to sign in to iCloud.com? Well, we've got you covered! Use our top tips to sign in to Apple's iCloud's site from ANY browser on your iPhone or any other iDevice!
You can now sign in to iCloud.com from any web browser including Safari using iOS 13+ and iPadOS. For older iOS versions, try to log in to icloud.com or beta.icloud.com using a third-party browser such as Chrome or Firefox.
Quick tips 

Follow these Quick Tips to get to your iCloud login page from an iPhone or iPad
Update to iPadOS or iOS 13+ to get instant access to Apple's iCloud's website using Safari or any other browsing app (Chrome, Firefox, and so forth)

iPadOS fully supports desktop sites and applications including icloud.com. So consider updating to iPadOS if possible–iOS 13+ supports a stripped-down version of iCloud's website as well

For older iOS versions, try using a third-party browser AND this site address instead (it's a beta version of icloud.com)–loading this site appears to take a lot longer than usual, so be patient
Use the Menu Feature Request Desktop Site from your browser of choice and visit the beta site of iCloud
Related articles
The Basics of iCloud
This post focuses on how to log in to iCloud.com on your iPhone, iPad, or iPod using a browser like Safari.
However, if you are new to iCloud or unfamiliar with Apple's iCloud service, we recommend you check out our articles on signing up for iCloud. And learn how to set it up on your iDevice.
Need to Access Just Your iCloud Files?
On your iPhone, iPad, or iPod touch with iOS 11 or later, access your files from the Files app
On iOS 9 or iOS 10, find all your files on the iCloud Drive app
Good news for iPads using iPadOS! iPadOS fully supports icloud.com natively
Apple upgraded Safari for iPadOS to make Safari on iPad a desktop-class browsing experience. That means with iPadOS you get the desktop versions of websites on your iPad including icloud.com.
Folks that updated their iPads to iPadOS are now able to access icloud.com without any workarounds or impediments. That's due to Safari's expanded role in iPadOS. When you type in icloud.com as your URL on your iPad using iPadOS+, you are automatically routed to the desktop icloud.com site!
icloud.com also works for iPhones and iPods with iOS 13+; however, when you type in the icloud.com address, the icloud interface is stripped down to just the Photos app, Notes app, Find iPhone, and Account settings.
Here's how to access icloud.com on your iPad with iPadOS+
Open Safari or your browser of choice
Type in icloud.com (or beta.icloud.com) as the URL address (on an iPad with iPadOS, if you type in icloud.com, you redirected automatically to the full iCloud site)
A pop-up asks if you want to sign in with the Apple ID that you use on your iPad (for iPadOS and iOS 13+ using the Sign In With Apple feature)

Tap Continue if you want to sign in with that Apple ID and confirm your identity with Face ID, Touch ID, or your device passcode
Tap Use Different Apple ID to sign in with another Apple ID and sign in with your Apple ID and password

If you don't see the pop-up, just log in with your Apple ID and password
Enter the two-factor authentication code if requested–Apple sends these codes to one of your registered devices including Macs. If you didn't receive the code, tap didn't get a verification code. Then, choose from the options to resend code, send to one of the phone numbers associated with your Apple ID, or more options for folks that don't have access to the previous options.
If this is your first time to this site on this device and browser, you're asked if you want to trust this browser or not

Tap Trust (the default) to accept. Once accepted, you won't be asked for a verification code the next time you sign into this site
Choose Don't Trust if this is not your device or if you don't want to save the trust settings
Tap Not Now if you don't want to make any trust decision

Your Apple ID and iCloud account opens, giving you access to the same settings and apps as the desktop version of iCloud including your account settings
To sign out, tap your name and choose Sign Out
How to access icloud.com on your iPhone or iPod touch with iOS13+
Follow the same steps as listed above for iPad using the URL for the iCloud site (use either icloud.com or beta.icloud.com)
Once logged into your Apple ID, you see a bare-bones version of the icloud interface with access to Photos, Notes, Reminders, and Find My iPhone, and account settings.
If you want to access your full suite of Apple apps on icloud.com, you need an iPad or a computer. There is currently no workaround to get the full set of apps on an iPhone or iPod.
Can I log into my iCloud on my iPad, iPhone, or iPod with an older iOS version?
It's quite easy to into iCloud.com using iPadOS, iOS13+, or any web browser on your computer (PC or Mac.) But not so for Apple's iDevices using iOS 12 and lower.
Apparently, Apple sees no real reason to log into your iCloud account from your iOS device with a legacy iOS version. They think that you already have access to all of your iCloud account's content on your iOS device.
As mentioned, Apple did not design the iCloud.com website for mobile devices. But with Apple products, there are almost always workarounds. And luckily, we have a couple of those up our sleeves here at Apple ToolBox that just might do the trick!
Apple limits access to iCloud.com on legacy iOS versions
Readers tell us that when they access iCloud's site on their iPhones, they see a sign-in page for Find My iPhone. Or they keep getting a blue loading bar moving from left to right without ever loading any content.
Unfortunately for folks that cannot (or don't want) to update to iPadOS or iOS 13+, iCloud.com is not easily accessible using Safari but there are workarounds using other third-party browsers!
So how do I sign in to iCloud on my iPhone, iPad, or iPod 

using any iOS version?

Currently, when you open iCloud's website (icloud.com) with any browser, including Safari, you see just the iCloud -Find My iPhone page.
So where the heck is the option to sign and login to iCloud.com? And why is there no login option?
The steps listed below might work or might not work. There doesn't seem to be a rhyme or reasons as to why they work one day and not the next. But it never hurts to try! Just remember that Apple is inconsistent in allowing access to iCloud.com.
Give the beta version of iCloud's website a shot
Some readers also found that this iCloud beta site worked on all types of devices (iPhones, iPads, and iPods), even if they had not yet updated to iOS 13 or iPadOS. It only worked when using a third-party browser like Chrome, Firefox, etc.
We even got this working on an old iPad with iOS 10.3.3 using request Desktop Mode and Chrome instead of Safari!
This beta site seems to take a lot longer to load and you often have to try it more than once to get it to work!
And unfortunately, at this time this iCloud beta site does not always work. When you try loading the beta icloud URL, you often get re-directed to the Find My service yet again.
Try Desktop Mode
Desktop mode is your Mobile iCloud login workaround!
You work around this by accessing iCloud.com on your iPad, iPhone, iPod, and even an Android device by using a browser feature called "Request Desktop Site."
For some reason, using browsers OTHER than Safari seem to better allow quick access to iCloud's site.
So if space permits, download a new browser to your iPhone or another iDevice. Chrome, Firefox, or Dolphin are good choices.  There are other browsers as well, just check out the app store for your browser options–and be sure to look at reviews first.
How to log into the iCloud's site from your iPhone, iPad, or iPod with Desktop Mode
Open Safari, Chrome, Firefox, or another third-party browser in desktop mode
Type in icloud.com or beta.icloud.com into the URL address bar
If the URL changes to icloud.com/find, remove the /find from the URL and refresh the page
Be patient, it takes a while to load!
For two-factor authentication, enter the verification code sent to another device
If needed Trust the browser on your device
For iPads, your iCloud information should show up with the same options as the desktop version
For iPhones & iPods, your iCloud information is limited to Photos, Notes, Find My app and your account settings
Example with Chrome: How to access iCloud.com
Open Chrome
Visit icloud.com or beta.icloud.com
Tap on the Settings Menu (3 dots on screen right)

Select "Request Desktop Site" from the menu options
If the desktop version doesn't appear, re-enter icloud.com or beta.icloud.com in the URL address bar

Log in to the desktop version with your Apple ID as you usually do

How to view Desktop Mode on additional browsers
For Firefox, tap the three dots Page Action menu
For Dolphin, tap the gear icon then the settings button and toggle on Desktop Mode
The downside of Requesting Desktop Sites
Desktop sites are usually not responsive to mobile device screens, meaning that you need to scroll around your device's screen to adjust the screen's layout. For some, it may even be may be too small to read.
If you find this is the case for you, put your iPhone or iPod into landscape mode. Then, touch your screen to zoom and scroll as needed.
You might also get a message from Apple that your browser is not supported.
If you see this message, try a different browser or use beta.icloud.com instead.
Seeing a welcome screen or iCloud Find My screen instead?
If your browser presents a welcome URL or iCloud-Find My iPhone screen rather than the iCloud browser login screen, first confirm you are using Desktop Mode for your browser. Then, try a URL refresh by tapping and holding the Refresh symbol in the browser's URL address bar. Or try the browser's refresh method for bringing up the desktop site.
You may also need to type in the URL again in the address bar.
This action should bring up the iCloud's browser login page.
Want to login to icloud.com using an Android device?
Try logging into iCloud the same way as iOS 13 by simply typing in icloud.com (or beta.icloud.com) as your URL. Android devices have access to Photos, Notes, Reminders, and Find My iPhone, and account settings
If that doesn't work, try requesting the desktop version of icloud.com (or beta.icloud.com) using your Android 's browser.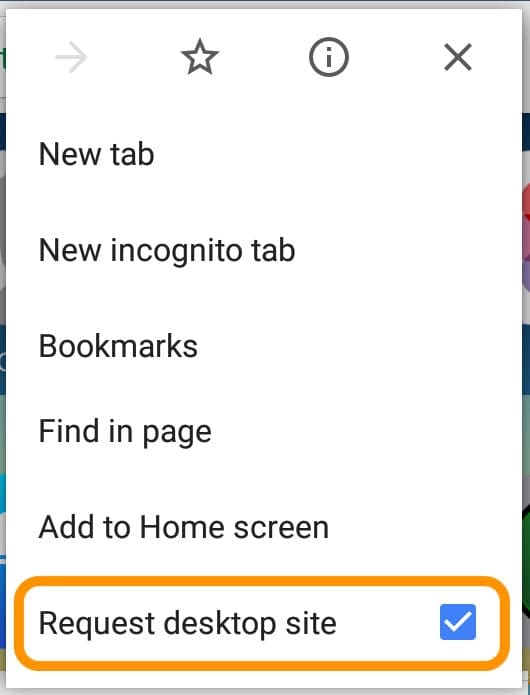 Why Even Bother to log in to iCloud.com?
Your iCloud account contains what's most important to you in your mobile life. Things like your contacts, Files app or iCloud drive, photos, notes, reminders, calendar, mail, and most importantly your backups.
And iCloud shares this information across all of your devices, including iDevices and your computers.
By logging into iCloud.com, you view and change any information you have stored in your iCloud account
When you sign in to iCloud.com from a browser, you are also able to check multiple iCloud accounts. You can even check iCloud accounts that not linked to your iPhone and other iDevices
Apple allows iDevices to only link ONE iCloud account (and Apple ID) to your device. So, using this browser-based method gives you access to all your iCloud accounts. That means you can move photos and other information between accounts!
And while logged into iCloud.com, you can use any of the iCloud.com apps. Any changes or updates you make are automatically stored and up-to-date on all your connected devices
But Apple does not make checking our iCloud accounts on our iPhones and iDevices mobile browsers easy!
No time? Check out our quick video tips
To get the big picture quickly, check out our Apple ToolBox video on how to log into iCloud.com from your iPad, iPhone, and other iDevices!
Send Apple your feedback!
If you don't like these changes to iCloud.com and find it makes using your iDevices cumbersome, consider adding your voice by providing Apple your user feedback using this link: Feedback for Apple's iCloud services including iCloud.com


Drop us a line
The biggest advantage of signing into iCloud.com from a browser is that you can check multiple iCloud accounts.  AND you can check accounts linked and not linked to your iPhone and other iDevices.
iDevices allow only ONE iCloud account (and Apple ID) to connect to your device. So using a browser to access your iCloud accounts helps you to move photos and other information between accounts!
Hope this tip helps.  Let us know in the comments if you have any other ways to login to iCloud.com from your iDevices.
Obsessed with tech since the early arrival of A/UX on Apple, Sudz (SK) is responsible for the original editorial direction of AppleToolBox. He is based out of Los Angeles, CA.
Sudz specializes in covering all things macOS, having reviewed dozens of OS X and macOS developments over the years.
In a former life, Sudz worked helping Fortune 100 companies with their technology and business transformation aspirations.