Everyone gets 5GB of iCloud storage for free. But those 5GB often aren't enough. What can you do to free up iCloud storage if you don't want to pay for more?
iCloud storage is used for backups, photos, videos, documents, emails, and app data. But as you get more Apple devices, you don't get more free storage. Those 5GB can vanish pretty quickly and when they do you'll encounter a range of problems.
Check out our 15 iCloud Tips Video or read text below
With your iCloud storage full you won't be able to upload photos or videos, your device won't make any new backups, your text messages won't sync across devices, and your iCloud email account will be practically unusable.
The only way to free up iCloud storage — if you don't want to pay for more — is to delete content. 
Deleting content isn't necessarily as dire as it sounds. It could be that an unused backup is clogging up your storage, or that your photos are better suited to an alternative cloud service. Whatever the solution, you'll find it below in our 5 essential tips to free up your iCloud storage.
Before going any further, you should consider making a copy of your important iCloud data.
Related Posts:
View Your iCloud Storage
First things first, let's show you how to check your iCloud storage. Navigate to the Manage Storage screen to see a breakdown of exactly how much iCloud storage is being used, and what's using it.
How to View iCloud Storage on iOS:
Go to Settings > [Your Name] > iCloud
Tap Manage Storage
How to View iCloud Storage on macOS:
Open System Preferences > iCloud
Click the 'Manage…' button in the bottom right
1. Photos and Videos
If you're like most people, photos and videos take up the majority of storage on your device. It could be that they're taking up your iCloud storage as well!
If this has happened to you, there are two options: delete unwanted photos or move your library elsewhere.
Delete Unwanted Photos
These days, it's easy to take more photos and videos than we need. You may find that you could free up several GBs of space by pruning your library, although it can be time consuming to do so.
With iCloud Photos turned on, deleting a photo or video from iCloud is as simple as viewing it on any device and pressing the delete button. Remember, you'll need to empty your Recently Deleted album before you can see the benefits of this clear out in your iCloud storage.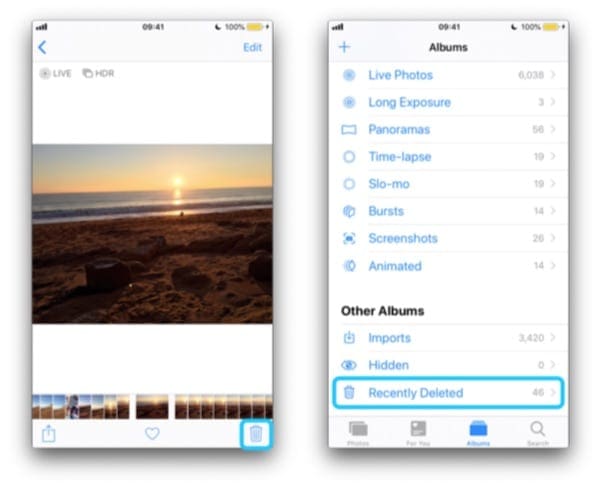 If iCloud Photos is turned off, only photos or videos in the Photo Stream will be impacting your iCloud storage. That means you'll only benefit from deleting photos taken in the last 30 days.
Move Your Library Elsewhere
Sorting through a photo and video library is often time consuming and dull. Instead, you might want to move your entire collection off of iCloud and into an alternative storage space.
One alternative is to keep your photos and videos on the device itself. You can do this by turning off iCloud Photos and Photo Stream in the iCloud settings. However, doing so is likely to mean that you'll be unable to complete an iCloud backup because 5GB still isn't enough space to back up all your photos and videos!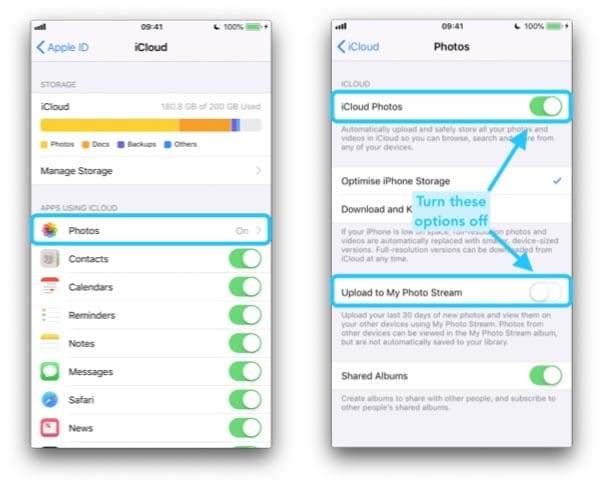 Instead, consider exporting your library to a computer by plugging in your device. Or transfer your library to an alternative cloud service such as DropBox or Google Photos, which offers unlimited photo storage for free.
2. iCloud Drive
iCloud Drive is great for the ability to access your documents anywhere with an internet connection. But if that isn't a service you use or need, you don't want to be spending any of your iCloud storage on it.
Edit the content of your iCloud Drive from the Files app on iOS or Finder's iCloud Drive folder in macOS. You can choose to delete unnecessary documents or copy them to an alternative storage space, such as Dropbox, Google Drive, or the device itself.
When you're certain there is nothing irreplaceable in iCloud Drive, you can turn the feature off completely from the iCloud settings of your device.
If you have a Mac, your Desktop and Documents folders might be automatically syncing to iCloud Drive. When this is the case, you can't delete these potentially large folders without them reappearing automatically. Instead you will need to turn the feature off in the System Preferences on your Mac.
How to Turn Off Desktop & Documents Folders in iCloud Drive:
Open System Preferences > iCloud
Click on the 'Options…' button next to iCloud Drive
Uncheck 'Desktop & Documents Folders' from the list
3. Backups
Possibly the least exciting but most practical use of iCloud storage is to keep an updated backup of your device. But with iPhones ranging up to half a terabyte in size, how could it possibly make a backup of 5GB or less?
Well, the answer is not to back up everything.
Visit the Manage Storage page in iCloud settings and tap the Backups button to see exactly what is being backed up. Tap on a device name and scroll down the list turning off any apps or data that you don't consider critical to a backup.
If you don't want to store an iCloud backup of that device at all — or if it's a redundant backup from an old device — tap its name and scroll to the very bottom to Delete Backup.
Alternatively, you can turn off iCloud backups entirely from the iCloud settings and choose to make regular backups to iTunes instead. This is less ideal, as you're more likely to lose data that hasn't been backed up, but is a quick way to free up a few GB of iCloud storage.
4. Emails and Messages
If you use an iCloud email address you're reliant on that 5GB of free storage. When your iCloud storage is full, you'll no longer be able to send or receive emails. At the same time, you may find that old emails saved in the Mail app are using iCloud storage you want for other means.
The solution is to go through your emails deleting what you don't need. Particularly any emails with large attachments, since these are saved in iCloud. Once you're finished, make sure to empty the Trash before checking how much storage you've saved.
Similarly, text messages from the Messages app are stored in iCloud so that they will sync across multiple devices. When your iCloud storage is full this won't happen and you'll only see part of the conversation on each device.
Once again, large attachments are likely the culprit for Messages taking up your iCloud storage. You can delete individual texts or entire conversations that you no longer want from the Messages app. Alternatively, choose to let your iPhone automatically delete old messages and keep your iCloud usage low.
How to Automatically Delete Old iPhone Messages:
Go to Settings > Messages
Scroll to Message History and tap Keep Messages
Select how long to keep old messages for
5. App Data
Generally speaking, we keep a lot of apps on our devices. And for smoother user experience, many of these apps take advantage of iCloud storage to keep synchronized. Oftentimes, that's harmless enough; but you may find that some apps are using more than their fair share of your 5GB storage.
From the Manage Storage screen in iCloud settings you'll see a list of every app using iCloud storage from most to least space used. Work your way down the list, focusing mainly on those at the top, to assess whether you want that app using any storage at all.
If you don't, go into that app and tap Delete Data. Then go back two pages to the iCloud settings and turn off the iCloud switch for that app entirely — so the data doesn't simply build up again.
Remember as well that all those little apps quickly add up. You might find that getting rid of 30 small apps you never use is a better option than removing one large app your need every day. It could add up to more storage space than you expect!
That's all there is to it. Following these steps should free up your iCloud storage as much as possible. If you still need more space, there's probably no other option but to upgrade your iCloud storage plan. Let us know how it worked for you in the comments!