Creating groups of contacts is a quick way to reach a bunch of people without having to add each contact into the To field one-by-one. Once created, all you need to do is type in the name of that contacts group and all the names and related information magically populates!
You can organize your contacts by creating groups where you can collect several contacts under one name such as work, soccer team, or family.
You can do this directly with iCloud. When you create a group contact using Contacts on iCloud.com, that group sync on all your devices signed in with the same Apple ID.
This tutorial assumes that you've turned on iCloud Contacts on your iPhone, iPad or iPod touch (Settings Apple ID > iCloud > Contacts).
Related articles
How to create a group on iCloud
On your computer (Mac or PC), visit iCloud.com and login to iCloud using your Apple ID and password. If you do not have access to a computer, please see this article
Tap Contacts then click the Add (+) button and select New Group from the menu that pops up
Type a name for your new group and press return or click anywhere outside the box to save it
You may create as many groups as you like. Groups appear in alphabetical order in the sidebar on the left
To change a group name, double-click it and type a new name in the text field
How to add contacts to your group
Now you have created a group but it is empty.
To add contacts to it, follow the steps below (you may also add contacts to your group using your iOS device as well, see below):
Click All Contacts
Now select one or more (Shift-click or Command-click to select multiple contacts) contacts from the All Contacts list, then drag them onto the group you just created.
If you have more than one group, you may add a contact to multiple groups.
How to change a group's name or delete it
Removing a group is easy. To do this either (a) simply select the group you like to delete, then press the Delete key or (b) select the group then click the Settings/options icon and select Delete.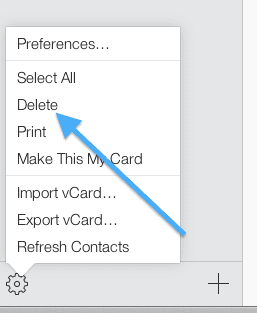 Note that deleting a group does not delete the contacts under it.
To change a group name, simple double click the group name you want to change, then enter a new name.
Also note that you cannot remove the All Contacts group.
How to delete a contact in your group
If you would like to remove a contact from your group, select the group then the contact to remove and either (a) press the Delete key or (b) click the Settings/options icon and select Delete.
Note that deleting a contact from a group does not delete that contact from your All Contacts list. It just removes it from the group.
Now check your iOS device.
Your new group contacts should sync automatically across all your devices
Now open your Contacts app on your iPad, iPhone or iPod touch, tap Groups (if you do not see  Groups, simply tap the refresh sign)
How to add a contact to your group using your iPhone or iPad
As I said above, you may add contacts to a group using your iOS device.
You do not need to login to your iCloud account each time you want to add contacts. To do this:
Launch the Contacts app on your iPhone or iPad
Tap Groups
Select the group name that you want to add a contact to then tap Done
Now add a contact by tapping the (+) sign and add your contact details
Obsessed with tech since the early arrival of A/UX on Apple, Sudz (SK) is responsible for the original editorial direction of AppleToolBox. He is based out of Los Angeles, CA.
Sudz specializes in covering all things macOS, having reviewed dozens of OS X and macOS developments over the years.
In a former life, Sudz worked helping Fortune 100 companies with their technology and business transformation aspirations.