The Favorites feature for contacts on the iPhone has come a long way since its introduction. With the latest version of iOS, you now easily organize your favorite contacts on your iPhone. And Widgets adds new functionality to quickly access your favorite contacts.
Unfortunately, several of our readers report that their iPhone favorites feature is not working as expected. In this article, we discuss some of the issues related to times when your iPhone's favorite contacts not working. And we provide some tips to deal with these issues.
Finally, we show you how to integrate the widget's functionality in iOS for use with all your favorite contacts.
Related Articles
Check that Contacts are syncing
Before you troubleshoot, make sure your contacts are syncing to your desired third-party accounts (like Outlook, Google, Yahoo, and so forth.)
To check, go to Settings > Passwords & Accounts > and tap on each account listed
Check that Contacts is toggled ON if you want those contacts to sync with your iDevice

Look at your Password & Accounts settings to see if Contacts sync from elsewhere.

If you already toggled on Contacts, toggle it off but choose Cancel, to force a quick resync
For folks using iOS 10 and earlier, check Settings > Mail > Accounts and perform that same step.
Favorite Contact list shows different numbers
iPhone favorite contacts not working: Symptoms
You have set up the favorite contacts correctly on your iPhone. Most of your contacts may have more than one phone number, one for their work phone and one for their cell phone.
Unfortunately, in your favorites list on your iPhone, you can only see one of these phone numbers, which may not be the right one.
Trying to update the number to the correct number doesn't work as it defaults back to the phone number it has.
This can be super annoying as you are unable to use the right phone number for the contact.
Take care of duplicate contact information
The favorite list feature on your iPhone integrates with your contacts app as well as iCloud. These problems usually happen when your contacts are out of sync, or you have duplicate contacts.
Step – 1 check for duplicates
Check to see if you have duplicate contact information. Have you set up two contacts for this person, one with the work number and another with the cell phone number?
Log in to iCloud's website, open the contacts app there and check for duplicates.
Need remote access to your iPhone's Contacts? Head to iCloud.com and click on this web app.
Step – 2 edit, merge, or delete any duplicate
If you verify that you may have set up multiple duplicate contact cards, trying to find and edit one by one on iCloud's website is a manual process that requires some elbow grease.
A better way is to open the contacts app on your Mac and use the Look for Duplicates tool!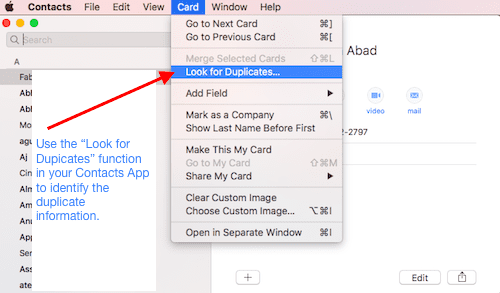 Go to the "Card" Menu and then "Look for duplicates". Here you can choose the "merge the duplicates".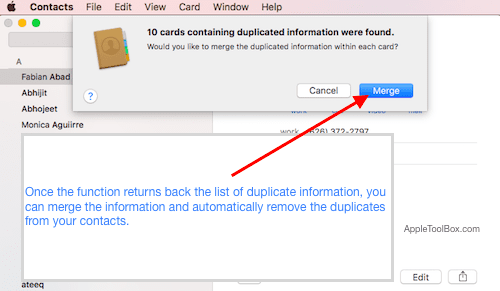 Once you have corrected the problem using your Mac, it automatically syncs with your iPhone if you have the contacts enabled for iCloud on both your Mac and iPhone.
Managing linked contact information
The link contact feature in your contacts app is helpful when you have multiple accounts. This allows you to link different contact information for the same person that you have on your device.
For example, you may have one set of contact information from Gmail and another set of information that you manually entered for this person.
The link contact feature helps you merge this information. By linking both the cards, you combine that information and use it via one card.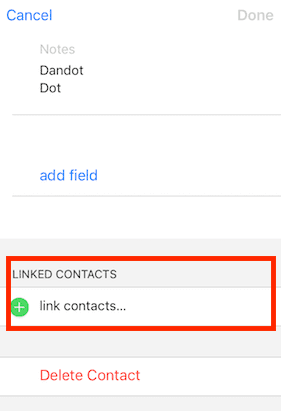 If your favorite list is showing the wrong number, link the accounts for that contact if you have not already done so.
Step – 1
Open the contact card for the entry that you are having the issue within your favorites.
Scroll down to the bottom and check for multiple accounts (e.g. iCloud, Gmail, etc) for this contact.
Step – 2
Change the Phone numbers for both the accounts to show the same set of numbers.
Essentially you are assigning the same work number and cell number to both the linked accounts.
Step – 3
Now open up the favorites and you should see both the numbers correctly reflected.
Unable to add new numbers to your favorites? It could be iCloud
If your contacts are set up correctly and you do not have the duplicate issue or wrong link information, chances are that there is something weird happening when you sync with iCloud.
In order to tackle this issue, just perform a few simple steps.
Tap on Settings > Apple ID > iCloud > Contacts
Toggle Contacts off
At the prompt, choose Cancel to force a sync
If that didn't work, a more drastic measure is to sign out of iCloud
Go to Settings > Apple ID 
Scroll down and sign out of your account, then sign back into your Apple ID account to resync
This now allows you to add new numbers to your existing favorite list and retain that information.
Using favorite contacts via the Favorites Widgets
With iOS 10 and higher, you can use the widget's functionality and set up your favorite contacts so that they are easily accessible to you.
5 easy steps to add your favorite contacts widget to your iPhone
Open your Widgets screen on your iPhone by swiping right on the home screen
Scroll down and tap on Edit
Look through the list of available widgets on the screen and locate Favorites
Tap on the "+" button to add it to your widgets

Swipe or tap to add and remove widgets.

Drag the favorites widget and align it to the position that you want
Tap on Done and this shows your top 4 favorite contacts on your widget screen. Show more will expand and show you up to a total of 8 favorite contacts.
The favorite widget also remembers the preferred method of communication for your favorite contacts.
When you tap on the favorite contact on your widget screen, it uses the preferred method of communication that you have set for this contact.
You can customize the preference your widget shows for your favorite contacts, via the Phone app's favorite tab.
Favorites widget not loading and says unable to load?
If you recently updated your device and now the widgets menu shows your favorites widget as unable to load, try these steps.
Open the Phone app
Choose the Favorites tab from the bottom menu options
Tap Edit
Remove all your current favorites by tapping the red minus sign next to each listed contact and swipe to Delete
Go back to your widgets screen, and verify that your favorites widget now shows no favorites
Return to the Phone app, tap Favorites, tap the plus sign at the top and add all your favorites back in
Go back to your widgets screen and check if your favorite widget is now correct
How to add or remove contacts from your Favorites on iPhone
Open your Phone app and tap on the Favorites tab on the far left bottom
Tap on the "+" button on the left top of the screen to add a contact as your favorite
Here you can designate the mode of communication to be saved along with the contact

This allows the contact to be saved along with preferred communication into the widget as well

To remove a favorite, swipe and tap Delete or tap Edit and tap the red minus sign next to the contact you wish to remove from your favorites
Or use the Contacts app to designate your favorite contacts
Open the Contacts app
Tap one of the contacts you want to add as a favorite
Scroll down on the contact card
Tap Add to Favorites
Choose your preferred method to communicate with that favorite–this is the method that shows up in the favorites widget
In Summary,
There are many third-party apps out there that help you in effectively managing your contacts and are popular with users. We have found the Apple Contacts app pretty efficient when it comes to doing the basics and integrating well with all the other apps. After having used the default app for so long, it is hard to change over to a new app.
As long as we follow the basic rules of setting up clean contacts and manage them through the iCloud sync process, the contact features work very efficiently across the numerous Apple apps.
We hope that you found these tips helpful. Please take a moment and share it with others. Please let us know if you are having other issues with the contacts/favorites functionally on your iPhone by using the comments below.
Obsessed with tech since the early arrival of A/UX on Apple, Sudz (SK) is responsible for the original editorial direction of AppleToolBox. He is based out of Los Angeles, CA.
Sudz specializes in covering all things macOS, having reviewed dozens of OS X and macOS developments over the years.
In a former life, Sudz worked helping Fortune 100 companies with their technology and business transformation aspirations.