Is your iPhone suddenly not ringing or making any sound when you receive an inbound message? Have you recently missed an important text because your phone didn't notify you? Wondering why you didn't get an alert when someone recently texted you? If so, you are not alone! Several of our readers report their iPhone and iPads suddenly stop alerting them when new texts or messages arrive. Obviously, this issue causes a lot of trouble for folks, especially when missing those really important messages from family, friends, and workplaces. It's really frustrating when you never hear your texts!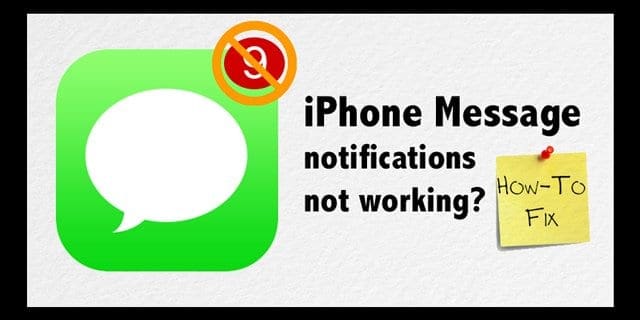 Here's how it's supposed to work: you receive any new message, your iPhone or iPad alerts you with a sound, an on-screen alert, and a vibration. This process should work for all new incoming messages, whether it's an iMessage or an SMS text. But if you find it's not working like it should, and your iPhone's not alerting you of texts, we've got some tips to fix it quickly!
How-To Fix Not Receiving Sound With Incoming Text Messages
Check Your iPhone Text Message Sound Effect & Select a Text Tone
Yup, sometimes it's the easy things that fall through the cracks. So let's make sure that you selected a tone for your incoming text messages! Go to Settings > Sounds & Haptics > and scroll down to the section Sounds and Vibration Patterns. In this section, look for Text Tone. If this says None or Vibrate Only, tap it and change the alert to something you like. 
Use Your Text Tone Default!
A couple of our readers found a quick solution, just change your text sound to the default and simple Ding or Note. Readers noticed problems with texts not consistently sounding alerts when using longer alert tones. So stick with the defaults!
To update, go to Settings > Sounds & Haptics > Text Tone and change to the default, listed in parathesis such as Note (Default.) 
Look at Date & Time
It's always good to check that our date and time is correct and ideally "Set Automatically" is toggled on. If our phone's or iPad's time is incorrect, this may explain why you aren't getting notifications and alerts promptly. A mismatch with your Date&Time can cause a whole host of problems. So let's check it out. Go to Settings  > General > Date & Time  and toggle on Set Automatically. If this is already on, toggle it off, wait 20 seconds, and turn it back on again.

Update Notification Banners
Oftentimes, your new text notifications appear but disappear so quickly that you may just miss seeing them. Fortunately, there's a way to change your text banners from temporary to persistent.
Persistent banners require you to take an action before they disappear, while temporary banners go away after a short time on-screen. Both types appear at the top of your screen.
So if you're missing notifications, try changing to persistent banners and see if this makes a difference. Go to Settings > Notifications > Messages and just below Show as Banners, tap on the icon for Persistent. Confirm your selection by checking that the word Persistent is circled. 
No Text or Message Notification? Check Do Not Disturb (DND)
First, check and see if you've accidentally (or purposefully) turned on Do Not Disturb. Go to Settings > Do Not Disturb and make sure it's toggled OFF. Or swipe up control center and look for the crescent moon icon. If it's highlighted, it's on. Tap it to turn off.
While you're at it, also check Do Not Disturb While Driving
For those using iOS 11 and above, Apple added a great feature to silence notifications for folks while driving. While handy, if DND while driving stays on, you won't get any notifications and your screen remains dark–no alerts appear on the screen. So if you're experiencing problems with message alerts, check that this setting isn't inadvertently ON.
Go to Settings > Do Not Disturb > and scroll down to the area marked Do Not Disturb While Driving. Your options are Automatically, While Connected to Car Bluetooth, or Manually. If set to Automatically, DND is active when it detects motion similar to driving, even if you're a passenger! For that reason, we recommend setting it to Manually and toggling on and off via Control Center. 
To quickly access DND while driving, swipe up Control Center and locate the car icon. If it's highlighted, it's on. Tap to turn off. If you don't see this setting in Control Center, open your Control Center Settings and add it to Customize Controls.
Contact Specific Do Not Disturb
If you notice that only certain contacts don't show or play alerts, then make sure Do Not Disturb isn't on for that particular contact. 
To check, scroll through your messages and look to the left of each conversation's name. If you see a crescent moon icon next to the contact, you've somehow activated Do Not Disturb Mode for that person/contact. Edit the contact's details by pressing the "i" and turn OFF Hide Alerts (or Do Not Disturb.)
Alternatively, if you already know which contacts' texts are not alerting, tap on a message from the contact and press the "i" and toggle OFF Hide Alerts (or for previous iOS versions, Do Not Disturb.)
Look at Bluetooth
If you've recently connected to a Bluetooth device, sometimes that connection remains and alerts are sent to it rather than your iPhone or iDevice. To check, go to Settings > Bluetooth and check if any of your Bluetooth devices are connected and routing sound. If so, disconnect or unpair that Bluetooth device.
Alternatively, if you're not currently using any Bluetooth device, disconnect devices by swiping up Control Center or turn Bluetooth off by going to Settings > Bluetooth > Off.
Paired to an Apple Watch?
If your iPhone pairs to an Apple Watch, by design your paired iPhone does not chime when a new text arrives. Instead, it routes alerts to your Apple Watch, especially when the iPhone is locked.
As of now, there is no option to play a sound alert on BOTH your Apple Watch and your iPhone at the same time. It's one or the other, based on the locked status of your phone. The rule of thumb is if your phone is unlocked, notifications go to the iPhone. If your phone is locked, notifications go to your watch. 
If you're experiencing a problem with notifications not routing to your Apple Watch correctly, it's best to unpair and then repair your Apple Watch to your iPhone.
Check Your Side Switch
Most of our iDevices come with a side switch that mutes audio. So take a look a see if your device's Side Switch is set ON.

If your switch shows orange, it's on. For most devices, that means it's in silent mode and vibrates for all alerts and incoming calls. On some iPad models, you can set the side switch to either mute or screen rotation. With these models, go to Settings > General > Use Side Switch To and check which feature you selected (mute or lock rotation.)
In certain situations, your iDevice still alerts you EVEN WHEN muted (like alarms and calls from Favorites) so even if your iDevice appears to have mute off, it's a good idea to verify that.
Saved by the Bell!
Control Center offers an easy way to check that Silent Mode isn't activated. Swipe Up Control Center and look for the Bell icon. If it's highlighted and shows a line through it, silent mode is ON. Tap it to disable and your notification sounds should return.
Change What Sends & Receives
Go to Settings > Messages > Send & Receive.  Look under the section: You Can Be Reached By iMessage At. If your email address is checked, deselect it. Select only your phone number and see if that solves the problem.
Turn Notifications ON
It's common to inadvertently turn notifications off. So best to make sure they are indeed on. Check Settings > Notifications > Messages > Toggle ON Allow Notifications. 
Next, make sure you choose a good alert sound. Go to Settings > Sounds > Text Tones. And choose an alert sound that you like and that you'll definitely hear.
For older iOS versions, visit Settings > Notifications > Messages > and Turn OFF Show in Notification Center. Restart your iDevice and then turn Show in Notification Center back ON.
Toggle Message Notifications Off and then Back On
Return to Notifications > Messages and toggle OFF. Then turn off your iDevice and turn it back on.Then turn notifications back on for messages and it often fixes the problem.
No notifications or alerts when the phone is locked?
Not getting notified of messages coming in when iPhone or another iDevice is locked? If you're not seeing or hearing any alerts only when your iPhone or iDevice is locked (display sleep mode,) check that you have enabled Show on Lock Screen. Go to Settings > Notifications > Messages and verify that Show on Lock Screen is toggled on.
For sound alerts, also check that Settings > Notifications > Messages > Sounds has an alert type selected and does not display None or Vibrate Only, unless that's the setting you want.
Reset Network Settings
Sometimes your network needs a refresh which in turn refreshes your connections to Apple's Messages server. So let's reset your network settings by going to Settings > General > Reset > Reset Network Settings.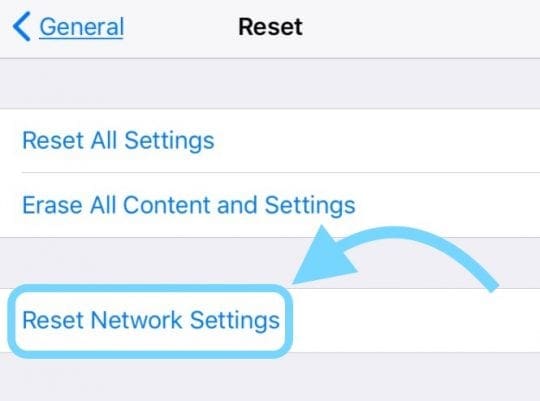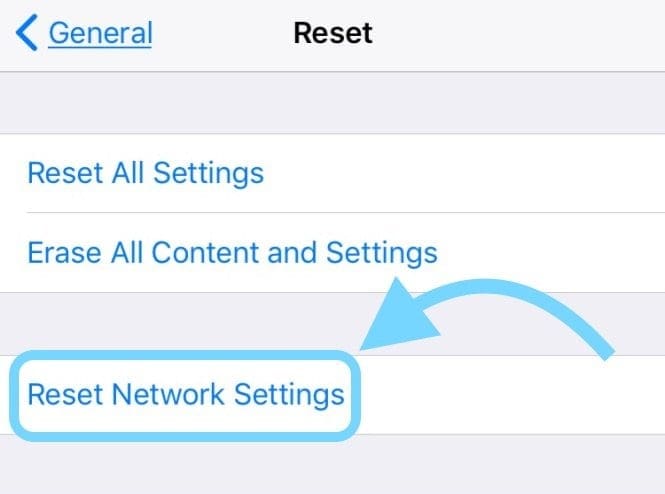 Don't worry, this action DOES NOT impact your data, including apps, photos, documents, files, and so forth. It does wipe out any WiFi passwords, so write those down before you reset your network settings.
Update Your DNS Servers
Another option is to change your DNS settings from your local ISP to Google's Public DNS. Go to Settings > WIFI > Tap on Your Network Name > Configure DNS > Manual > Add Server. Then type in 8.8.8.8 and 8.8.4.4 and press Save.
If deleting your current DNS Servers, write those numbers down so you have them, if needed. For more information on changing DNS Servers, see this article.
Switch it Up!
Another option is to change the way your device connects if that's available on your iDevice. If you're using WiFi, try turning it off and connecting via Cellular Data. Or vice-versa—connect to WiFi instead of Cellular Data.
Changing the way we connect often jump starts our devices and gets notifications and alerts back in business!
Ask Someone to Call
Admittedly, we aren't sure why this works but it often does! Ask someone to call you using the Phone App. When the call shows up on-screen, toggle the side switch or mute button back and forth a couple of times, landing in the OFF position (no orange.)
Try A Settings Reset
If none of the tips work for you, let's try and reset all your iPhone or iDevice settings. Don't worry, this action DOES NOT impact your data. But it does return all your personalized settings to defaults, meaning you need to reenter things like passwords, Touch ID fingerprints, WiFi passcodes and so forth. So, yup, it's very time-consuming, but many of our readers report it works.
Go to Settings > General > Reset > Reset All Settings
When in Doubt, Restart!
If nothing helped thus far, restart your iDevice by pressing the power button and sliding it off. Then turn on as usual.
If that doesn't help, try a forced restart by holding down both the Power and Home (or Volume Down for iPhone 7 and above) button until you see the Apple Logo, then release. A forced restart is a hardware level restart of your device. It immediately cuts power and interrupts all processes. That means it clears what's in the RAM, which in turn often fixes minor issues. And don't worry, there's no data loss–all your apps, games, photos, documents and login settings remain as is!
Reader Tips 
Delete the entire message thread. Everything else failed.  Was getting messages from one contact with no notifications even though I checked everything else in this list. Then just deleted the entire message thread from that ONE contact via the iMessage main screen. It was the only thing that worked beyond a complete wipe to a factory reset.
There's a setting called SILENCE under Do Not Disturb, that has two options: Always and While iPhone is locked. Switch it to the unchecked setting (for me While iPhone is locked was checked so I changed it to Always.) Once I switched that setting, my audio notifications returned for both messages and emails! It doesn't make sense but it worked, go figure
When all else fails, delete ALL of your message conversations. I mean everything so it's totally blank. Then force restart your device and presto, notifications work!
I fixed my problems by going to the Contacts App and editing their Text Tone to Ding. After saving that, I returned to the Contacts App and changed their Text Tone back to what I originally wanted. I find that reassigning the text tones fixed the overall notification problem
It seems that with iOS 11,  that notifications don't show up if you have Show on Lock Screen toggled off. This doesn't make any sense. iOS 10 and earlier showed all my notification as soon I unlocked my phone. It doesn't seem to matter If I set them to "Temporary" or "Persistent" Banner Notifications, either way they don't appear unless I allow them to show up on the lock screen. I'd rather they didn't show on my lock screen—for privacy's sake! IN CONCLUSION, this is a bug that needs fixes asap!