Are you planning an event? Keeping in touch with school friends? Heading up a team project at work?
We often need a way to communicate with many people at once. Fortunately, iMessage group chat lets us do just that.
iMessage lets you send texts, photos, audio clips, and video — whatever's needed to get your message across! In an iMessage group chat, multiple people can receive and reply to these things, all in the same conversation.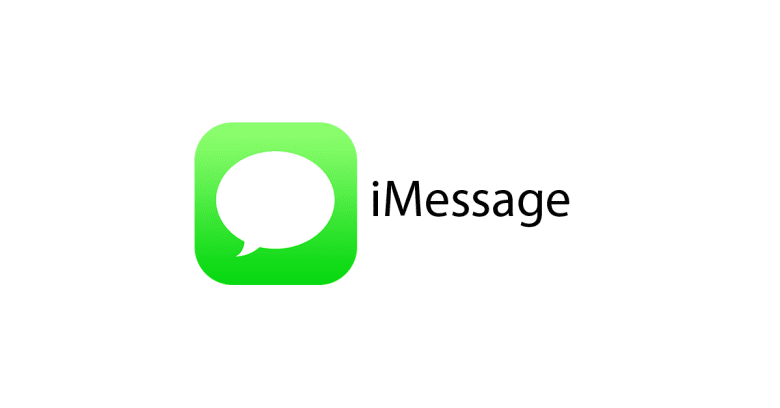 All that's needed is for users to have an Apple ID and internet access.
iMessage group chat has countless valuable uses. We'll show you exactly how to use it from creation to deletion and everything in between. Read below to find out more.
Quick tips
Quick tips to create and send group messages on iPhones, iPads, and iPods
Check that MMS Messaging is turned on for any texts to Android or other mobile devices. Go to Settings > Messages and toggle on MMS Messaging
Open the Messages app
Create a new message
In the To field, enter all the recipients' names or tap the plus sign to add contacts
Create your message
Tap the send arrow
Related Posts
What is a Group iMessage According to Apple?
It's confusing! So here's what Apple considers to be the three types of group messages.
Group iMessage–all participant messages are sent from Apple devices using an Apple ID with iMessage turned on. You see all responses
Group MMS–group participants send messages from Apple devices and non-Apple devices. Group MMS supports photos and videos as well as texts. You see all responses
Group SMS–group participants send messages from all types of devices without any multimedia support. Messages are sent as individual texts and people fo not see the responses from the group as a whole
Apple only fully supports one of those groups: Group iMessage
Yes, that's right! Your iPhone only truly supports iMessage only group messages, where all participants use Apple devices and the messages are in blue bubbles!
Only iMessage group messages allow you to name a group, add or remove people from the group, or leave the group.
How to tell between an iMessage group and an SMS/MMS?
It's easy. iMessage groups are always blue bubbles while SMS/MMS are green.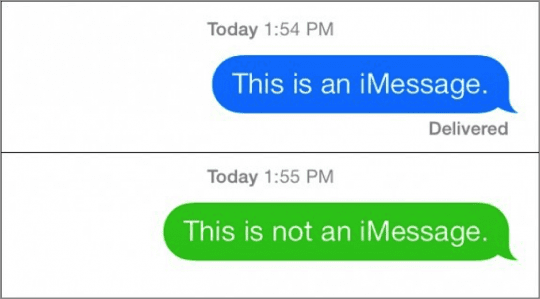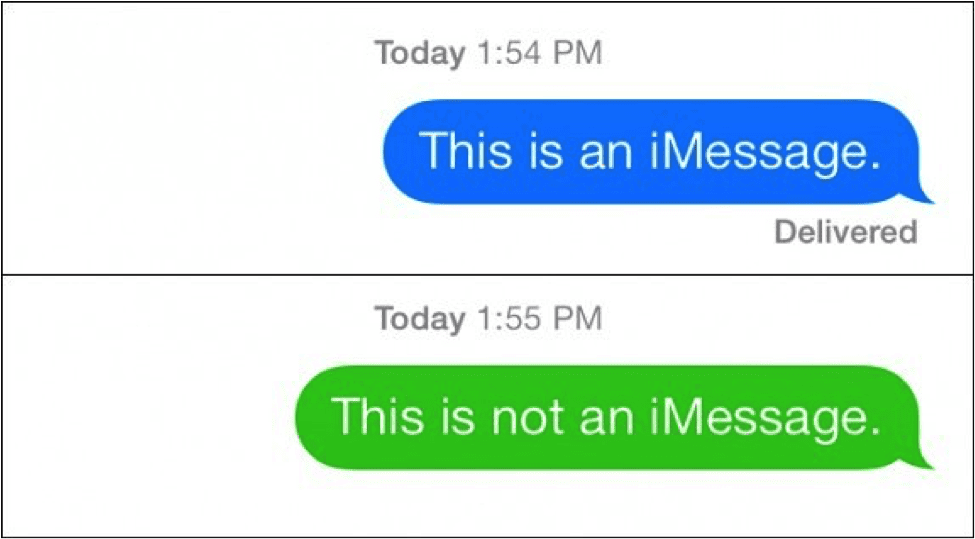 How to Create an iMessage Group Chat
First things first, let's create a group chat.
Ideally, everyone you wish to contact has an Apple device allowing them to use iMessage. If not, you'll be limited to SMS or MMS groups: your network may charge to use these. Either way, the group chat creation process is the same.
Open the Messages app on your Apple device of choice.
Tap the pencil and paper icon to compose a new message
In the "To:" field type the name, number, or email address of everyone you wish to add
Or tap the plus icon and find them in your Contacts list
As you add contacts their names will appear in blue or green

Blue means they have access to iMessage — great!
Green means they don't have access and you're limited to SMS or MMS–not great…
With your list of contacts added, type a message below and tap send
Your group chat is created and anyone in the group can read and reply to your message
The maximum number of people you can add may be restricted by your mobile network
I was able to create a group of over 25 people as a test. However, other users have noted a limit of 10 or 20 members.
How to Name a Group Chat in the Messages App
Now that you know how to create iMessage group chats, you're going to want to learn how to name them.
Remember that you can only name a group iMessage. You cannot name a group SMS or MMS conversation.
The good news is that you can name almost any iMessage group as long as there are at least 2 participants.
Unlike other group iMessage features like Leave this Conversation and Remove a Member that require a minimum of 4 total members, you can name a group that has only two people. And of course, anything above two works as well!
Name Your Group Something You'll Recognize Right Away!
It's simple enough to see who you're talking in one-on-one conversations, but group chats and their various configurations can be tough to keep track of.
By default, the group is named after all of the members, causing it to quickly run off the edge of an iPhone screen.
This can be particularly confusing if you have multiple groups with slightly different members.
A better option is to change the name to something relevant, such as Work Buddies, or Cinema Club.
Just keep in mind that any name you choose will be visible to everyone in the group!
How To Create & Name a Group iMessage
To change the name, open the group chat and the pictures or profile buttons at the top of the Message thread
Then tap the "i" or information button at the top of the screen
This takes you to the Group Chat Details Page — a screen we'll be visiting a lot throughout this post
Tap the Enter a Group Name button and type your desired name

Tap the information button to change your group chat name
Don't See Enter a Group Name?
If you don't see this as an option, it's likely your group includes participants using non-Apple devices or folks that use Apple devices but have not signed in to iMessage with their Apple ID.
Remember, you can name only group iMessages, not MMS or SMS group messages.
How to Add Someone to the Group
It's common to need to add additional members as the group chat develops.
Perhaps you didn't have the contact details for someone initially, or maybe the focus of the group has shifted to include more people.
Either way, you'll want to know how to add people to the chat.
Add Member to the Group Message
To do so you need to visit the same Group Chat Details Page from before, this is found by tapping the information button at the top of the chat screen
From here you have the option to Add Contact
Like before, enter the specific details or search through your Contact List
Once added to the group, new members won't be privy to previous messages but they can receive and reply anything new sent to the group
How to Remove Someone from the Group
Inevitably, you'll want to remove people from your group chats. This could be because they were added by mistake or have grown disruptive. Whatever the reason, it's easy to give them the boot.
You're only able to remove users if there are more than two other members, to begin with — otherwise, you may as well just message the remaining person privately.
Once again you need to visit the Group Chat Details Page
From here, slide left on the person you want to kick out and tap the red remove button
After doing so, the removed is notified that they have Left the Conversation and won't be able to send or receive messages with that group anymore.
How to Mute Notifications
If the group conversation is lighting up you may want to mute your notifications for a while.
This could be if you aren't able to respond right away, or perhaps you're just sick of hearing your ringtone so much.
You can mute notifications for any conversation in the Apple Messages app using one of two methods
The first is to swipe left on the chat name from the initial list of conversations in the Messages app. This presents you with the option to Delete the conversation or to Hide Alerts. Choose Hide Alerts
The second method is to visit the same Group Chat Details Page. At the bottom of the page, turn on the option to Hide Alerts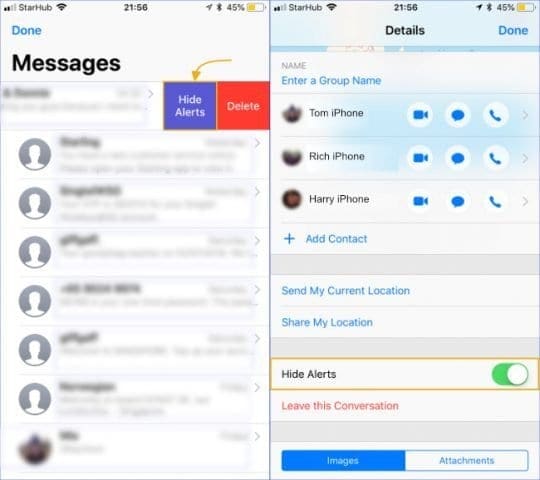 A moon icon appears next to conversations that are muted
You can still read and reply to messages, but you won't receive notifications for that chat anymore.
Make sure you don't neglect a group once you've turned the alerts off. You can switch them back on at any time by following the same steps again.
How to Leave a Group Chat
Eventually, a group chat will have no use for you anymore.
It could be that the purpose behind its creation has passed, or simply that you've had enough of the barrage of messages to keep up with.
If you want to leave a group chat you need to visit the Group Chat Details Page a final time.
At the bottom of the screen, you'll have the option to Leave this Conversation.
Doing so will notify the other members that you have left, and you'll no longer receive any messages added to the group — unless somebody in the group adds you again.
For more information on leaving group chats or how to remove others, see this in-depth article
The END
You should be very comfortable using iMessage group chat by now!
However, if you do find yourself with any questions or if it isn't working as expected, make sure to let us know in the comments and we'll be sure to help out.
Dan is a freelance writer based in South West England.
He spent two years supervising repairs as a Genius Admin for Apple Retail and uses that knowledge to keep our troubleshooting guides up to date.
Long before that, Dan turned to Apple products from a musical background. Having owned iPods for years, he bought a MacBook to learn sound recording and production. It was using those skills that he gained a first-class Bachelor of Science in Sound Technology.