iMessage is the Instant Messaging service by Apple for its devices like iPhone, iPads and Mac. Started in 2011 with iOS 5, iMessage works between Apple devices only. iMessages use wifi or cellular data to send and receive messages.
These appear in blue bubbles as opposed to regular SMS which appears in green. It works seamlessly across all Apple devices making it all that more convenient for Apple users with multiple devices.
The Difference between iMessage and Text Messages
iMessages are different from normal text messages (SMS, MMS) as they use internet for communication. You cannot send an iMessage to a person with, say an Android phone. It is exclusively designed for Apple users.
The idea of using Wifi or cellular data to send messages feels very similar to email but iMessages use the person's number or Apple ID and are very fast. Email is generally used for messages that do not require instant response. However, iMessage is an instant messaging service and is more like a chat box with messages flowing in and out rapidly. However, it does not provide instant video chat, we have a different app for that – Face Time!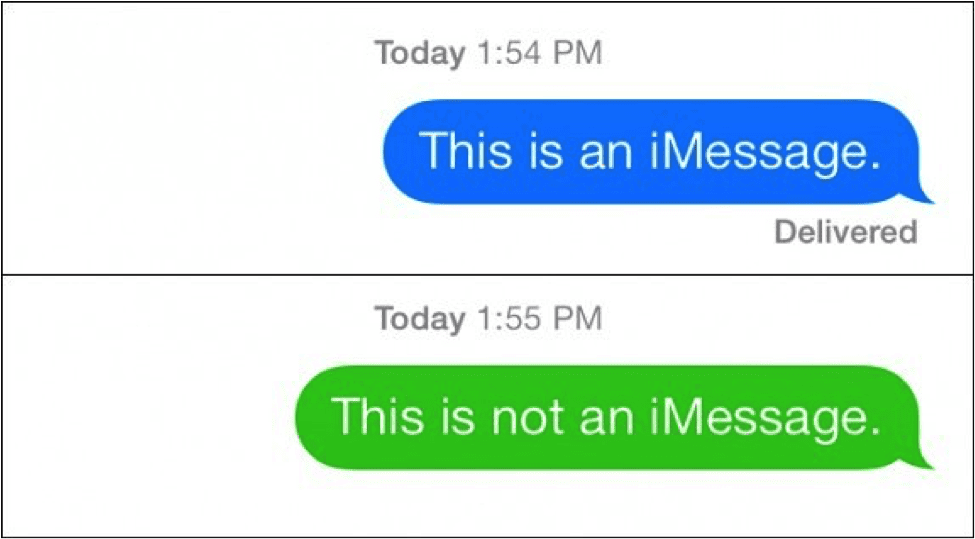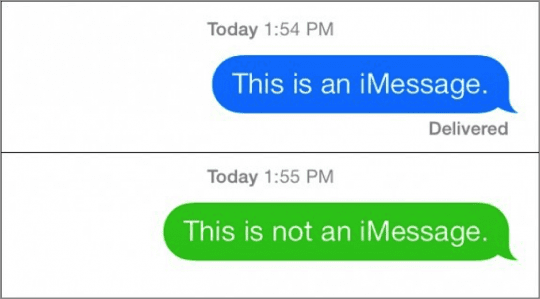 Another distinguishing factor about iMessages is that it offers recipient status. You will get to know the status of your message if it is sent, delivered or read. Normal text messages sent through your carrier do not provide these statuses.
What can be sent over iMessage?
The types of data you can send via iMessages make it even more useful. It is not just limited to text messages; you can send pictures, videos, documents, contacts, voice memo, locations and even have group conversation with multiple Apple users.
And if you so happen to have multiple Apple devices, you can receive messages on all of them. You will receive messages whether you are using your iPad, your iPhone or your Macbook.
How to activate iMessages?
It is quite simple to activate iMessage. Simply go to Settings, then go to Messages and activate iMessage option. But there is a catch with iMessages. If you do not have internet connectivity or the network is not responding, your iMessage would not go to the recipient.
In such a case you can force the message to be sent through SMS. Simply tap and hold the text message then select 'Send as text Message' from the menu that appears. Your message will then be sent as a text message. But you can also apply this feature through settings.
Once you activate iMessage, also activate the option "Send as SMS" just under the iMessage option in Message Settings. Now, your iMessages will automatically go as text messages should there be some problem with the internet connectivity.
Can I retrieve Deleted iMessages or Texts?
There are a few ways to do this if you are trying to retrieve your deleted texts and or iMessages. The first method is dependent upon your backups with iCloud. If you have been regularly backing up your device to your iCloud account, you can follow the steps below:
1. Login to https://icloud.com with your Apple ID and password
2. Click on Text Messages (if it isn't there your messages haven't been backed up).
4. Now go to your iPhone and choose Settings, iCloud on your iPhone.
5. Turn off Text Messages
6. You'll see a pop-up. Select: 'Keep on My iPhone'.
7. Now turn back on text messages.
8. Tap 'Merge', and wait. After a few minutes the deleted text messages should appear back on your iPhone
There are folks that do not use the iCloud to backup all of the device contents. These users primarily use the iCloud to store/sync contacts and bookmarks etc. Most of these users tend to back up to their local iTunes on their computer.
You can restore the messages from your iTunes Backup by choosing the "Restore Backup" option in iTunes when you connect your device to your computer.
There are also multiple third party software that can help you with retrieving lost or deleted messages from companies such as TenorShare and Wondershare. Please feel free to look into those options as well.
How to connect iMessages with your Apple ID and Phone Number?
For Mac and iPads, iMessages use your apple ID. Your messages will be sent and received through your apple ID. However, if you have an iPhone and would like to receive messages sent to your number, you can simply add your number to your Mac or iPad.
On Mac, sign in to your messages account. Go to Messages then Preferences, then go to Accounts and add your number. You can select your number in 'you can be reached' option.
On the iPad or iPod, go to Settings then Messages. Tap Send & Receive then add your number. If you want to remove your number, simply follow the same path and remove the number.
RELATED: Troubleshooting iMessage Notification Issues.
What About Privacy & Security?
Apple clearly states that "Your iMessages and FaceTime calls are your business, not ours. Your communications are protected by end-to-end encryption across all your devices when you use iMessage and FaceTime, and with iOS and watchOS, your iMessages are also encrypted on your device in such a way that they can't be accessed without your passcode.
Apple has no way to decrypt iMessage and FaceTime data when it's in transit between devices. So unlike other companies' messaging services, Apple doesn't scan your communications, and we wouldn't be able to comply with a wiretap order even if we wanted to. While we do back up iMessage and SMS messages for your convenience using iCloud Backup, you can turn it off whenever you want. And we don't store FaceTime calls on any servers".
This is one of the main reasons why people prefer to use iMessage and FaceTime from Apple over many other third party app/software that is out there.
To Sum up Apple's iMessage
iMessage is an exclusive instant messaging service for Apple users. It is not surprising that Apple would use its own messaging service, as it always tends to come up with products and services that are unique to Apple.
It is all about providing fast communication and the fact that you can send everything from pictures to documents, make it all that more efficient and flexible. As it uses Wi-Fi or cellular network, it saves you from running out of text message limit set by your carrier. They reside in your Messages only, so all your text messages to your friends with Apple devices and those with other phones stay in one place.
Like other Apple services, iMessages can be synchronized with your other Apple devices.
In a 2014 Stockholders Meeting, Apple's CEO Tim Cook disclosed that over 40 billion iMessages are sent daily. That is a very big number that shows iMessages' use is growing rapidly.
Apple has also big plans for the future in leveraging iMessage to provide incremental value for its customers and Shareholders. A report from The Wall Street Journal  in late Nov last year suggested that Apple may be working on a person-to-person payment feature that will rival similar products from PayPal and Venno.
Some unconfirmed details about this upcoming Apple Pay feature were leaked, suggesting the iPhone maker might use its popular iMessage platform to handle these peer-to-peer (P2P) payments.
Obsessed with tech since the early arrival of A/UX on Apple, Sudz (SK) is responsible for the editorial direction of AppleToolBox. He is based out of Los Angeles, CA.
Sudz specializes in covering all things macOS, having reviewed dozens of OS X and macOS developments over the years.
In a former life, Sudz worked helping Fortune 100 companies with their technology and business transformation aspirations.