iMessage is Apple's instant messaging service for devices like iPhone, iPad, and Mac. Released in 2011 with iOS 5, iMessage lets users send messages, photos, stickers, and more between any Apple devices over the Internet.
So what are the differences between iMessage and normal text messages? And how do you set up iMessage to use on your iPhone?
Keep reading to find out!
Related:
What's the difference between iMessage and a text message?
They're both ways to send text or photos to your contacts, and you can send either of them with the Messages app on your iPhone. But iMessages and text messages aren't the same.
Here are the major differences between a text and an iMessage:
iMessages are blue
Let's get the obvious out of the way. iMessages appear in blue bubbles on your iPhone while text messages appear in green ones.
But that only happens so you can tell the difference between them. There's more going on beneath the surface.
iMessages use the Internet
The main difference between iMessages and text messages is how they send data. Text messages use your cell connection, bouncing from cell tower to cell tower. Meanwhile, iMessages transfer data using the Internet.
So you need Wi-Fi or cellular data to send an iMessage, but you can use any cell reception to send a text message.
iMessages are free over Wi-Fi but use your data allowance otherwise. And text messages always come out of your cell contract allowance. Although most contracts offer unlimited texts these days.
Most of us get Wi-Fi at home, work, and even on the train with 3G, 4G, or 5G spreading to fill the gaps in between. That means we can nearly always get our iPhone online to send an iMessage.
That said, there are still places with poor cellular data connection and no Wi-Fi. You can't send or receive iMessages in these places, but if you've got any cell reception at all you can still send a text.
iMessages are only for Apple users
iMessage is only compatible with Apple devices. That means you can't send an iMessage to your Android friends.
On the plus side, you don't need to do anything different when sending a message to someone without Apple products. Use the Messages app as you normally would and your iPhone automatically sends a text message instead.
What's the difference between SMS and MMS?
In the discussion of iMessage versus text messages, you might have heard the terms SMS or MMS thrown around. These refer to the two different types of standard text messages you can send.
SMS stands for Short Message Service. These are the regular texts you send that are nothing but letters and symbols, or maybe the odd emoji. These small messages are usually included in your cell contract, with each SMS counting up to 160 characters.
MMS stands for Multimedia Message Service and is what allows you to send photos and voice clips over text. You're normally charged extra for sending MMS messages by your cell carrier, though the amount will vary.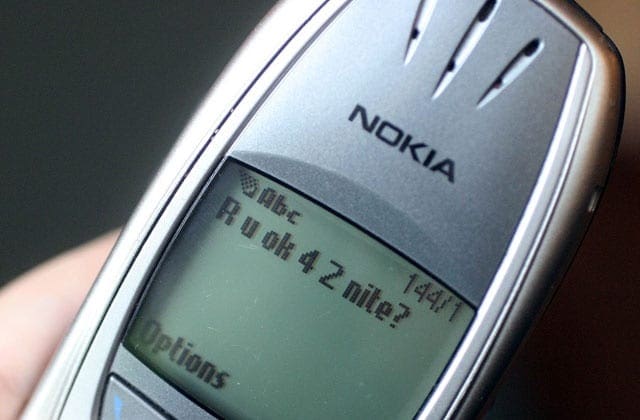 What are the advantages of iMessage over text messaging?
Now you know some of the key differences between how text messages and iMessages work. So you probably want to know why anyone would care about using one over the other. What are the advantages of iMessage compared to text messages?
Thanks to the flexibility afforded by sending messages over the Internet, iMessage offers a bunch of extra features you don't get with texts. We've laid our favorite iMessage advantages below.
1. End-to-end encryption
Privacy is very important to Apple, that's why everything you send as an iMessage is encrypted from end-to-end. This means no-one can intercept or read it except the person you send it to, not even Apple.
In fact, people can't even force their way into your iMessages if they have your device. Not without your passcode. Apple has taken flack from the US government for this very reason because it can't reveal iMessages even if it wants to.
2. Read receipts and live typing
iMessages give you the ability to see when people receive and read your messages. After someone gets your iMessage it says Delivered in small print below the bubble in the Messages app. Once they open it, the small print changes to Read with the time next to it.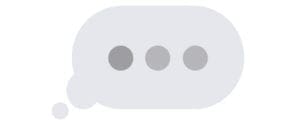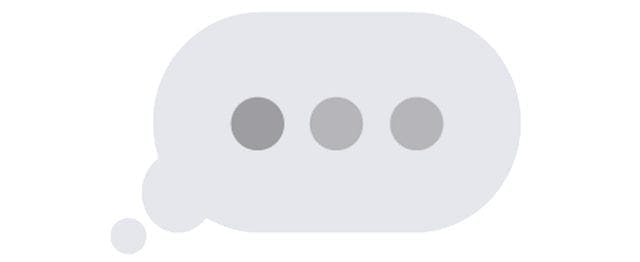 Even better than that, three flashing dots (…) appear when someone is typing a text to you. So you know to wait for it!
3. Add effects and stickers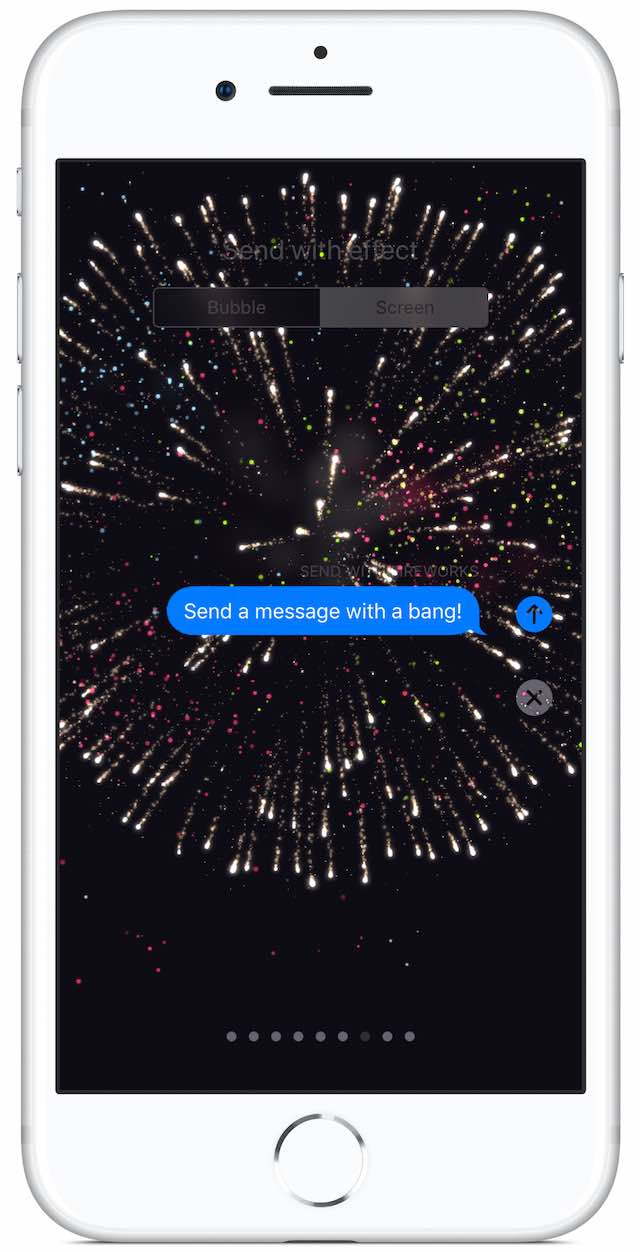 Apple keeps adding more and more new features to iMessage with each new version of iOS. Now you can send your messages with an effect to emphasize what you want to say. Or respond quickly by tagging bubbles with a sticker.
There are plenty of extra features to make messaging more fun that are only available when you send iMessages. If your iPhone uses Face ID, create a Memoji video that mirrors your expressions. You can even add fullscreen effects to your messages.
4. Sync messages across devices
Okay, thanks to recent iOS updates, you can do this one with text messages as well. But you need Apple devices for it to work.
As you send, receive, and delete messages on your iPhone, the Messages app syncs these changes to your other Apple devices. This happens over iCloud and makes it so you can seamlessly switch devices mid-conversation.
To use it with text messages, you need to turn on Text Message Forwarding from your iPhone Settings. But it doesn't work as flawlessly with text messages as it does with iMessage.
5. Send more stuff over iMessage
Since iMessage sends messages over the Internet, it can send a wider range of different kinds of data. iMessage is far better than text messages in this respect — you aren't limited to 160 characters and a blurry picture.
Apple's instant messaging service lets you send any of the following types of media:
GIFs
links
photos
videos
locations
documents
voice recordings
Memoji animations
and more…
When you're on Wi-Fi, it's totally free to send or receive this content, iMessages send photos in the highest quality. Though you do want to be wary if you're on cellular data, since it comes out of your data allowance and you might run out!
6. Group Conversations
With iMessage, you can hold a group conversation with lots of other people at the same time. This isn't possible with text messages.
The Messages app even lets you tag certain group members using the @ symbol, respond to particular messages with inline replies, and use custom photos for the group conversation icon.
7. Download iMessage apps
The last advantage we want to mention is the ability to download and use a range of iMessage apps on your iPhone. You can get these from the App Store, as you'd download any other app, and they massively stretch the abilities of iMessages in the Messages app.
Apple includes some built-in iMessage apps you can already use. Share photos, music, apps or doodles by tapping the icons above the keyboard. You can even send money to friends using Apple Pay.
But third-party iMessage apps let you do even more. Play games, book tickets, sell your stuff, start a poll, or make a dinner reservation. The options provided by iMessage apps are endless—and you can't do any of it with regular text messages.
How do I set up and use iMessage on my iPhone?
You're sold, aren't you? iMessage rules and you want to start using it. The good news is, it couldn't be simpler to set up and use on your iPhone.
Go to Settings > Messages and turn on iMessage at the top.
That's it. You're all done.
Send messages as you normally would from the Messages app. Your iPhone switches to iMessage whenever the recipient has an Apple device. If you don't have an Internet connection, Messages automatically changes to green text messages instead.

How do I connect iMessages with my Apple ID?
iMessage only works when linked with an Apple ID account. You need to sign in to activate the service. If you aren't already, go to Settings and sign in to your Apple ID at the top of the page.
You can't change Apple ID connected to iMessage without signing out for all services on your iPhone: FaceTime, iCloud, iTunes, etc.
If you need to change your Apple ID, go to Settings > [Your Name] > Sign Out. Then sign back in using the right account details.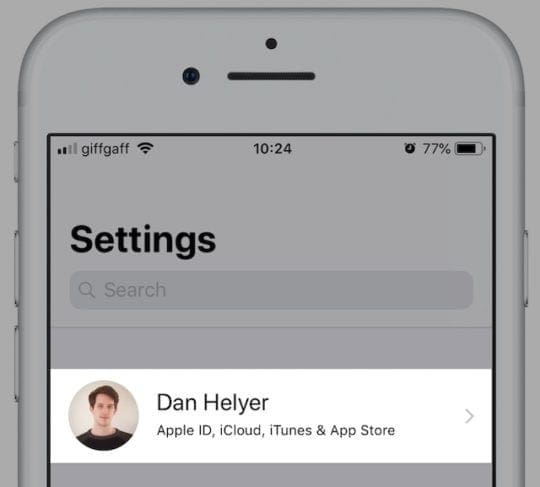 How do I set up iMessage without a phone number?
One of the greatest aspects of iMessage is that you don't even need an iPhone to use it. That's right. If you've got an iPad, a Mac, or even an iPod touch you can send iMessages from your email address, without linking a phone number.
Open the Messages app on your device and sign in with your Apple ID. You can receive iMessages from anyone who's got your email address. Just make sure you go to appleid.apple.com and add every email address someone might try to contact you on.
Go to Settings > Messages > Send & Receive to see a list of all the contact details linked to your Apple ID. You can choose which phone number or email address you start conversations from, and which ones people can reach you at.
That said, you might want to turn this feature off if people keep sending you iMessages by mistake, which won't appear on your phone if you don't have an iPhone.
How do I send a text message instead of an iMessage?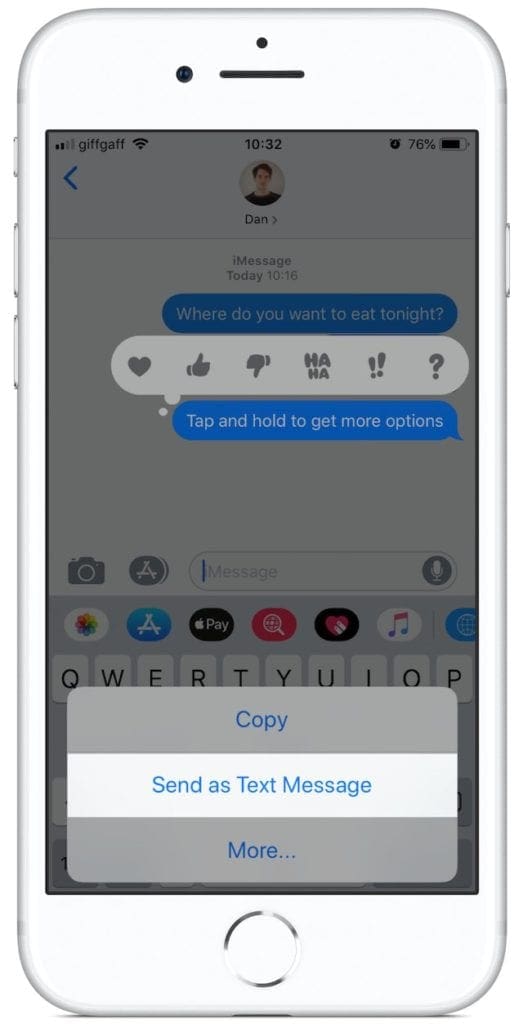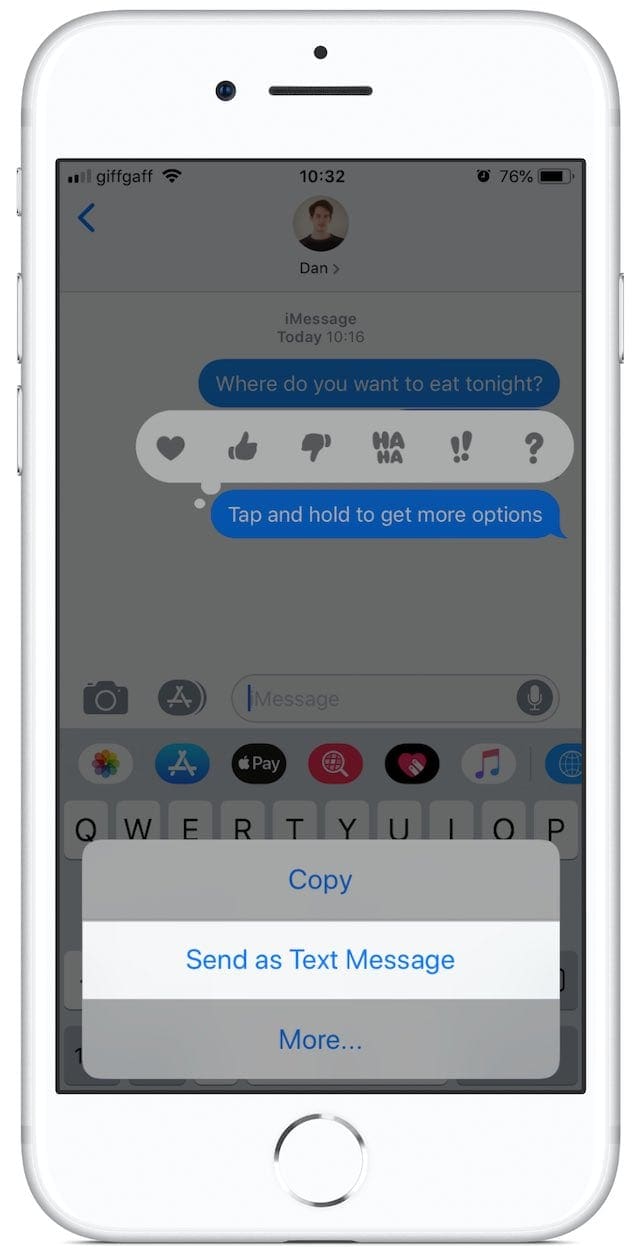 There are times when you want to send a text message instead of an iMessage. Perhaps you don't have a strong Internet connection, you want to save data, or the person you're messaging isn't online either.
Go to Settings > Messages and turn on Send as SMS.
This ensures the Messages app will switch to text messages whenever you or the recipient aren't online. Sometimes there's a delay while your iPhone attempts to send an iMessage, but after a failed attempt it sends the message as a text instead.
That said, you can always speed the process along. After you type and send your message, tap and hold it to reveal an option to Send as Text Message.
If this option doesn't appear, it's possible the message has already sent. Alternatively, turn off iMessage in the settings and everything goes back to text messages.
How do I send an iMessage instead of a text message?
If your iMessages keep turning green it means they have sent as an SMS text message. This can happen for a few different reasons:
the recipient doesn't use iMessage
the recipient doesn't have an Internet connection
you don't have an Internet connection
iMessage is turned off.
Each of the options above causes your iPhone to default to green SMS texts because iMessage can't work. It's the same for iMessage group conversations if one member of the group doesn't have iMessage.
Do I need to use iMessage on my iPhone?
You can use iMessage from any Apple device, or you can choose to disable iMessage instead. Turn off iMessage in the settings to stop using it. Then all your messages will send as SMS or MMS, coming out of your text messages allowance from your cell contract.
Why can't I send an iMessage to Android phones?
iMessage is only for Apple devices. It's one of the features that has driven people to buy Apple products over the years. If it were available for all products then Apple might lose sales. That's why iMessage isn't available to Android, Windows, or Google devices.
That said, Apple faces strong competition in the instant messaging market from apps like WhatsApp and Facebook Messenger. One of the biggest attractions for these services is the ability to message any device.
Fingers crossed, Apple might release a future iMessage update to make it compatible with all devices. Although for now, that seems like a distant fantasy.
When I delete an iMessage, does it delete everywhere?
If you sync Messages over iCloud, anything you receive, delete, or send from one device syncs to all the others. So yes, with iCloud sync on, when you delete an iMessage from your iPhone it also deletes from your Mac and iPad.
With iCloud sync turned off for Messages, this is not the case. You should still receive iMessages on all your devices, but you can't see what was sent. And deleted messaged don't disappear on other devices.
How do I retrieve deleted iMessages?
It used to be possible to retrieve deleted iMessage from iCloud.com, but now that isn't the case. There are only two options for getting your deleted iMessages back: recover a recent backup or use third-party data recovery software.
If you make regular backups to iCloud or iTunes, you can restore one of them to get your old iMessages back. Of course, anything you received between the time you last backed up and the time you recover it won't return with your backup.
Alternatively, third-party developers make data-recovery apps to recover iMessages from your backup. We can't recommend any, since we haven't used them, but there are lots of reviews and comparisons online.
Will you switch to iMessage?
We hope this post taught you all there is to know about iMessage, what it is, and how it's different from normal text messages.
Now you know the advantages, are you going to switch to iMessage? Tell us why or why not in the comments below!